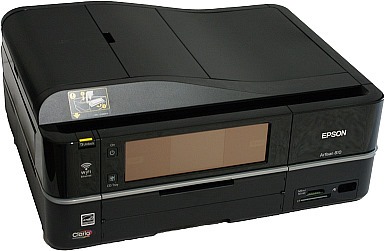 Epson has introduced a new printer to the Artisan line; the Artisan 810. This All-in-One machine serves as printer, fax, scanner and copier. The 810 is a stylish, sleek, jet-black machine packed with features, including the ability to print directly from an I-Phone or I-Pod Touch. It has a large 7.8" wide articulating display and the large screen offers up easy to read and easy use menus and touch-buttons. The 810 also offers the ability to charge your cell phone or MP3 player via USB.
To help improve your overall experience, Epson has included things like built-in WiFi, Bluetooth compatibility, on-board photo correction, speedy 4x6 photo printing, direct to CD/DVD printing, and two-sided document printing. Also, fun features like Coloring Pages, where you can turn an image into a coloring page and create your own coloring books. And, with just a press of a button (or two), you can create ruled or graph pages. The paper tray can manage two different sizes at a time and the automatic document feeder can manage 30 pages at a time.

Epson Artisan 810 Key Features:
Smart 7.8" touch panel

3.5-inch high-res color LCD for preview and editing
Built-In WiFi and Ethernet networking
Onboard memory card slots for printing without a computer

Ultra High Definition prints

Print directly to CD's and DVD's
Two-sided printing
Fast color faxing
charges portable devices
Print from an I-Phone or I-Pod Touch

30 page auto document feeder
Auto-photo correction with on-screen preview
8.5 x 11 borderless printing
Fax memory of up to 180 pages
Advanced MicroPiezo® 6-color ink jet printing with DX5™ technology
The Epson Artisan 810 is available now with an MSRP of US $299.99.
In the box you'll find:
Epson Artisan 810 All In One Printer

Duplexer for automatic 2-sided printing

One 98 High-capacity Black Ink cartridge (T098120)

One 99 Cyan Ink cartridge (T099220)

One 99 Magenta Ink cartridge (T099320)

One 99 Yellow Ink cartridge (T099420)

One 99 Light Cyan Ink cartridge (T099520)

One 99 Light Magenta Ink cartridge (T099620)

Set up and instructions manuals

CD-ROM containing drivers and creativity software (Windows® and Macintosh®)

6' Power cable

6' Telephone cord

Epson Preferred invitation

A USB cable is NOT included



Mechanics & Performance
The 810 is a very nice looking unit, with a modern black finish. Measuring 18.3" (W) x 25.8" (D) x 7.8" (H) and weighing in at a hefty 23 pounds, the 810 will occupy a good amount of real estate on your desk. With the option of using either of the two paper feed sources, you have several possibilities for quickly changing from one paper type or size to another.

We experienced quite a bit of frustration setting up the drivers for this printer. There were two major roadblocks that we encountered. First off, the included software disk does not support Windows 7, which is not mentioned in the quick launch instructions or on the CD. We did find the proper drivers at Epson's website after a little digging. The second was getting the computers on our LAN to find the printer through the wireless network. In the end our wireless security type had to be changed in order for everything to work properly. We had to change from a WEP to WPA. After that things sped up and we were WiFi-ing in no time.

Here you can see the dual paper tray on the 810. The bottom tray is adjustable up to 8.5"x14" and the photo paper tray just above that can be adjusted for 4"x6" or 5"x7". Paper capacity for the trays is 120 sheets or 10 envelopes in the lower tray and 20 sheets of photo paper in the upper tray. The tray can slide out completely which makes it easy to fill and adjust.
Above you can see all of the printer controls, when it is powered up you can just flip the screen up for use, then when the task is done just press the UNLOCK button and the screen will fold back down.
The menu selections are pretty much self explainitory and the large touch screen buttons were easy to read/use.
Print from Memory Cards
Located on the front of the printer is the card slots that are used for direct printing without using your computer. The top slot is for pretty much every type of memory card available today including SD, Sony's Memory Stick & MagicGate cards and the xD card used by Olympus and FujiFilm. The lower slot receives the Compact Flash I&II and Microdrive type media used by dSLR cameras.

Located just to the right of the card slots is the USB jack that can be used for printing from a camera via PictBridge, a Flash Drive or charging any electronic device that can use a powered USB port (cell phones, IPods, and some point-n-shoot cameras).

Flat Bed Image Scanner
The flatbed scanner is used for faxing, scanning and copying. The lid can be lifted for direct placement, or, with the lidd closed you can use the auto feeder.