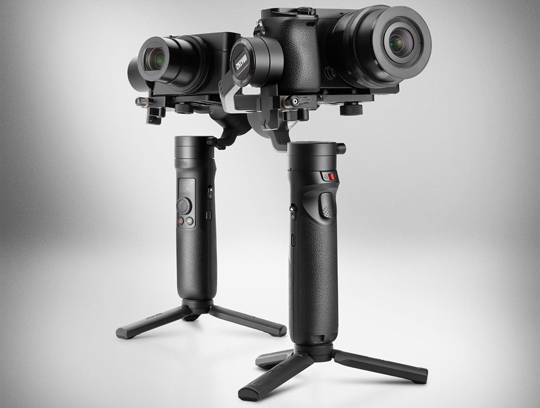 Zhiyun has detailed its latest gimbal device, the CRANE-M2 Camera Stabilizer. Pre-orders are now live via B&H Photo-Video for an MSRP of $269.
The CRANE-M2 is a compact, handheld stabilizer designed for use with digital cameras, mirrorless cameras, mobile phones, and action cameras up to 1.58 lb (separate mounting accessory required for some models). The system offers three basic modes: Pan Follow (PF), Follow (F) and Lock (L). Likewise, a Full-Range POV Mode for 360° synchronous movement; a Vortex Mode to create 360° barrel shots; a Go Mode for sports footage that requires fast pans or tilts; and a Selfie mode that can quickly turn the camera 180° to face the user, are all included as well.
In addition, the device incorporates a smart balancing system, a quick release plate, a scale mark and positioning memory lock, and a pin and latch design for easy storage and portability. Meanwhile, various controls are included right on the handle and an OLED display is also integrated to provide details on modes and settings. WiFi and Bluetooth connectivity are supported as well, allowing users to control the device through the ZY PLAY app. Battery life is rated for up to 8 hours of use.
Here's a full rundown of key specs per Zhiyun and B&H Photo-Video:
Compact Ultra-Portable Design
For Cameras & Smartphones up to 1.58 lb
360-degree Pan, 310-degree Tilt, & 324-degree Roll Rotation
Six Operation Modes
Source: Zhiyun