Toshiba PDR-T10 Review
Review posted 06/03/2002
Introduction & Physical Views

The PDR-T10 is one of the first digital camera to utilize its LCD as an interactive touch-screen menu for operation of all camera functions other than snapping a picture. An absence of buttons, levers and switches on the back of the camera furnishes the PDR-T10 with a streamlined styling that compliments its compact dimensions of 3.36 x 2.83 x 1.1 inches (WxHxD). It weighs a 4.2 ounces.
On the performance side, the fully automatic PDR-T10 has a 2.2 megapixel CCD sensor that captures brilliant color photographs at resolutions up to 1600 x 1200 in universal JPEG format at three quality levels. The camera benefits greatly from an all-glass lens with macro mode that is equivalent to 38mm on a 35mm camera.
For removable storage media the camera is compatible with Secure Digital® (SD) Memory Cards (and not with the similar MultiMedia (MM) card) ranging up to 128MB (reported soon up to 256MB). SD cards are approximately the size of a postage stamp, and are non- volatile, meaning they do not require power to retain the information stored on them.
First time digital camera buyers will appreciate the PDR-T10's simple and fun design. Exceptionally easy to use, the PDR-T10 offers a host of consumer convenience features including USB digital interface, automatic focusing, five-mode flash system, and Epson® PRINT™ Image Matching technology, which enables it to work flawlessly with Epson Stylus® Photo printers.
MSRP is expected to be under $300 with the camera shipping in the May/June, 2002 time frame. Accessories include an 8MB SD Card that stores a maximum of 80 photos; one CRV-3 lithium non- rechargeable battery pack; USB cable; a hand strap; instruction manual; and ImageExpert® software that makes it quick and easy to download, manage, print and e-mail photos. In addition, optional color face plates will be available that allow the user to alter the look of the camera to fit their mood.
PDR-T10 Features:
Two megapixel imager for up to 1600 x 1200 still images
5.96mm lens, F/3.1 (38mm in 35mm equivalent)
1.6inch 61,380-pixel polysilicon TFT color LCD monitor
Macro focus as close as 6 1/2" from the lens
Program AE w/automatic shutter (1 - 1/500 sec.)
Metering modes: Evaluation
Selectable ISO sensitivity; ISO 100, 200 or 400
Automatic flash with 5 modes (Auto, Auto Red-eye reduction, Forced Red-eye reduction, Fill-in or Flash Off)
Color modes (Color, Sepia or Black & White)
White Balance (Auto, Daylight, Tungsten, Cloudy, or Fluorescent)
Exposure compensation (+/- 3 EV in 1 EV steps)
Power supply: 1 crv3 lithium(included), AA batteries (2) or A/C adapter
Built-in USB for downloading to the host computer
The PDR-T10 outfit includes a padded camera case, 2 AA alkaline batteries, 8MB SD card, USB data cable, ImageExpert software and will be priced at approx. $299 (May/June, 2002.)








Physical Views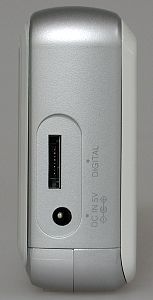 The PDR-T10 compared in size to a standard CD disc.
Two packs of four fashion face plates each are available. With the ability to easily replace the front cover, you can choose your style and design as often as you like. Move your mouse over the picture of the one you like for the Toshiba item number.
PDR-T10 Specifications
Type:

Digital still camera with record, playback, and erase modes.

Imaging Device:

1/1.8" square-pixel interlace readout system CCD with 3,340,000 pixels gross, 3,220,000 effective.
Recording media:
SD Memory Card
Recording Capacity (Guideline) and Image Dimensions in Pixels (when using 8MB SD Memory Card, all pictures taken in the same mode).
High Quality: About 6 (1600 x 1200, low compression)
Standard: About 12 (1600 x 1200, high compression)
Economy: About 51 (800 x 600)
Image Format: Complies with JPEG standard (Exif ver. 2.1)
DCF Standard (Design Rule for camera File systems), supports DPOF.

Lens:

f=5.96mm (35mm equivalent 38mm), F/3.1 - F/8.0

Focusing Range:

About 40 cm - infinity.

In Macro Mode:

About 17 cm - infinity.

Exposure Control/
Metering Method:

TTL Metering by Pickup system.

Control Method:

Programmed AE (exposure compensation possible)

Exposure Compensation:

+3.0 EV to -3.0 EV (in 1 EV steps).

Aperture Control:

Automatic

White Balance:

Automatic, manual (preset),outdoor (daylight/clouds), indoor Tungsten/Fluorescent).

Shutter Speed:

1 sec-1/500 sec.

Auto Focusing control:

TTL Contrast Detection

Viewfinder:

None

Flash:

Built-in flash, recycling time about 8 seconds (on full battery charge, at room temperature).

Flash range about 0.4m - 2.0meters.

Recording Modes:

Flash modes (auto flash, Auto red-eye reduction, forced flash, no flash, red-eye reduction forced flash); Auto, landscape, sports, night and sports recording mode; color modes (color, B/W, sepia); white balance (Auto, daylight, tungsten, cloudy, fluorescent).

Playback modes:

Single image display; Choose: Date / time record, Folder / file name, Quality setting. Multiple image display; protect; erase (single image); all erase (erases all images in folder DCIM); slide show (3 or 10 sec / image); LCD Brightness; DPOF setting.

Setup modes:

Touch pad sound(on/off), touch sensor(on/off), Auto power off(1, 2 or 3 min's) Version of firmware, Format card(yes/no, reset file number: yes/no), Reset, Language, Auto play mode off, Time & Date set.

LCD monitor:

Built-in, 1.6inch 61,380-pixel polysilicon TFT color LCD monitor.

Input/Output:

DC 5v power input, USB 1.1 data I/O

Battery Power:

2 AA (Alkaline, Nickel metal Hydride batteries), or 1 - CR-V3 lithium pack(Included), or AC adapter(Optional)# PDR_AC20.
Number of images recordable (with supplied CRV-3 batt.):
LCD monitor ON - about 100 (shooting 1 flash frame every 30 sec's)


Dimensions:

3.36 x 2.83 x 1.1 inches (WxHxD)

Weight:

4.2 oz. / 150 g (not including SD card or battery)
Specifications are as represented by the manufacturer.
Visitors of Steves can visit the stores below for real-time pricing and availability. You can also find hot, soon to expire online offers on a variety of cameras and accessories at our very own Camera Deals page.