Toshiba PDR-M700 Review
Features & Controls
I'm sure that the big draw for this camera is the all-glass aspherical Canon 10x optical zoom lens, equivalent to a 37-370mm zoom on a 35mm camera. This is a very powerful zoom and features a fast F2.8 - 3.1 maximum aperture.
The TTL contrast-detect auto focus system covers from 1.6 ft (W) / 3.9 ft (T) to infinity in normal mode and from 3.94 in (W) / 11.8 in (T) to infinity in macro mode.





This is what you can do with a 10X zoom!


Toshiba includes this screw-in lens adapter so you can easily attach 52mm filter or other add-on lenses.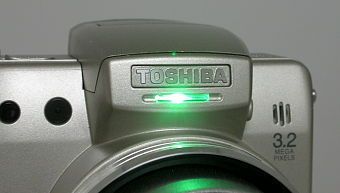 The PDR-M700 and PDR-M500 features a Cylon-like LED on the front that cycles through its available colors (cyan, red, green, blue, yellow, magenta) on startup. It glows green when you half-press the shutter and lock the focus and acts as a "cue" light for your subjects. The setup menu lets you define the functions and colors for this unique indicator light.



The eye level viewfinder is a miniature color LCD monitor with a magnifying eyepiece. It has a diopter adjustment and can be used with eyeglasses. This electronic viewfinder (EVF) gives you true TTL (through the lens) viewing and overlays important camera and exposure data on top of the live display. It can also be used to review images which is handy outdoors where it can often be difficult to see the LCD monitor. Menu screens are displayed only on the big 2.5-inch color monitor.



You just have to love this huge, 2.5-inch color monitor. It's a little hard on the batteries but oh, what a glorious picture it makes !



The built in manual pop-up speedlight features Auto, Red-eye reduction, Slow-sync, Fill and Forced Off modes. The flash range is 1.6 - 14.4 ft (Wide @ ISO 100). There is no external flash port or accessory shoe.



Controls on the back: Across the top is the "i"nformation button, in record mode it toggles between self timer 2 secs., 10 secs. and remote control. In playback it controls the amount of data overlayed on the screen. Next to that is the Flash mode button. On the right are the zoom control buttons, in playback they let you zoom magnify and display an index page. The MENU button calls up and dismisses the onscreen menus.
The 4-way selector in Record mode adjusts the exposure compensation when pressed "Right" or "Left." It is also used in advanced exposure modes to change the shutter speed or aperture values. In Playback mode the 4-way selector is used to select images and of course in both record and play modes it is used to navigate the menu screens. The Trashcan button is for deleting images. The DISPlay button selects between EVF (electronic viewfinder) and color LCD.



Controls on the top include the shutter release, power switch and the Mode Dial with positions for:
Movie - Capture motion JPEG at 15fps with audio, length of clip is limited only to available memory.

Manual - Still image record with all possible menu and exposure options.

Auto - The simple Point-n-Shoot mode with minimal exposure options.

Play - Play back of still images or movies

Connect to PC - Transfer photos and movies to the host PC.

Setup - Enter the Setup menu (see options on page four)
On the top is the connector for an external microphone for recording higher quality audio.


Data I/O is via a USB v1.1 port

The A-V Out port sends the audio and video to a TV, the video format is user selectable for NTSC or PAL standard.
The optional AC power adapter can be connected to the DC IN 5V port.



Still images and movie clips are stored on removable Secure Digital flash memory cards. Toshiba supplies only a 16MB size SD card so you need to buy a bigger one. We had no problems using a 256MB SD card, it's compatible with the larger 512MB cards too.

Power is supplied by four AA type batteries or two CR-V3 type. Alkalines can be used but don't expect much from them -- purchase a set of high-capacity NiMH rechargeable batteries and a charger. You need all the power you can get because you're always powering a color LCD whether using the eye level viewfinder or the 2.5-inch LCD on the back.



Toshiba has included one of my favorite accessories, an infrared wireless remote control. You can trip the shutter and work the zoom lens for self-portraits and control the camera during playback so you can sit in your easy chair and run a slide show on the TV.
Visitors of Steves can visit the stores below for real-time pricing and availability. You can also find hot, soon to expire online offers on a variety of cameras and accessories at our very own Camera Deals page.