Toshiba PDR-3300 Review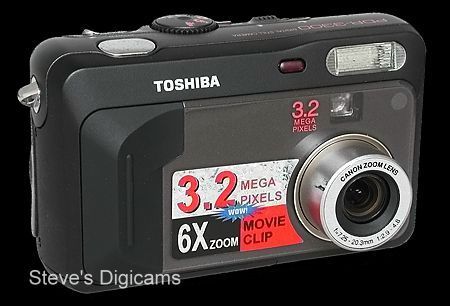 Review posted 6/11/02


Click to take a QuickTime tour of the PDR-3300



Designed as the next generation of the popular PDR-M71, the Toshiba PDR-3300 retains and improves upon the features that resulted in PC World recognizing the PDR-M71 with its World Class Award in this year's "digital cameras under $500" category. It joins the entire family of Toshiba digital cameras including the newly introduced PDR-3310 and PDR-T10 models.
The PDR-3300 makes a striking impression with its highly polished black and slate gray color scheme. Employing a 1/1.8 inch, 3.2 million pixel CCD the camera gives digital photographers greater edge detail in picture file sizes up to 2048 x 1536 pixels. The PDR-3300 is equipped with functions that make it attractive to the more experienced shutterbug. These include a Canon all-glass 35-100mm F2.9 optical zoom with Macro mode, a five-mode flash system; Aperture-priority AE, Shutter-priority AE and Full Manual AE; 1.6 inch (60K pixels) LCD monitor, Manual White Balance and Exposure Compensation (+/- 2.0 at 0.3EV); ISO sensitivity (100/200/400); and enhanced signal processing technology for smooth burst mode shooting.
The camera records JPEG images at three compression modes ‹ Fine, Normal and Basic ‹ and in three resolution settings (2048 x 1536, 1024 x 768, 640 x 480). The camera is compatible with SD media up to 256MB that can store as many as 3,901 images on a single, postage-stamp sized card. It also captures AVI video clips (PAL/NTSC) at QVGA (320 x 240) or Q2VGA (160 x 120) resolution at frame rates up to 15 FPS. As many as 180 seconds of AVI video can be stored on a single 8MB SD® card.


PDR-3300 Features:
3.2-megapixel CCD
Image sizes: 2048x1536, 1024x768 or 640x480
Three JPEG quality levels (fine, normal, basic)
2.8X (35-100mm) optical Canon F2.9 zoom lens
1.6" color LCD, polysilicon TFT monitor
Small, compact and lightweight
Builtin 5-mode flash (auto, red-eye, forced, slow sync, force off)
AVI movie 320x240, 15fps, max 30/45/60 secs of recording
Automatic exposure, Aperture and Shutter speed priority, full Manual
Mechanical shutter 1/2 to 1/1000 sec (up to 15 secs in Manual)
Playback includes exposure data and histogram display
ISO sensitivity of 100, 200 or 400
White balance: Auto, Outdoor, Cloudy, Incandescent, Flourescent I and 2
Video output format user-selectable NTSC or PAL
Secure Digital (SD) storage, 8MB included, compatible up to 256MB
Wireless infrared remote control
Epson PRINT Image Matching (PIM) compatible
USB 1.1 port for Windows and Macintosh
Powered by standard AA type batteries
The PDR-3300 is immediately available at leading retailers with an MSRP of $349. It comes bundled with 8MB SD card, USB cable, video cable, hand strap, wireless remote control, and a CD-ROM loaded with award-winning ACD Systems imaging software, USB driver and instruction manual. Toshiba backs the PDR-3300 with a one-year warranty.

Physical Views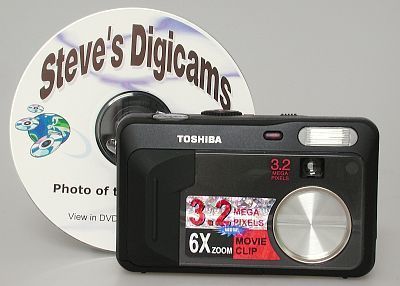 Toshiba PDR-3300 and standard CD disc for size comparison.
Toshiba PDR-3300 Specifications
CCD Sensor
1/1.8 inch 3.37 million pixels (total)
3.0 million pixels effective
Image Resolutions
2048 x 1536 (FULL)
1024 x 768 (HALF)
640 x 480 (SMALL)
Lens
Canon® F2.9-F4.8, 7 elements in 5 groups, f=7.25 to 20.3mm (equivalent to 35-100mm on a 35mm camera), all glass lens Zoom 2.8X Optical, 2.2X Digital
Auto-Focus
TTL contrast detection
Auto-Focus Range
Normal mode: 0.8m to infinity
Macro mode: 0.10m to infinity (wide)
File Format
JPEG (EXIF 2.2), DCF (Design Rule for Camera File System) and DPOF (Digital Print Order Format) compliant
Burst Shot
1.25 Frame Per Second
Exposure Control
Program AE, Full Manual (shutter & aperture), Shutter-Priority AE, Aperture-Priority AE, Exposure Comp ( +/-2.0 at 0.5 EV)
Exposure Metering
Multi or Spot
White Balance
Auto, Outdoor, Cloudy, Incandescent, Flourescent I and 2
Sensitivity
Equivalent to ISO 100/200/400 (Standard/2x/4x)
Shutter
Mechanical shutter 1/2 to 1/1000 sec
Maximum of 15 seconds for extended exposures
Aperture
F2.9 to F8 automatic or manual selection
Recording Modes
Single, Continuous, AE Bracketing
Movie Mode
AVI Video Recording without Audio
160 x 120, Max 3 minutes @ 15fps
320 x 240, Max of 60 secs. @ 15fps
Fine, Normal or Basic quality possible
Built-in Flash
Adjusting range 0.5m to 2.9m Wideangle, ISO 2x
(Auto, Red-Eye, Forced, Slow Sync, OFF)
Video Interface
Provides NTSC and PAL video output signal
Microphone
n/a
LCD Monitor
1.6" color LCD monitor. Polysilicon TFT
60,000 pixels (279 x 220 resolution)
Storage Media
SecureDigital 8MB to 256MB, ships with 8MB
Optical Viewfinder
Real-image optical viewfinder
Self Timer
10 or 2 seconds
Tripod Mount
Built-In
Data Communication Interface
USB 1.1
Power
Includes four AA Alkaline batteries. Accepts four AA sized batteries (alkaline, lithium, Ni-Cd and NiMH). Optional AC adapter, rechargeable batteries and charger.
Software on CD-ROM
ACD Systems Imaging Software Suite, USB Storage Driver
Camera Dimensions and Weight
Dimensions (W x H x D)
115.5mm x 69.2mm x 46.1mm
4.54" x 2.72" x 1.8"
Weight without batteries: 230 g / 8.1 oz.
System Requirements
Windows: 98/Me/2000/XP. Macintosh: System 9 or higher
Specifications as represented by the manufacturer

Visitors of Steves can visit the stores below for real-time pricing and availability. You can also find hot, soon to expire online offers on a variety of cameras and accessories at our very own Camera Deals page.