Sony RX0 Hands On Preview
Sony RX0 Hands On Preview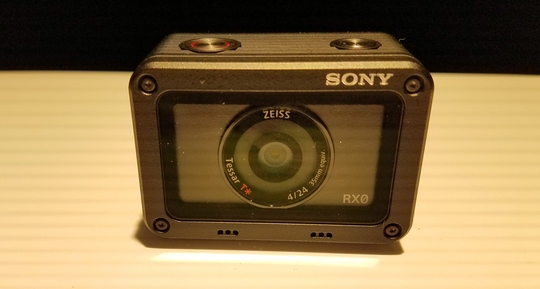 With the release of Sony's ultra-compact RX0 action cam (that's R-X-Zero, FYI) just around the corner, the company held a special press event at its New York City headquarters to give journalists a hands-on preview of the incredibly tiny cam. Aimed at squeezing premium capture features usually reserved for much larger RX units into a super-tiny action cam body, this miniature model really is quite striking.


DSC-RX0 KEY FEATURES
ZEISS Tessar T 24mm lens
F4.0 aperture
1.0" (13.2mm x 8.8mm) Exmor RS CMOS sensor
3:2 aspect ratio
15.3MP
1.5" rear LCD display
Anti-Distortion Shutter
1/32000 super-high-speed shutter
Up to 16fps continuous shooting without blackout
Up to 960fps/1000fps super slow motion
S-log2 gamma
4K Clean HDMI output
HANDS ON FIRST IMPRESSIONS
Measuring just 2 3/8 inches by 1 5/8 inches and weighing only 3.9oz, the RX0 is geared toward users who want an ultra-portable camera for versatile photo and video applications capable of getting in places where other larger, more delicate devices simply could not work. And coupled with its incredibly rugged 33 ft. waterproof, 6.5 ft. shockproof, and 440 lbf/2,000 N crushproof construction, the tiny camera cements itself as a genuine, go-anywhere model. Sony's Tsutomu Hamaguchi even dropped the unit into his own glass of water to further prove the point in person.
And to help demonstrate just how versatile the unit is, Sony also played a video clip of dancers in a studio shot with the camera along with a behind-the-scenes clip that revealed all the hard to get to places they managed to embed the device in order to capture some really cool shots -- including inside a ball, on a hula hoop, and even underneath a raised floor.


In the press room, the company had a few different rigs and casings on display as well, showing how multiple RX0s can be used together. One demo featured four separate units wirelessly connected to a single tablet, with each camera displaying its own feed on the screen.
Likewise, I was able to get some quick hands-on time with the device as well. For testing purposes, I snapped a few shots and recorded some video in HD (you need an external recorder to utilize 4K capture). In addition, I also tested the 16fps continuous shooting mode and recorded some HFR slow motion clips (more hand waving). Everything seemed to work without a hitch (as long as the proper memory card was in place), and it really was quite amazing to have these recording options in a camera that I could literally hold between two fingers. Seriously, this thing feels more like a toy you'd get in a vending machine than a $700 premium cam.
With that said, the small form-factor does have drawbacks, making the unit easy to misplace or drop if you're not using an additional casing or rig. Likewise, the small 3.8cm screen is functional but makes it hard to really see how well you're capturing your subject without a larger monitor, and the unit lacks a traditional dial for switching between modes. Instead you have to press some very tiny buttons on the back to navigate the menu in order to enable the different shooting options, which feels less intuitive.
Of course, these minor limitations are a pretty negligible price to pay for fitting a 1.0-type Exmor RS CMOS sensor in your pocket. As Tsutomu Hamaguchi said during the press event, this miniature RX Series model is "tiny but mighty," opening up entirely new possibilities and angles for shooting video while offering an interesting alternative to GoPro cams.
PRICING & AVAILABILITY
The Sony RX0 is available for pre-order now (see below) at an MSRP of $700, and is set to start shipping on October 17.
Visitors of Steves can visit the stores below for real-time pricing and availability. You can also find hot, soon to expire online offers on a variety of cameras and accessories at our very own Camera Deals page.