Steve's Conclusion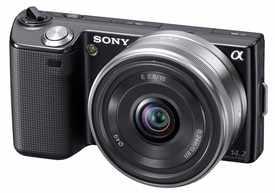 Steve's SnapShot
14.2 Megapixel Exmor™ APS HD CMOS sensor

BIONZ Image Processor
Anti-Dust System
High resolution tilting LCD with 922,000 Pixels
25 point Contrast Detect Autofocus System using main Image Sensor
ISO Sensitivity range of ISO 200 through ISO 12,800
Up to 7fps burst rate at full resolution using Speed Priority
Lithium-ion Battery

Accepts both SDHC/SXDC and Memory Stick Pro Duo media cards
HDMI Output
1080i 60fps HD Video with Stereo Sound

Pros
Great Build Quality
Very Comfortable size and weight
APS-C Size sensor allows for high quality images
Ability to record 1080i video with Stereo Sound
Fast and Quiet Contrast Detect AF system using NEX lenses
Superb High Resolution LCD
Intuitive Intelligent Auto Mode
Featured packed with Sweep Panorama, Auto HDR, Face Detection and more
Class leading performance at higher ISO speeds

Cons
Default Metering settings give brighter than desired exposures in some conditions
Limited Lens Availability without using an Adapter (only 3 NEX lens models so far)
Limited External Controls compared to some competing models
No Viewfinder (although the LCD visibility is very good in most lighting)


Timing Test Results
Power up to first image captured = 1 second
Shutter lag when prefocused = 1/10 of a second
Shutter lag with autofocus = approx. 3/10 of a second
Shot to shot delay = less than 1 second
Sequential burst =2.7 fps unlimited shooting of JPEG Fine images with a fast 30MB/Second Memory Stick Pro HG Duo Card, up to 7fps for shorter bursts using Speed Priority mode.

Bottom Line
Sony has entered the market for smaller interchangeable lens cameras with a bold design that incorporates an APS-C size sensor for great image quality in a smaller and lighter package with superb build quality for it's class, combined with a new lens mount system to allow fast and silent Autofocus for shooting HD video. If you want a feature packed camera that doesn't weigh you down, consider the NEX-5.


Pick This Up If...
you are a looking for dSLR image quality combined with the ability to shoot HD Video in a smaller and lighter package with superb build quality and surprisingly good ergonomics. It's Intelligent Auto mode offers ease of use for beginners, while still offering lots of manual settings, features and fine tuning options for more Advanced Photographers, with image quality matching or exceeding what you'd expect to see from a larger dSLR.

The Sony NEX-5 represents a new class of camera for Sony, supplementing their existing dSLR interchangeable lens system. After the success of the Olympus and Panasonic Micro Four Thirds system cameras, it comes as no surprise that other manufacturers like Sony are also going to take advantage of the trend where users want higher image quality in a smaller and lighter package, while still giving them the versatility of interchangeable lenses. This new Sony model has an ambitious design, making the new Sony NEX series cameras the smallest interchangeable lens cameras made with an APS-C size sensor. The Sony Exmor HD CMOS sensor provides 14.2MP of resolution from a sensor size of 23.4 x 15.6 mm. The NEX-5 uses this imaging sensor to capture both still images and HD video, and it also provides a Live View feed to the LCD. The camera does not need a mirror assembly, since no optical viewfinder is included, reducing space requirements significantly.
This camera uses a brand new NEX lens mount system, coined E-mount, with lenses that are designed to take advantage of closer registration distances (since no mirror assembly is used) and are optimized for fast and quiet focusing using Contrast Detect Autofocus. Sony also offers an optional LA-EA1 adapter to allow mounting of Minolta and Sony A mount lenses, while giving you Aperture Control based on camera settings. The latest Adapter firmware also allows Minolta or Sony SSM (Supersonic Motor) or Sony SAM (Smooth Autofocus Motor) lenses to Autofocus on the NEX-5.
Instead of relying on a lot of external dials and buttons, Sony streamlined the new NEX-5 to minimize the controls needed and keep camera size smaller, with a nice GUI based menu system to select many features and settings. Sony has further refined this control system via firmware updates, with the latest version 03 firmware released in October 2010 offering a number of improvements, including a Menu Start function, two more settings for the Manual Focus Assist function, improved menu selection using the Control Wheel, Aperture Priority for movie recording and Soft Key settings to allow user customization. The mount adapter firmware was updated at the same time to allow for Autofocus with Minolta or Sony A Mount SSM or SAM lenses using the optional LA-EA1 Mount adapter. This was a welcome improvement and we applaud Sony for addressing some of it's customers' concerns by improving camera usability.
The NEX-5 build quality is excellent, with a magnesium alloy body that we found comfortable to hold and use (especially considering it's small size and weight), measuring approximately 4 3/8 x 2 3/8 x 1 9/16 inches (110.8 x 58.8 x 38.2mm) and weighing approximately 10.1 ounces (287 grams) with battery and media. Not only is it very small for a camera with an APS-C Size sensor, it's loaded with features including a superb 3 inch, XtraFine TruBlack tilting LCD with approximately 922,000 pixels of resolution. The NEX-5 gives you available ISO speeds from ISO 200 through 12800, with RAW and JPEG image capture using a variety of settings combinations for fine tuning of the camera's output. It includes Autofocus with Face and Smile detection, a Sweep Panorama mode that lets you swing the camera from right to left while it takes a rapid series of photos, merging them together automatically to produce a Panorama image, with no tripod needed. Sony also included a 3D Sweep Panorama mode that creates images you can see in 3D using compatible monitors and TVs (while wearing 3D glasses).
As found in newer dSLR models like the Sony A500 and A550, an Auto HDR mode was also included in the new NEX-5. This mode takes multiple photos in rapid succession using different exposure settings to capture a greater range of light to dark, then merges them in camera to create a higher Dynamic Range image, all without a tripod since it automatically accounts for minor framing differences when merging the burst of images captured. Not only does the camera include a variety of scene modes like Portrait, Landscape, Macro, Sports action, Sunset, Night Portrait and Handheld Twilight; the NEX-5 includes an Intelligent Auto mode that's designed to automatically predict the Scene Selection mode that is optimized for the scene you're shooting and apply the appropriate settings, making it easier for a new user to get photos while learning more about what the camera offers. The Auto mode is intuitive to use, even recognizing faces in the scene and showing you any active focus points over those faces that are in use (out of the available 25 Autofocus points the camera has available), with the camera's face detection feature optimizing AF distance and Exposure for them.
For greater versatility, the NEX-5 supports either Memory Stick Pro Duo cards (and we'd suggest the 30MB/Second Pro HG Series), or SDHC/SDXC cards. The NEX-5 uses Sony's Infolithium battery system that lets you know the battery life remaining, with a CIPA rating of 330 photos with the included battery. In testing, we were able to take many more photos on a single charge, including over 700 photos shooting bursts of images, then shooting several short video clips, with plenty of battery life (over 60%) remaining. Use of the included add-on flash, changing focus distances more frequently, and keeping the LCD on for longer periods of time would increase battery consumption.
The NEX-5 performance was very good. Power on to first shot runs approximately 1 second. Autofocus time was approximately 3/10 second when using the Sony NEX 18-55mm f/3.5-5.6 lens. Shot to shot times using Single Shot drive mode ran under 1 second. Shooting JPEG Fine with Drive Mode set to Continuous, I was able to capture full size images continuously at 2.7fps without any indication of a slowdown, even after a full 60 seconds of shooting. Switching to Speed Priority mode, the camera was able to capture 20 frames in less than 3 seconds at 7fps before the camera slowed down to where it averaged approximately 4fps with a full buffer. Switching to RAW using Continuous Drive mode, I was able to capture 15 frames at 2.7fps before the camera slowed down to approximately 1.6 frames per second, with no indication of further slowdowns. Switching to RAW using Speed Priority mode, I was able to capture 7 frames in 1 second before the camera slowed down to approximately 1.7 fps, which it was able to maintain, even with a 60 second burst. Performance is excellent for this class of camera when using faster 30MB/Second Memory Stick Pro HG Duo media, and we also noticed no problems shooting 1080i video, with a recovery time of approximately 2 seconds after shooting longer clips before you could immediately shoot another one. Testing was performed using a Sandisk Extreme III 8GB 30MB/Second Memory Stick Pro HG Duo card.
For shooting control, the NEX-5 has a wide range of options available, including Auto, Manual Exposure, Programmed AE, Shutter Priority and Aperture Priority with a variety of scene modes. Mode selection is simple via the Graphical User Interface (GUI) on the LCD that shows you a graphical mode dial that you spin via the control dial on the camera's back. We also appreciated that the GUI design remembers what selection you made last in a given menu section, reducing the need to scroll more for frequently used features.
The Sony NEX-5 also offers a wide variety of Creative Styles, each individually settable for contrast, sharpness and saturation, and also has the ability to use a Custom White Balance (in addition to the presets available for different conditions like Tungsten, Sunny, Flash, Shade, Cloudy and Fluorescent), and also lets a user dial in a manual color temperature if desired, with green/magenta compensation available. The Sony NEX-5 offers Metering Options including Spot, Center Weighted and Multi-Segment (Matrix). The NEX-5's 25 point Contrast Detect Autofocus system using the main imaging sensor worked nicely (better than expected for a contrast detect AF system), allowing us to capture a very high percentage of in focus images.
The NEX-5 has outstanding image quality at lower ISO speed settings and very good image quality at even higher ISO speeds. Our only real criticism of the camera's image processing was it's tendency to expose some scenes brighter than desired, especially in difficult lighting with a wider range of bright to dark in a scene. While Sony is probably catering to the look that many point and shoot users have become accustomed to with brighter images "straight from the camera", we noticed this camera's behavior would sometimes result in loss of detail in brighter areas using it's default Multi-Segment (Matrix) metering, as it appears to favor bringing out more shadow detail over preserving highlights. So, we found ourselves preferring to convert some images from RAW when shooting RAW + JPEG, so that we'd have more latitude over image exposure; sometimes using a -EV setting with Exposure Compensation to better tune the camera's output to taste. Noise control is excellent, and we were impressed with the image quality from it when shooting at ISO 3200 without a flash in a dimly lit tavern, as it sets a new standard for high ISO speed use with a camera body this small.
Bottom Line - The Sony NEX-5 is a camera that packs a lot of technology and features into a small and versatile package, with a sensor that's capable of providing class leading image quality, even when compared to most larger dSLR models using an APS-C size sensor. We only had a handful of minor complaints, and found that the NEX-5 was fun to use. The NEX-5 is great choice for someone wanting a smaller package with the image quality you'd expect from a larger camera, keeping in mind that lens choice is somewhat limited with only 3 NEX lenses (16mm, 18-55mm, 18-200mm) announced so far, although adapters are available for additional lens options, including an optional Sony LA-EA1 Adapter that allows the use of Sony A Mount lenses with aperture control. We used both the NEX 18-55mm f/3.5-5.6 OSS and 16mm f/2.8 Pancake lenses on the NEX-5 with good results in most conditions.
With a current price of around $649 for the NEX-5 kit including a a smaller 16mm f/2.8 lens, or a price of only $699 for the NEX-5 including a versatile 18-55mm OSS zoom lens with Stabilization built in, we can easily recommend this camera to users looking for a smaller camera offering higher image quality in low light than is normally possible from a package this small, thanks to the use of a larger APS-C size sensor. The Sony NEX-5 is a bold design with innovative features, incorporating great image quality in a well made body that's easy to carry with you and intuitive to use.
Visitors of Steves can visit the stores below for real-time pricing and availability. You can also find hot, soon to expire online offers on a variety of cameras and accessories at our very own Camera Deals page.