Sony DSLR-A350 Review
Camera Features & Controls
The DSLR-A350 is built from high-impact plastic materials and very well constructed. The outer body shell has a smooth black finish, and the rubber mounted around the hand grip offers a leather-tone and feel.
Specifically designed to match the performance requirements of the camera's high resolution 14.2-megapixel APS size CCD sensor, the built-in Super SteadyShot technology instantly and precisely shifts the CCD to compensate for camera motion. It's so effective that Sony claims photographers can shoot at shutter speeds up to 2.5 to 3.5 stops slower than what they could use without it. And because the mechanism is integrated directly into the camera body, it works with virtually any compatible lens, a major advantage for photographers when compared to bulky and expensive lens-based optical stabilization systems and software-based "digital correction systems" that can degrade image quality.

Here you can see the lens mount. The DSLR-A350 is compatible with all Sony Alpha series lenses, Sony wide- aperture zoom lenses, Sony "G" Series lenses, Carl Zeiss coated lenses, and a plethora of Minolta a-mount lenses. Sony lists 26 lenses on their site, including 3 new models, that are available as optional accessories for the A350.
The focal length multiplier is 1.5x due the smaller size of the camera's APS-C imager versus a standard 35mm film frame.
Like past models, the A350 features Sony's Anti-Dust Technology - Changing lenses can allow dust to enter the camera -- so to keep the CCD imager clean for better pictures, the A350 camera utilizes both an indium tin oxide coating on the CCD filter and anti-dust vibration that automatically shakes the CCD to dislodge dust. Whenever the camera is turned on or off, the anti-dust feature is activated.

The high profile popup flash features ADI and Pre-flash TTL control. It offers Auto popup in Auto exposure mode only. The flash guide number is 12 (in meters at ISO 100). It has coverage sufficient for 18mm lenses with a recycling time of approximately 4 seconds. Available flash modes are: Auto, Fill-flash, Rear flash sync, Slow Sync, High Speed Sync, Wireless off camera flash (with Flash HVL-F56AM, F42AM) . Flash output compensation is +/- 2 EV in 1/2 stop increments
ADI - Advanced Distance Integration is available with any Sony or Konica Minolta MAXXUM D-Series lens. By comparing information obtained from the lens, built-in distance encoder with pre-flash metering data, ADI calculates the optimum exposure settings and flash brightness needed to obtain a proper exposure, even if the subject is standing in front of a very dark, light, or reflective background.

Flash Range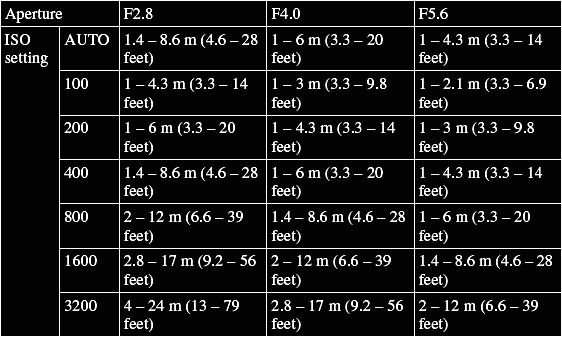 The DSLR-A350 supports full-featured flash photography with the built-in flash and external flash units such as the new Sony HVL-F42AM (as well as the HVL-F56AM, HVL-F36AM, and Minolta MAXXUM 5600HS and 3600HS), allowing you to take advantage of wireless high-speed and TTL flash, rear-curtain flash synchronization, bounce flash and advanced off-camera setups for pro-level flash shooting.
Off-camera flash is possible with the FA-CS1AM Off-camera Shoe and FA-EC1AM extension, FA-MC1AM multi flash and FA-CC1AM Off-camera cables.





The Sony HVL-RLAM ringlight (above) and HVL-MT24AM macro twin flash units are for perfectly illuminated closeup photography.






The eye-level viewfinder uses a penta-Dach-mirror with a field of view of approximately 95%. It has a 20.8mm eye-relief from the eyepiece, the eyepiece cup is removable. If the Eye Start option is enabled the AF system is activated whenever you bring the camera up to your eye. The Eye Start also automatically blanks the LCD display.
The camera comes with a non-interchangeable Spherical Acute Matte focusing screen. The viewfinder magnification is 0.74x (with 50mm lens focused on infinity) and has a -3.0 to + 1.0 m-1 dioptric adjustment.
Optional viewfinder accessories include the FDA-EP3AM Eyepiece Cup, the Angle Finder FDA-A1AM, Magnifier FDA-M1AM and several Eyepiece Correctors.



The A350 also employs Live View, which allows you to use the LCD to frame your pictures; much like you would with a consumer point-n-shoot. Unlike most Live View systems, the A350 uses a separate image sensor for the Live View function. The main advantage of this type of setup is increased AF performance when using Live View. On other cameras, you have to wait for the mirror to move twice, then the camera can capture the image. This increases shutter lag quite a bit. However, with Sony's clever system, this is not an issue.


Here you can see two illustrations of the Live View screen, one typical, one busy.

Inside the optical viewfinder is a partial metering circle (spot), nine focusing points, the wide area focus frame marks, and the shooting area for aspect ratio 16:9 (when used). The active focus point(s) are illuminated so you know exactly which AF zone(s) has been selected. See the graph below for a visual description.
Along the bottom is a digital status line that displays flash compensation, flash charging, wireless flash, high-speed sync, manual focus, focus, shutter speed, aperture, EV scale, AE lock, shots remaining counter, camera shake warning, super steadyshot scale (five indicator bars that show graphically the amount of action being taken by the Super SteadyShot system to counteract camera movement), and aspect ratio 16:9 (when enabled).

The high-performance AF system offers exceptional accuracy, with 9 separate AF sensors for wide-area coverage that gives you great flexibility in how you frame your subject. To exercise even more control, you can choose the Local AF area mode via the Fn (Function) menu, and then use the focus area selector switch on the back of the camera to choose any of the nine sensors as a spot-focusing target -- the selected focus point will be indicated by a red mark superimposed on the image in the viewfinder.

Here you can see an illustration of the three possible AF area modes.
High-speed AF data processing and lens drive systems assure instantaneous focus response, allowing you to capture those "spontaneous moments" that SLR photography is all about. In addition, the AF system offers multi-dimensional predictive autofocus with auto- tracking focus-point display. It uses powerful processing algorithms to calculate the speed and direction of moving subjects in four directions, and significantly improves focusing accuracy during high-speed action photography.

Conveniently positioned for easy operation with your thumb, the AF/MF button allows you to instantly toggle between auto focusing and manual focusing -- without interrupting the flow of distance information to the camera's metering, Super SteadyShot, and ADI flash systems.
Three focusing modes assure optimum performance in a wide range of situations. There's AF-S mode for single-shot AF, an AF-C mode for continuous AF, and an AF-A mode that automatically switches from single-shot to continuous AF when it detects that your subject is moving.
Exposure Metering
A high precision 40-segment honeycomb pattern metering system provides optimum exposure control for various lighting conditions. User selectable metering modes: Honeycomb-pattern, Center-weighted averaging or Spot metering. Metering range: EV 2 - 20 (EV 4 - 20 in spot metering) at ISO 100 with f/1.4 lens.


Visitors of Steves can visit the stores below for real-time pricing and availability. You can also find hot, soon to expire online offers on a variety of cameras and accessories at our very own Camera Deals page.