Sony DSC-V1 Review
Playback Mode Screens & Menus
Playback screen has icons for battery condition, image size, picture number / total number of pictures. Across the bottom is the folder name, image file number and time and date.



Pressing the Monitor button toggles the display of the exposure compensation, aperture, shutter speed and the histogram graph. Press it again to clear all of the overlay information for playback on the TV screen.



While viewing a picture fullscreen you can toggle the telephoto zoom control and zoom-in to the image in multiple steps up to 5x. Once magnified you can scroll around inside of the image using the 4-way selector.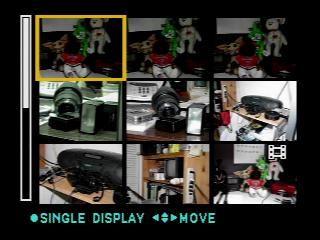 Playback index mode, nine thumbnail size images are displayed per page. You can quickly search through the stored images and display one full screen.



While in Index mode you can call up two pages of image information, the first screen displays the aperture, shutter speed, exposure compensation and ISO speed.



The second information screen displays the metering and flash mode and the white balance setting.



Movie clip playback screen, audio is replayed through built in speaker.
Still image playback mode options:
Folder - Change the current image folder

Protect - Protect/unprotect images from accidental erasure

DPOF - Attach DPOF printing information to image(s)

Slide - Start slideshow, set interval time between images

Resize - Resize image to 5.0M, 3.1M, 1.2M or VGA

Rotate - Rotate portrait mode images for TV display

Divide - Divide MPEG movie clips
SETUP options - CAMERA menu:
Moving Image - Sets the mode for the Movie position of the Mode Dial: MPEG Movie, ClipMotion or MultiBurst

AF Mode - Single, Monitor, Continuous

Smart Zoom - Enable or disable the 4x digital zoom

Date/Time - Enable date or time+date stamping on the image

Red Eye Reduction - Enable/disable the flash Red-Eye mode

Hologram AF - Auto or Off

Bracket Step - Set the step value at 1.0, 0.7 or 0.3EV

Hot Shoe - Enable or disable the flash hot shoe contact

Zoom Lever - Set the direction of the zoom lens control lever
SETUP menu options:
Format - Format the Memory Stick

File Number - SERIES (sequential auto number) or RESET

CreateREC.Folder - Create a new folder for storing images

ChangeREC.Folder - Select a different folder

Power Save - On or Off

LCD Brightness - Bright, Normal or Dark

LCD Backlight - Bright, Normal or Dark

Beep - Camera "beep" sounds: Shutter, On, Off

Language - Menu language

Clock Set - Set the internal clock

USB Connect - USB protocol, PTP or Normal

Video Out - NTSC or PAL signal timing
Visitors of Steves can visit the stores below for real-time pricing and availability. You can also find hot, soon to expire online offers on a variety of cameras and accessories at our very own Camera Deals page.