Steve's Conclusion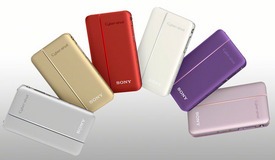 18-MegapixelExmor R CMOS image sensor

5x Carl Zeiss internal optical zoom lens: 35mm equivalent of 26-130mm (4:3 still image)

3.3-inch, OLED touch screen
intelligent Auto Mode (iAuto)
Superior Auto mode

Optical SteadyShot Stabilization
Sweep Panorama

Full HD video recording

Face Detection
Smile Capture
Anti-Blink Function

Rechargeable Li-Ion battery
Micro Memory Stick and microSD/SDHC memory card compatible
Pros
Super compact body, can fit into the smallest of pockets

Loaded with easy to use exposure options
Captures surprisingly nice photos for a camera of this size
Unmatched high ISO performance in a camera of this size

Nice, wide 5x optical zoom lens

Touch Screen is easy to use and responsive

Blazing fast shooting performance
Awesome burst mode options

Dual card slot accepts Micro Memory Stick and microSD/SDHC cards
Stylish body available in four colors: Silver, White, Pink, and Violet

Cons
Sliding lens cover/power switch can be difficult to slide down quickly for spontaneous photo opts
microSD cards can be inserted backwards; camera then display a "please reinsert memory card warning"
Uses "micro" cards, which are tiny and easy to lose
Non-standard tripod mount - requires adapter (included) to mount to standard 1/4-20 tripod or monopod

Timing Test Results
Power up to first image captured = 1.5 seconds
Shutter lag when prefocused = less than 1/10 of a second
Shutter lag with autofocus = 2/10 of a second

Shot to shot delay wo/flash = 1.8 seconds between frames

Shot to shot delay w/flash = 4.4 seconds between frames

Continuous mode Hi = 9.1fps @18MP (up to 10 frames)
Continuous mode Lo = 2.3fps @18MP (up to 10 frames)
All tests were taken using a 16B Sandisk Class 4 microSDHC card, iAuto , ISO auto, Flash off and all other settings at the factory defaults unless noted otherwise.
Bottom Line
Sony continues to create powerful pocket cameras, and their Cyber-Shot DSC-TX66 is no exception. This camera is super fast, captures some awesome photos, and looks good while doing it. Its size can be difficult to handle if you have large hands, however the touch screen interface is very responsive; even if you have "fat" fingers.

Pick This Up If...
You are looking for the ultimate in portability, but still demand excellent performance and image quality; not to mention a stylish exterior.

Sony has been making ultra-compact T-series cameras for quite a while, and each year that goes by they seem to get smaller. For 2012, they added a couple new models, including the Cyber-Shot DSC-TX66. This is one of the smallest cameras we've tested to date (8/2012), but don't let that fool you; the TX66 is still packed full of features.
The body design is very familiar if you've used a T-series model in the past, with the small all metal body housing an internal Carl Zeiss 5x optical zoom lens mated to an 18-megapixel Exmor R CMOS image sensor. Other appealing features include a 3.3-inch OLED touch screen display, BIONZ processor, Optical SteadyShot image stabilization, iAuto and Superior Auto exposure control, Sweep panorama, 3D modes, and Full HD video options (in both AVCHD and MP4 formats). All of this is packed into a metal shell that measures just 3 3/4" x 2 1/4" x 17/32 inches.
During our testing, we did experience two annoyances with the TX66's small body. For one, the sliding lens cover was difficult to slide down quickly. Unless you catch the edge just right, you will find yourself trying to push and slide down the cover; with it not going anywhere. This is a design flaw, considering that this setup has been used on their T-series since its inception, and they heavily marketed this feature for quite some time. The other issue was with the memory card slot. The dual card slot accepts both microSD/microSHDC or Micro Memory Stick type cards. We tested the TX66 with a 16GB microSDHC card, and we found that it can be inserted backwards - it even "clicks" into place like you would expect. However, the LCD would prompt a "please reinsert memory card" warning as soon as we'd turn the camera on. This, on top of the fact it uses such tiny cards, brought frustration several times when installing the memory card.
Since the 3.3-inch OLED is used to control most all of the camera functions, there are only a few physical controls remaining. These include the Power On/Off button, the shutter release, and the zoom control. Everything else is controlled by using camera's touch screen interface.
The touch screen system actually works quite well, and the display is very responsive. It responds to the touch of either the "flesh" of your finger or your fingernail; and Sony even includes a handy stylus pen. This is a very welcoming interface, that allows touch screen users of various devices to feel comfortable while interacting with the camera's options.
The only issue I experienced was when you clear all of the info from the screen in record mode by pressing the DISP Off button. It also takes away the Play button, making it difficult to quickly enter playback mode - you have to press and hold the DISP On button for a couple seconds to get the Play button to reappear. I think it would have been much wiser of Sony to also allow the Play button to remain, or maybe they could have added a physical play button up top of the camera.
Exposure options are plentiful, with a plethora of fully automatic modes at your fingertips. The default setting is iAuto, which is Sony's capable intelligent auto exposure mode. Intelligent Auto is apart of most all digicams these days, and offers you the peace of mind that the camera will take care of all of the exposure settings, while at the same time apply some additional scene mode processing to further enhance your photos. This is the option we recommend for most users, as it produces great snapshots in various shooting conditions.
They've also included their somewhat newer Superior Auto mode. This setting is very similar to iAuto, however it adds the versatility of multi frame technology. By capturing multiple photos of the scene, then combining them in camera, Sony promises that Superior Auto creates images that are clearer and have more dynamic range. We noticed that this mode was able to produce some nice looking photos, however we saw no significant improvement over iAuto. We also noticed that Superior Auto added some possibly unwanted lag to the camera's response times due to the increase in processing required.
For those who like to adjust some settings, you have the option to use Program AE. Here the camera still chooses the relevant exposure settings, however now you have access to settings like ISO sensitivity, White balance, metering mode, etc. This mode gives you the most control out of all the options available. If you want to specifically choose the setting for a specific scene, the TX66 does still offer various scene mode options for situations like fireworks, pets, night scene, etc. There's even a backlight correction HDR mode to help with difficult lighting situations outdoors.
The TX66's image quality both indoors and out was very nice for a camera of this size. I found iAuto to be the best option for shooting, as it produced great results and shooting performance was very good. Colors are nice and vibrant, but still pretty close to natural. Images are sharp and full of detail, however you can see some noise if you critically inspect images at 100%. This is not likely to be seen even in large prints, but if you look for it on your PC screen at pixel level, it cam be seen.
Looking closely at our M&M man ISO series of photos, you can see the TX66 handles noise very well up to ISO 1600, and higher. ISO 1600 still gives you plenty of fine detail, however there's a good amount of smoothening going on compared to say 800. At 3200, you see fine details are disappearing, however the overall image is still very usable for small to mid-sized prints. After 3200, fine detail is lost with images that are soft due to the "smudging" of the sharp details we saw at lower settings. At full screen resolution however, the 6400 and 12,800 settings look way better than I expected for a compact point-n-shoot; which is usually limited to a maximum of ISO 800 for usable images.
Moving indoors, the camera still did well - even though it has a tiny built-in flash. As long as you have plenty of ambient light, or you are close to you subject, the TX66 will capture pleasing close-up portraits or small group shots of your friends and family. When faces are detected, the camera smooths skin tones, which helps remove small blemishes for clearer looking faces.
The 5x optical zoom lens on the TX66 offers a nice focal range for average snapshot needs. Using the default 4:3 aspect mode for still images, you get an equivalent range of 26-130mm, which covers nice wide landscape shots, along with close-up portraits and macro subjects. Thanks to its Macro focus capabilities of as close as 3cm from the lens, you can get some pretty nice flower or bug shots with this camera. We saw very few distortions in our sample photos; nothing worthy of significant mention.
Movie mode on the TX66 is impressive. This compact digicam has more video options than I've ever seen on a consumer point-n-shoot. You can not only record various resolutions, but you can also choose the video format you want to use. You can choose full 1080 60i video with the AVCHD option, or 1080 30p with the MP4 format. Sony notes that the latter is better for web use, while AVCHD is better for playing videos back on a HDTV. Thanks to the inclusion of a micro HDMI port, you can easily connect the TX66 to your HDTV with an optional cable - no AV cables are included with the camera.
Our video samples, mostly shot in AVCHD mode, turned out great. Considering they were handheld, I was very impressed with the quality of the video. Audio is pretty good from the stereo mics, but be sure you stay away from AC units, or anything that make a faint continuous sound. We had some video (not on the samples page) that was near an outdoor AC compressor, and that's about all you could hear - even though it was about 10-15 feet away. The zoom works quietly, and the AF system does well at keeping things in sharp focus when zooming or following moving subjects.
Battery life leaves a bit to be desired. It's hard to knock the camera for battery life when you consider how small it is, and how tiny the battery is. Those two things taken into consideration, it's pretty good actually - Sony claims up to 250 shots. But, when compared to other point-n-shoots in this price range, it's a bit short. Due to the fact that the battery is charged in camera via the USB cable and AC adapter, it's also hard to keep a spare pack charged. However, if you have the time and discipline to keep on charged up, it would be a wise decision - especially if you're planning a trip.
Bottom line - Sony has created yet another awesome little point-n-shoot. The Cyber-shot DSC-TX66 performed better than expected in the shooting performance and image quality departments. It's extremely easy to use with iAuto and Superior Auto modes, and the touch screen interface was very responsive. We had a few annoyances, like the sliding lens cover, but overall the TX66 was a pleasure to use. If you are looking for the smallest camera on the market that can still take some sweet snapshots, look no further. With a suggested retail price of $349 USD, you pay for this size and performance. However, if that's what you're after, the TX66 will deliver.
Visitors of Steves can visit the stores below for real-time pricing and availability. You can also find hot, soon to expire online offers on a variety of cameras and accessories at our very own Camera Deals page.