Sony DSC-S75
Sony DSC-S75
Record Modes & Menu Options
This is a typical LCD display when the shutter release is half-pressed, the focus has been locked (green circle icon), and the exposure has been calculated (F2.3 @ 1/100s). Onscreen icons for battery condition (graphical and time remaining in minutes), Flash is set to forced On, ISO sensitivty has been fixed at 100, image size is 2048x1536 and Fine quality, 35 pictures remaining and a graphical representation of the space left on the Memory Stick.



Setting the Mode Dial to the "A"perture priority position lets you adjust the aperture value (wideangle: F2, 2.2, 2.5, 2.8, 3.2, 3.5, 4, 4.5, 5, 5.6, 6.3, 7.1, 8) and the camera's exposure system will match the appropriate shutter speed.
The aperture controls the depth of field (range of focus), a smaller number yields a shallow depth of field and a higher number gives you a deeper depth of field. Shallow depth of field is prefered in portraits to blur out the background and when you shoot an outdoor scenic shot you would use F8 to put everything in focus.



Setting the Mode Dial to the "S"hutter speed priority positions lets you set a given shutter speed (1/1000, 1/800, 1/640, 1/500, 1/400, 1/320, 1/250, 1/200, 1/160, 1/125, 1/100, 1/80, 1/60, 1/50, 1/40, 1/30, 1/25, 1/20, 1/15, 1/13, 1/10, 1/8, 1/6, 1/5, 1/4, 0.3, 0.4, 0.5, 0.6, 0.8, 1, 1.3, 1.6, 2, 2.5, 3.2, 4, 5, 6, 8 secs) and the camera will match the appropriate aperture value. You would use a high shutter speed to freeze rapid-moving subjects or use a slower shutter speed to intentionally blur them.
Setting the Mode Dial to "M"anual allows you to adjust both the shutter speed and the aperture value. You press in on the jog dial and move it to the shutter speed or the aperture value and press it again and then change the setting. The "EV" readout acts as your exposure meter and lets you know if the current settings will produce a proper exposure or over (+ number) or under (- number) exposure.



The focus can be automatic or you can press the FOCUS button and then rotate the command dial to select any one of the following preset distance values: 01.m, 0.2m, 0.3m, 0.5m, 0.8m, 1m, 1.5m, 2m, 3m, 5m, 7m, 10m, 15m or infinity



Still image record mode options:
White Balance - Automatic, Indoor, Outdoor or One-Push custom

ISO - Auto or fixed at 100, 200 or 400

Image Size - 2048x1536, 2048 3:2, 1600x1200, 1280x960, 640x480

Picture Quality - Fine or Standard

Record Mode - Normal, Burst2, Email, Voice, Text (monochrome GIF), TIFF uncompressed

Flash Level - High, Normal or Low

Picture Effect - None, Negative Art, Sepia, B&W, Solarize

Sharpness - Default is 0 but may be +1, +2 or -1 or -2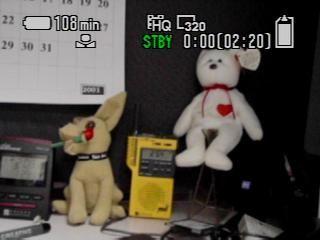 The S75 features the new MPEG MovieEX recording mode. You can capture full motion sequences with audio at 15 frames per second. There are three different recording modes available: 320x240 HQ is limited to 15 second clips but it plays back full screen on the LCD or TV screen.
The 320x240 (non-HQ) and 160x120 mode movies can be recorded for as long as you have available memory - no more 5, 10 or 15 second limitations as on other Sony digicams in the past. The normal 320x240 and 160x120 movies play back in a smaller screen area, see the next page for examples.



Movie record mode options:
White Balance - Automatic, Indoor, Outdoor or One-Push custom

Image Size - 320x240HQ, 320x240, 160x120

Picture Effect - None, Negative Art, Sepia, B&W, Solarize
Besides MPEG movies you can also record animated 160x120 GIF files using the ClipMotion mode. You can sequence up to 10 images into one small and compact file that can be easily emailed.
Visitors of Steves can visit the stores below for real-time pricing and availability. You can also find hot, soon to expire online offers on a variety of cameras and accessories at our very own Camera Deals page.