Sony DSC-S40 Review

Features & Controls
The Cyber-shot S40 features a Carl Zeiss 3x Zoom, 5.1 to 15.3mm (32 to 96mm equivalent), F2.8 - F5.1 zoom lens. It is constructed of 7 elements in 6 groups with 3 Aspheric elements. When powered down, the lens retracts into the body and is protected by a built-in shutter, no lens cap is necessary.
Equipped with a low-light AF-assist lamp (effective range up to 11 ft / 3.5 m Wide, 8 ft 2 1/2 in. / 2.5 m Tele), the 5 Area Multi-point, contrast detection autofocus system has a range of 19.7" (50cm) - infinity and an Macro focus mode. There is a 5-step manual focus adjustment with infinity available as well.



The speedlight has modes for: Auto, Red-eye Reduction, Fill-in and Slow-sync. The working range at ISO Auto is ~0.7 - 12.5 ft (0.2 - 3.8 m) Wide angle and ~20.0 in. - 6 ft 10 in. (0.5 - 2.1 m) Telephoto. The flash squelches down nicely for macro exposures and has 3 power output settings.

Brighten up your photographs like never before with the optional HVL-FSL1B slave flash from Sony. It is designed to operate in sync with your Cyber-shot digital camera's internal flash without having to connect a cable.
The HVL-FSL1B is equipped with a light control switch and is compatible with the red eye reduction and pre-flash functions of your digital camera. It includes a bracket to make installation a snap.




The eyelevel optical viewfinder provides ~85% frame coverage but lacks dioptric adjustment. The two LEDs indicate flash and focus status.







The high resolution 1.5-inch color LCD has 77,000 pixels and can be used for preview, review and accessing the camera's menu system. The monitor can display a realtime histogram in record mode if desired.






Back Controls: Mode switch for Playback / Record / Movie mode. The Zoom Lens controls for Wide and Telephoto - also function as Index and Magnify when in review mode. The MENU button calls up and dismisses menu screens. The 4-way controller is for navigating menus, changing settings and selecting playback images. The center button accepts menu selections. In record mode the 4-way buttons are used for: "Up" change flash modes, "Down" enable selftimer, "Left" is Quick View for reviewing the last image captured and "Right" is for Macro focus mode. The MONITOR button turns the color LCD on/off and controls the amount of information displayed. The TRASHCAN button is for image deletion in review mode and is used to select the Image Resolution in record mode.



The I/O port is a a USB 2.0 (high speed) data port. The S40 does not have an Audio-Video output feature.



The S40 stores its data on ~30MB of internal memory and optional Memory Stick and Memory Stick PRO Cards. Memory Stick PRO (up to 2GB max.) media is required for capturing the MPEG-VX Fine mode 30fps motion video clips.
Number of Storable Photos (approx.)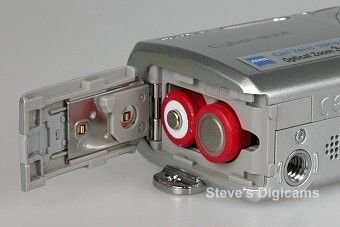 The Cyber-shot S40 is powered by two AA batteries, alkaline or NiMH type. Sony's Stamina technology provides up to 110 shots with LCD turned on or 140 shots with the LCD turned off using alkaline batteries. And up to 480 shots with the LCD turned on or 580 shots with the LCD turned off when using NiHM rechargeable batteries
Check out our Rechargeable Battery Page for info and prices on high-capacity NiMH AA cells.
Sony specifically state to NOT use manganese, lithium or Ni-Cd type batteries.
Visitors of Steves can visit the stores below for real-time pricing and availability. You can also find hot, soon to expire online offers on a variety of cameras and accessories at our very own Camera Deals page.