Sony DSC-P73 Review
Features & Controls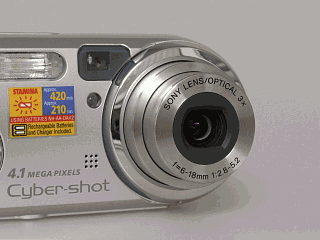 The DSC-P73 is equipped with a Sony F2.8 6-18mm 3x optical zoom with 39 to 117mm coverage (as compared to a 35mm camera.) The lens retracts into the body when powered down and is protected by a built in lens barrier - no cap to lose.
The DSC-P73 employs a 5-point Multi-point auto focus system, the center AF target area can be wide or narrow. The working range is from 19.7 inches to infinity in normal mode and in Macro the coverage is from 3.9 inches to infinity. You can also manually select one of five focus distance presets from 0.1m to infinity.

The DSC-P73 features an AF Assist beam designed to achieve accurate focus on subjects with little contrast in dark conditions. It also brightens the LCD screen image to aid in framing.



The DSC-P73 and P93 cameras can use the optional Sony 0.7x wide angle VCL-DH0730, 1.7x telephoto VCL-DH1730 and 2.6x telephoto VCL-DH2630 lenses or 30mm (polarizer, soft focus, cross star, neutral density) filters. The optional VAD-PEB conversion lens adapter is required and attaches easily after removing the camera's chrome dress ring.



The eye level optical real-image zoom viewfinder has a field of view of approx. 80-85% (80% in wide and about 85% at tele) of the captured image. There is no diopter adjustment. The LEDs indicate card activity/Self-Timer, Autofocus/Auto Exposure Lock and Flash status.



The built-in flash has modes for Auto flash, Red-Eye Reduction, Slow Synchro and Flash Cancel. It uses a pre-flash for precise metering of the exposure. It also has auto daylight synchro fill flash for backlit or shadowed subjects as well as dynamic flash white balance for greater color accuracy. The flash range is 1.6 - 12.5 ft. (0.5 - 3.8m).

The Sony HVL-FSL1A external slave flash with bracket can be used with the DSC-P73 camera to give you more flash range with no wires required.



On top is the Power button and combination Mode Dial and Shutter release. The Mode Dial has positions for SETUP, Movie, Playback, AUTO, Program, Manual, (scene modes) Twilight, Twilight Portrait, Landscape, Soft Snap, Candle and Beach.



On the back is a 1.5-inch color TFT LCD monitor with 67,000 pixels of resolution. It can be used as a live viewfinder, for image review or accessing the menu system. Controls on the back: Top right is the zoom lens controls, in playback the Tele button magnifies the image and the Wide button displays the thumbnail index. The Monitor button turns the color LCD on and off and controls the amount of information (and histogram) that is displayed.
The MENU button calls up or dismisses the onscreen menus. The 4-way selector lets you navigate through the menus or select images during playback. Pressing it in the center accepts selections. In record it lets you select the flash mode, macro focus mode, self-timer and Quick Review mode. The button on the bottom left lets you quickly change the image size in record mode and acts as the image delete button in playback.



The I/O ports are on the back and include a jack for the optional AC power supply, a USB 2.0 port for transferring images to the computer and an Audio-Video port that lets you display images and movies on a TV. The video signal can be set for NTSC or PAL standard.



Located on the side with the battery is the Memory Stick card slot. The DSC-P73 comes with an 16MB Memory Stick and can use any capacity Memory Stick, Memory Stick Select or Memory Stick Pro card. The use of the faster Memory Stick Pro cards is required for recording the 640x480 VX Fine mode movies.


Power is supplied by a pair of AA type batteries, alkaline, NiMH or photo lithium. We recommend high-capacity NiMH rechargeable AA batteries, they last longer than alkalines and are reusable 500+ times.
Sony includes a charger and a set of 2100mAh rechargeable NimH batteries that can capture up to approx. 410 images with a playback time of approx. 250 minutes.



The $200 MPK-PEA marine pack is designed exclusively for the DSC-P73 and DSC-P93 digital cameras. The A.B.S. plastic and glass case allows you to take your camera underwater to a depth of up to 132 feet. It also serves as a protective case, keeping you camera safe from rain, sleet and snow.
Visitors of Steves can visit the stores below for real-time pricing and availability. You can also find hot, soon to expire online offers on a variety of cameras and accessories at our very own Camera Deals page.