Sony DSC-P5 Review
Sony CyberShot P5
Introduction & Physical Views
Review posted 8/21/01

Click on the P5 to take a QuickTime VR tour


The ruggedly elegant design and silver case of the Cyber-shot DSC-P5 model resembles that of its popular predecessor, the DSC-P1, but reveals a slimmer profile - thanks to a two-step barrel lens that retracts into the body of the camera; along with the development of a tiny new C-series InfoLithium® battery, with more than an hour of continuous shooting capacity, depending on use.
At a more attractive price than its predecessor, the DSC-P5 model at about $600 will still feature a 3x optical, 6x digital zoom lens and a 3.34 megapixel CCD (3.2 MP effective) when it becomes available in October. It also features a more precise 14-bit A/D converter and MPEG EX movie mode.
Though small in size, the P5 brings new features to the P series, such as an AF Illuminator for focusing in the dark, in addition to two-shot burst mode, for capturing fast action and simplified user menus.
Versatile File Formats -- Files can be saved in several ways: JPEG, TIFF (Tagged Image Fill Format) for higher quality images, GIF for text mode and two different MPEG options for motion video and sound - MPEG HQ (High Quality) and MPEG EX (Extended). MPEG EX captures 160x112 or 320x240 video continuously, up to the capacity of the Memory Stick® media in use.

Sony CyberShot P5 Features:
1/1.8" 3.34 Megapixel Super HAD CCD image sensor
2048x1536, 1600x1200, 1280x960, 640x480 resolution images in JPEG Normal or Fine and uncompressed TIFF formats
14-bit DXP A/D converter for improved image detail
Sony 3x optical (39-117mm) zoom with 6x digital zoom
High-speed scan AF with AF illuminator light and manual focus modes
1½" color TFT LCD monitor
ISO 100, 200, 400 and Auto (100-400)
Center-weighted averaging and Spot metering
Adjustable white balance with four modes, including one-push manual.
3-mode auto flash w/selectable red-eye reduction
2-shot burst, MPEG/MPEG HQ, Voice memo, text modes
JPEG, GIF, uncompressed TIFF or MPEG file formats
UXGA/XGA/VGA, 3:2 UXGA image resolution
Durable alloy body with built in lens protector
Super-compact "pocket size" camera
USB storage class transfer
InfoLithium® rechargeable battery, AC adapter/charger supplied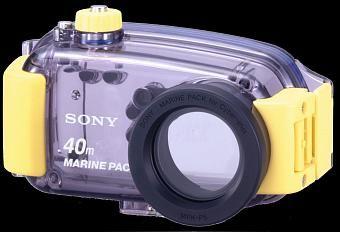 To protect the DSC-P5 or DSC-P3 cameras from water and other elements, such as sand, snow, ice and rain, users may purchase on optional a Marine Pack (MPK-P5) accessory. This underwater housing makes the cameras waterproof up to nearly 133 feet (40 meters). When it comes out in October for about $250, it will be supplied with a neck strap and an anti-fogging lens solution.

Physical Views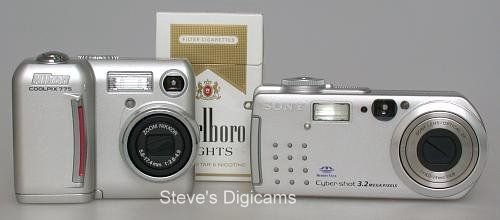 Here's the Sony P5 and the pocket-size Nikon Coolpix 775
Compare the CyberShot P1 and P5

CyberShot P5 Specifications
Imager
1/1.8" 3.34-megapixel CCD
Image Sizes
Still: 2048x1536, 2048x1360 (3:2), 1600x1200, 1280x960, 640x480
MPEG: 320x240 and 160x120
ClipMotion GIF: 160x120 and 80x72
Recording Formats
Still: JPEG, TIFF, GIF
Movie: MPEG EX (160x112 or 320x240 @ 8fps up to 60 secs)
MPEG HQ (160x112 or 320x240 @ 16fps preset lengths of 5, 10 15 sec)
A/D Conversion
14-bit DXP
Lens
Sony 3X F2.8-5.6 8-24mm (39-117mm 35mm equiv)
Focus
Contrast Detect w/AF illuminator light
Autofocus 19.7" to infinity
Macro AF 3.9" minimum
5-step Manual focus
ISO Sensitivity
Auto, 100, 200, 400
White Balance
Auto, Outdoor, Indoor, One-Push Custom
Exposure Metering
Center-weighted Averaging or Spot
Program AE
Normal and Night mode
Exposure Compensation
+/- 2.0EV in 1/3EV increments
In-Camera Sharpening
+/- 2 in 1 step increments
Flash Modes
Auto, Forced, Redeye, Off
Flash Level Adjustment
Auto, High, Low
Flash Range
1.6 to 9.2 feet
Color LCD
1.5-inch 123,000 pixels TFT w/backlight
Playback Zoom
1.1 to 5X in 17 steps
Playback Index
9 frames
Review / Quick Delete
Yes / Yes
Trimming / Resizing
Yes / Yes
MPEG 6X Cue/Review
Yes, EX or HQ
Storage Supplied
8MB Memory Stick
Connections
Video, USB, AC power
Battery Supplied
InfoLITHIUM NP-FC10
w/AC-LS1 charger & AC supply
Supplied Software
MGI PhotoSuite 8.1, MGI PhotoSuite SE 1.1 Sony SPVD-004 USB driver
Dimensions
4-1/2 x 2-1/8 x 1-7/16 inches
113 x 54 x 36 mm
Weight (w/battery)
7.8 oz (214 g)
Visitors of Steves can visit the stores below for real-time pricing and availability. You can also find hot, soon to expire online offers on a variety of cameras and accessories at our very own Camera Deals page.