Sony DSC-M1 Review
Record Mode Screens & Menus
Here's the screen display when in the AUTO (point-n-shoot) mode. As you can see this is not your typical display. The DSC-M1 allows you to record still images or movies without having to access a menu or rotate a Mode dial. It features two shutter releases (Photo Movie.) The image size is "5M"egapixels in still record, and "640x480 30f" in Movie mode. Other icons indicate the image folder is 101, there's is enough room on our SD card to record 75 images in still record mode or 8 minutes and 47 seconds in movie mode, and in the center are the AF target marks.



When you half-press the "Photo" shutter release, the AF marks turn green and a green circle appears to indicate Focus lock. And you can see the shutter speed and aperture values being displayed.



Here's a look at the menu options when using Auto mode. You can Change the Photo mode from Auto, Program AE, or choose one of the nine pre-programmed scene modes. Next you can change the Drive mode from Normal (single), Speed Burst, or Multi Burst. Selecting the SETUP option will take you to the setup menu, which is the same no matter what mode you are in (Record or Playback.)



Here's a "P"rogram AE mode screen. There's overlay information for Still Image and Movie size/quality, available space for capturing image or movies, folder number "101", and Multi AF mode.



Here is a "busy" Program AE screen. There are icons for Fluorescent White Balance, Hard Sharpening, High Contrast, High Saturation, ISO 100, Folder 101, Macro Focus mode, Flash Off, Exposure compensation (+0.3EV), and Spot metering. Pressing the Monitor button will enable the live histogram display (top right.)



You can change the Photo image size and Movie mode by pressing the "Image Quality" button. This allows you to quickly change still image sizes from 5M, 5M(3:2), 3M, 1M, and VGA, or Movie sizes from 640x480 (30fps), 320x240 (30fps), and 320x240 (15fps).



Macro (close-up) focus mode allows you to shoot much closer than normal. The focus range in macro is from 3.9 inches to infinity. You can get even closer (1cm) using the Magnifying Glass mode.



Record options (in all modes other than Auto):
Camera - Choose from Auto, Program AE or one of the 9 scene modes (see below)

Exposure Compensation - Offset the auto metering by +/-2.0EV in 1/3EV steps

Focus - Multi AF, Center AF or fixed at 0.5m, 1m, 3m, 7m or infinity

Metering - Multi-pattern (default) or Spot

White Balance - Auto, Sunny, Cloudy, Fluorescent, Incandescent, Flash

ISO - Auto or fixed at 100, 200, 400

Picture Quality - Fine or Standard

Record Mode - Normal, Burst or Multi Burst
(The MultiBurst mode lets you record sixteen frames at high speed. The capture rate is selectable for 7.5fps, 15fps or 30fps via the menu. These 320x240 images are merged into one 1280x960 finished image. When the image is played in-camera it is animated in sequence.)

Burst Rate - 7.5/15/30 frames per second (only when Multi Burst is active)

Flash Level - High, Normal or Low

Picture Effect - None, Sepia or B&W

Saturation - Default is 0 but may be + or -

Contrast - Default is 0 but may be + or -

Sharpness - Default is 0 but may be + or -
Here's a look at the 11 different record modes you can choose from: Auto, Program AE, Twilight, Twilight Portrait, Landscape, Snow, Beach/Sunset, High-Speed shutter, Fireworks, and Candle.



The DSC-M1 feature's Sony new MPEGMOVIE 4TV (MPEG4) video recording with stereo audio. You can select from: MPEGMOVIE 4TV with Stereo Audio (640 x 480 at 30fps), MPEGMOVIE 4TV with Stereo Audio (320 x 240 at 30fps) or MPEGMOVIE 4TV with Stereo Audio (320 x 240 at 15fps). The length of recording is limited only by the space available on the memory card.
The new MPEGMovie 4TV recording mode uses MPEG-4 compression format to significantly increases picture quality and resolution while dramatically reducing file size. Employing a reduced bit rate (from 11Mpbs to 2.5 Mpbs), MPEGMovie 4TV mode enables the recording of up to 27 minutes of VGA-resolution, 30-frames-per-second video with stereo sound on an optional 512 MB Memory Stick PRO Duo™ media card, or up to 54 minutes with the optional 1GB card, available soon.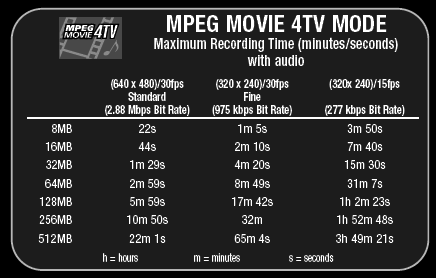 The "Hybrid" record mode continuously accumulates 320x240 15fps video with sound, and records 5 seconds before still image capture and 3 seconds after. Still images are recorded at the selected resolution.
Visitors of Steves can visit the stores below for real-time pricing and availability. You can also find hot, soon to expire online offers on a variety of cameras and accessories at our very own Camera Deals page.