Sigma SD9 SLR Review
RAW Image Conversion Software
The Sigma SD9 stores its images in a proprietary lossless compressed RAW file format, there is no in-camera JPEG or TIFF options. These X3F images must be processed with the included Sigma Photo Pro application before they can be edited or viewed outside of the camera.
I'm sure that many will see this as a problem or at the very least, an inconvenience. Here's my thoughts ... The RAW image format gives you the ability to post-capture manipulate all of the data gathered at the time of exposure. RAW files become your digital "negatives" as the software does not allow for re-saving modified images in the X3F format. Your original exposures will never be lost (if you're smart enough to permanently archive them on CD disc.) As long as the conversion and manipulation software is supplied, effective, robust, user-friendly and can operate in a fairly automatic mode for novice users -- I don't see any drawbacks to having only RAW image data.
Possibly a future firmware update or new camera model will allow for in-camera JPEG processing, even the Kodak Professional folks realized there was a need for this...



The main Photo Pro window is a thumbnail browser type interface. Photo Pro can open a folder of images on your hard drive anytime you need to view, manipulate or convert the RAW files.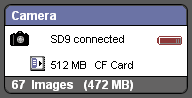 Photo Pro can be set to launch automatically whenever the SD9 is connected via the USB or FireWire interface. When the camera is connected the Photo Pro software will build thumbnails for all the images in the camera. This can be painfully slow if using the USB 1.1 interface, the FireWire interface is easily ten times faster and highly prefered.

The thumbnails can be displayed in a variety of sizes and you can also show the exposure data along with each thumbnail as shown above. Along the bottom are four buttons that let you quickly change the thumbnail display mode. You can also do this from the View drop-down menu.

The buttons along the top (left to right): Information, Rotate 90°CCW, Rotate 90° CW, Flag, Protect and Delete.



The file Information window displays all of the camera and exposure data that is embedded in the RAW file. This can be displayed at any time by pressing the "i" button on the toolbar.



The dialogue box during image transfer from camera to host computer. You can individually tag any number of images in the camera for transfer or simply transfer them all. During transfer the images may be converted to TIFF or JPEG format.



You can use the "Save image as..." button at any time to convert the current or tagged images to TIFF or JPEG format. Format options include: Resolution (Same Size, Half Size, Double Size), Color Space (sRGB, Apple RGB, Adobe RGB, Color Match RGB) and Output File Type (JPEG/EXIF, JPEG/JFIF, TIFF 8-bit, TIFF 16-bit)



The real POWER of the Photo Pro program is its ability to manipulate the RAW image data before conversion to TIFF or JPEG format. Shown here is the Review Image window with a 200% magnified cursor view option enabled. It shows the exact color in RGB values for the current cursor position.
To go into the active editing mode press the "Adjustment Controls" button in the upper right corner.



Before you begin any on-screen editing and color adjusting you should click on the Tools menu and bring up this Monitor Verification window to make sure that your monitor is properly adjusted. Note that this will only verify a proper gamma and resolution setting, it does not confirm color calibration.



Here are the image adjustment tools. You operate in Default, Auto or Custom mode. Default will instantly let you see the image as it is in the original exposure. Auto lets the software use what adjustment values it "thinks" will be optimum but often fails like Photoshop's Auto Levels due to a lack of a proper white or black point in the image. The Custom mode lets you manually adjust (+/- 2.0 in 0.1 steps) the exposure, contrast, shadow, highlight, saturation and sharpness values.
There's also a 3D color wheel with a "gray" eyedropper and a histogram with settable low and high warnings that will display in the image as colored areas. Any changes you make are instantly visible in the Review Image window just like any graphic editing program.

One of the most useful tools when manipulating RAW images lets you select a different white balance value after capture. I don't think that anyone has escaped the "Oops, I used the wrong white balance setting" scenario. And you usually don't discover it until later when you can't possibly re-shoot the picture. With RAW image data this is -not- a problem, just select the proper white balance before converting the image.



After making the desired image adjustments use the "Save image as..." button to convert the image to TIFF or JPEG format. Format options include: Resolution (Same Size, Half Size, Double Size), Color Space (sRGB, Apple RGB, Adobe RGB, Color Match RGB) and Output File Type (JPEG/EXIF, JPEG/JFIF, TIFF 8-bit, TIFF 16-bit)
Visitors of Steves can visit the stores below for real-time pricing and availability. You can also find hot, soon to expire online offers on a variety of cameras and accessories at our very own Camera Deals page.