SeaLife ReefMaster DC300 Review
SeaLife ReefMaster DC300 Review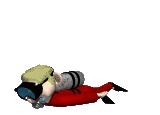 Record / Playback Screens & Menus
Here's a typical Record screen, you can press the display button and clear off all of the icons when you want to use it as a live viewfinder. Across the top is battery level, record mode icon, 280 pictures remaining, Large (3 megapixel) image size, 3 stars is SuperFine quality, we're using an optional SD card, flash is automatic, focus mode is landscape (normal), time and date.



You can press the OK button to activate the 2X digital zoom option (if enabled in the menu.) Digital Zoom can only be used when the LCD is turned on and the image size is 2048 x 1536. Digital zoom is not like real optical zoom, it simply crops the central 50% of the frame. This could also be done (better) later in software.



Macro (closeup) focus mode covers from 2 to 3 feet.
The DC300 can also record 320x240 resoultion motion video without audio. The length of these movie clips is only limited by available memory. Digital zoom is not useable in movie mode.



Pressing the MENU button in Record mode brings up the onscreen menu of available options:
Image Size - 2048x1536, 1024x768, 640x480

Quality - Superfine, Fine or Normal

Exposure - Override metering -1.8 to +1.8 in 0.3EV steps

White Balance - Auto, Daylight, Cloudy, Fluorescent, Tungsten

Digital Zoom - On or Off

Quickview - Immediate image review for 3 secs. after capture

ISO - Auto, 100, 200, 400

LCD Brightness - Adjust color LCD backlight intensity
Playback image with minimal information display enabled.
Press the display button to show extended information or to clear the screen of overlay info completely.



Pressing the 4-way "up" button enables the 3x3 thumbnail index mode.
Pressing the OK button enlarges the image 2x and 4x, you can scroll around using the 4-way selector.



Movie playback can be on the LCD or on your TV via the video out cable.
Pressing the MENU button in Playback mode brings up the onscreen menu of available options:
Protect - Protect/unprotectfiles from erasure

Delete All - Erase all images

Slide Show - Automated playback mode, 2-10 sec. settable delay

LCD Brightness - Adjust the intensity of the LCD backlight

DPOF - Set the DPOF printing options

Copy To Card - Copy images from internal memory to CF card
Placing the Mode Dial in Setup brings up the setup menu:
LAND/SEA/EXT.FLASH - Set the desired exposure mode:

LAND - Camera is optimized for use above the water, in or out of the u/w case

SEA - Camera is optimizd for use underwater. Special color balancing insures the best possible u/w photos

EXT. FLASH - If using the camera underwater with one or two of the optional external flash units.

Format - Format internal memory or SD card

Beep - Turns button "beeps" on or off

Power Off - Set auto power off time delay

Rest to Default - Return all settibgs to factory default

Date Type - Format of date display

Date Setup - Set the internal clock

Date Imprint - Date stamp on the image, On or Off

Video Mode - Select video output, NTSC or PAL format.

Language - Set the menu language
Visitors of Steves can visit the stores below for real-time pricing and availability. You can also find hot, soon to expire online offers on a variety of cameras and accessories at our very own Camera Deals page.