SeaLife ReefMaster DC300 Review
SeaLife ReefMaster DC300 Review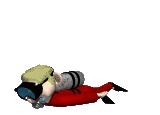 Features and Controls

The DC300's lens is a fixed-focus optic with an approx. 38mm focal length (in 35mm photography), the maximum aperture is f/3.5 and it has three focus ranges:
Landscape / Seascape - 6 feet to infinity on land, 3.5 feet to infinity underwater
Portrait - 3 to 6 feet (land only)
Macro - 2 to 3 feet (land only)
SeaLife add-on Macro and Wide Angle lenses that attach to the exterior lens port of the u/w case are available (see previous page.)




All the controls (except the shutter button) are on the back. Next to the viewfinder is the Menu button and Power button. The 4-way controller is used to navigate menu screens and select images in playback. In record mode you press "left" to change the flash modes, press "right" to enable self-timer. In playback you press "up" to enable thumbnail index mode and press "down" to delete images. Press the center to accept selections in menu mode , in record mode it enables the digital zoom. The Mode Dial has positions for Record, Playback, Movie and Setup. The bottom button controls the color LCD and the information overlayed on the review image.



The built-in flash has modes for Auto, Fill, Red-eye reduction and Off. The range was unspecified but seems to cover about 1 to 9 feet above water. Underwater you need to use the special external flash unit.



The optical viewfinder is a reverse Galilean type with framing target. It has no dioptric adjustment and shows about 85% of the captured image.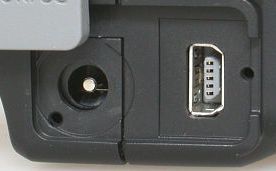 The I/O ports are on the sides of the camera. There is a USB 1.1 for downloading to the computer, a Video Out with selectable NTSC or PAL format - for playback through a TV and a DC IN for the 3V AC power adapter.

The DC300 has 8MB of memory built-in and a Secure Digital card slot allows you to greatly expand your picture taking capabilities. It is compatible with up to 256MB size cards and will probably work with the even larger 512MB cards as well.

The DC300 is powered by two AA type batteries, high capacity NiMh batteries from 1800mAh or above are highly recommended. NiMH is rechargeable so they actually save you money in the long run. You can also use lithium AA photo cells or one CR-V3 type lithium battery (even though the manual doesn't mention it.) The lithium type batteries have a very long shelf life and deliver a long runtime but they are only one-use (throw away) batteries.

And as you can see, regular alkalines are practically useless so don't even consider them. You can't stop at 50 feet and change the batteries ...
Visitors of Steves can visit the stores below for real-time pricing and availability. You can also find hot, soon to expire online offers on a variety of cameras and accessories at our very own Camera Deals page.