Sanyo Xacti VPC-C5 Review
Sanyo Xacti VPC-C5 Review
Record Mode Screens & Menus
The live viewfinder display: In the upper left are the still image settings - 5Megapixel, High quality, 387 pictures available. In the upper right are the motion video settings - TV-SHQ is 640x480 @ 30fps at the highest quality bit rate, we can record 40 minutes and 9 seconds of action. The "hand" icon indicates that the image stabilizer is enabled in Mode A.



When you half-press the still image shutter to achieve the focus and exposure lock, the AF target marks will display and show what area it is focusing on. You will notice that the viewfinder shows MORE of the scene than it did in the first frame - this is due to the image stabilizer being in Mode A. The first frame shows the actual capture area whereas the half-pressed display shows it all. The aperture and shutter speed values will also be shown in the lower left corner.



If the image stabilizer is in Mode B as shown here, there is an inner frame border displayed. Only the area inside the inner frame will be captured.



Here's the "Lamp" Scene mode which allows you to use slower shutter speeds for flash-less photography in low light.

Select the scene mode from the menu: AUTO (default - camera automatically selects the scene mode), Sports (faster shutter speeds), Portrait (optimized for "people" pictures with blurred background), Landscape (infinity focus), Night View (flash illuminate close subject but also capture background night scenery), Fireworks (fireworks at night) or Candle (low light non-flash photography).



Record Menu options:
Video Clip - Size/quality for movie capture (see below) or Audio recording mode

Photo Resolution - Size/quality for still image capture:

10M (interpolated), 5M-H (low compression), 5M-S (high compression), 2M, 0.3M

Scene Select - Auto, Sports, Portrait, Landscape, Night View, Fireworks, Lamp

Filters - Cosmetic (enhance skin tones), B&W, Sepia

Flash - Auto, Forced, Off

Self-timer - 10 sec., 2 sec., or Off

Motion Compensator - Mode A, Mode B, Off

Focus Range - Total, Standard, Manual or Super Macro

Focus Area - 5-point (default) or Spot (center only)

Light Measuring - Multi-section, Center-weighted, Spot

ISO Sensitivity - Auto (50-200 stills / 200-400 video), 50 (200 in video), 100 (200 in video), 200 (400 in video), 400 (800 in video)

White Balance - Auto, Sunny, Cloudy, Fluorescent, Incandescent or Manual
The C5 has a very respectable macro (close-up) focusing range. The default "Total" focus mode covers normal and macro range / 4 inches to infinity in Wide, 32 inches to infinity in Telephoto. The Super Macro option covers from 0.39 inches to 32 inches, the lens is locked in wide angle only.



Pressing the SET button lets you quickly review or delete the last still image or movie clip that was captured without leaving REC mode.



You can record high quality MPEG-4 encoded motion video with 48kHz, 16-bit, 2-channel (AAC compression) stereo sound. The optical zoom can be used during recording. There is a Digital Image Stabilizer, a Wind Noise Reduction filter and a Flicker Reduction filter (helps eliminate the flicker effect from fluorescent and vapor lights.) There are five different movie size/quality settings you can select from:

640 x 480 (SHQ 30fps, 3Mbps bit rate) up to 1 hour

640 x 480 (HQ 30fps, 2Mbps bit rate) up to 1 hour

320 x 240 (S 30fps, 640kbps bit rate) up to 2 hours 30 mins

320 x 240 (HQ 15fps, 384kbps bit rate) up to 3 hours

176 x 144 (15fps, 256kbps bit rate) up to 3 hours
Storage Capacities (approx.)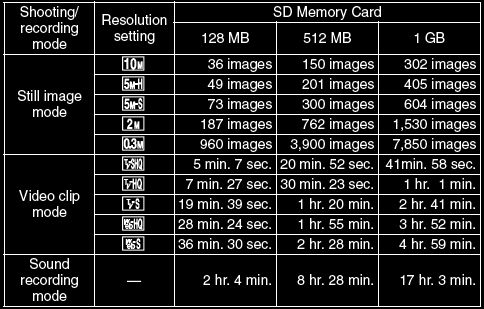 Up to 9 hours of continuous audio recording is possible
Visitors of Steves can visit the stores below for real-time pricing and availability. You can also find hot, soon to expire online offers on a variety of cameras and accessories at our very own Camera Deals page.