Samsung S1050 Review
Features & Controls
The S1050 is equipped with a Samsung SHD 5x optical zoom lens, which covers a focal range of f=7.8 ~ 39mm (38 - 190mm, 35mm equivalent) and has a maximum aperture range of f/2.8 - f/4.4. When the camera is powered down, the lens retracts into the body and is protected my a built-in lens cover.
Focus is achieved by a TTL contrast detection AF system, that features a low-light focus assist illuminator for shooting in marginal lighting conditions. The Autofocus Range is:
Normal: 80cm to Infinity
Macro: 10cm to 80cm (Wide), 50cm to 80cm (Tele).
Super Macro: 1cm to 10cm (Wide).
Auto Mode: 10 cm to Infinity (Wide), 50cm to Infinity (Tele).
Manual Focus: 1cm to Infinity (Wide), 50cm to Infinity (Tele).
The built-in flash has modes for Auto, Auto & Red-eye reduction, Fill-in flash, Slow sync, Flash off. Working range in wide angle is approx. 7.8 in. to 16.4 ft. (0.2 to 5.0m), telephoto is 1.6 ft. to 9.8 ft. (0.5 to 3.0m), using ISO Auto. Recharge time is approx. 4 seconds with fully charged battery.



Here you can see the high-resolution (230,000 PIXEL) 3.0-inch color LCD monitor, which takes up a large portion of the back of the camera. The various controls are illustrated below.



Controls on the back: At the top are the zoom controls, which also function as the image Index and Magnify buttons in play mode. Next is the "E"ffects button allows you to use creative effects on your images in record mode, and calls up the edit menu in playback mode. The playback button enters review mode. The +/- button pulls up the function shortcut menu, which allows you to quickly change resolution, quality, metering, ISO, white balance, and exposure compensation settings. In playback mode it also acts as the image delete button. At the bottom right enables and disables the Face Recognition AF & AE system. This system will track and lock on up to 9 subjects, helping you produce sharp faces with appropriate exposure.
The 4-way selector controller is for navigating menu options, press the MENU/OK button in the center to call up the menu and accept a selection. Press "Right" to activate the Self- timer, press "Down" to enable Macro mode, press "Left" to change flash modes and press "Up" to add a voice memo to and image or enable the sound recorder function.



On top you'll find the power On/Off switch, shutter release, and Mode dial with positions for: Auto, Movie, Scene, ASR (Anti-Shake reduction mode), Manual, Shutter priority, Aperture priority, and Program AE.



Images, movies and sound clips are stored on either the 45MB of internal memory or a SD/MMC/MMCPlus cards up to 2GB, and SDHC cards up to 4GB. memory card (not included.)

Approx. 256MB MMC Storage Capacity
Image Size /
Quality
10M
9M
8M
7M
6M
5M
4M
3M
1M
VGA
S. Fine
48
53
60
67
80
93
121
148
244
520
1041
Fine
94
104
115
128
157
181
226
284
434
868
1116
Normal
109
151
169
197
223
264
279
400
520
1041
1302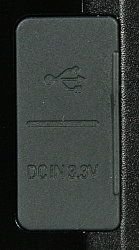 The I/O ports are located on the right-hand side of the camera. The miniature connector is for both the USB 2.0 (full-speed) data cable and the Audio/Video cable for connection to a TV set. There's also a DC IN 3.3v plug for using and external power source.



The S1050 is powered two standard AA type batteries, which means you can use Alkaline (included), rechargeable NiMH cells or one-use lithiums. We highly recommend the use of high capacity NiMH rechargeable cells - they're reusable, more powerful and will save you money in the long run.
Visitors of Steves can visit the stores below for real-time pricing and availability. You can also find hot, soon to expire online offers on a variety of cameras and accessories at our very own Camera Deals page.