Samsung A500 Vision Phone
Samsung A500 Vision Phone


Review posted 11/23/02

We're not going to make a practice out of reviewing cellphone/digicams, we have plenty to do just covering regular digicams -- but I just had the pleasure of reviewing (OK playing with) the new Samsung A500 3G Vision Phone and the SprintPCS Vision Camera. This whole cellphone and digital camera thing has been the craze in Japan for over a year and is just now coming to the states. It's not a high resolution image compared to what we're used to dealing with but it is "cool" all the same.
What we have here is a simple point-n-shoot VGA resolution camera that can take 15 color pictures and a "state of the art" cellphone that displays the images and transmits them to your account with SprintPCS Vision. Once transmitted you can share your images via Internet email or send them to anyone else with a SprintPCS Vision phone. You can access your Photo Albums with your web browser and select and send them to however many people you want. You can also send images to people that are already in your Address Book directly from your Samsung A500 or other Vision Enabled cellphone. How cool is that?
Check out the sample photos at the end of this review. I gave the phone and camera to a friend of mine and he took it along with him to the Bucs and Panthers football game at Raymond James Stadium. I gave him all of a two-minute tutorial before he left with the camera and phone, it is simple to operate. He took some shots at the pre-game tailgate party and some more from inside the stadium. He then transmitted them while sitting in the bleachers and I got them shortly afterwards via email. The Bucs creamed the Panthers by the way - Go Bucs!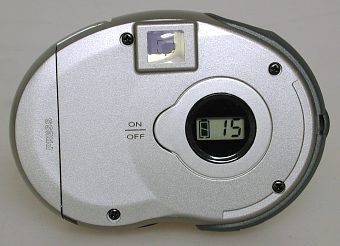 Here's the back of the camera, the only control besides the shutter release button on the top is the On/Off switch. The small monochrome data LCD displays the number of pictures remaining and the battery condition.
When you're ready to transfer the pictures from the camera to your PCS Vision account you open the end of the camera to access the connecting cable. The CR123 battery is also located inside here, it's good for about 500+ pictures.
The camera plugs into the bottom of the phone after removing a small rubber cap plug. Using the menu on the phone you scroll down to PICTURES and then select any one or all of the images stored in the camera. Now select the TRANSFER or TRANSFER ALL option and away you go. It takes about twenty seconds per picture to transfer and when it is done the camera memory is automatically cleared and you're ready to take another 15 pictures.
The Samsung A500 has got an incredibly bright and colorful LCD screen. Even in the bright outdoor light it is still highly visible. Besides viewing still pictures you can also download animated screen savers like the fish seen here. You can also download games, check the news and weather and even surf the web in a somewhat limited fashion.
Here's what you will see when you log into your SprintPCS Vision web account. You click on the Picture Inbox link to see all of your pictures. From here you can rotate them (if shot in portrait mode), enhance them (see frame below), Share them, move them into Albums or delete them.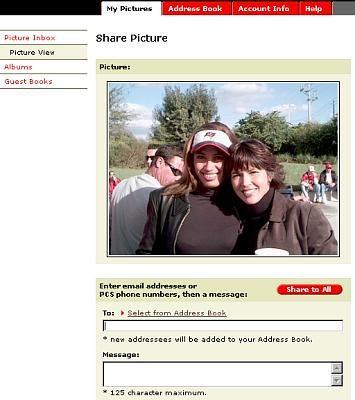 Sharing your photos is as easy as entering the recipient's email address or their SprintPCS Vision phone number. You don't actually email the photos, you send an email message that has a clickable link back to your online photos. This is nice because it will never overload someone's email account and they can view them and capture them whenever they want.

You can edit/ehance your photos with options for: editing the caption, lighten subject, darken subject, crop image, antique (sepia tone), black & white or soft focus. Special effects include adding one of several different sized "comic text bubbles", turn the image into a cartoon or line drawing. You can also view your images as an automated slideshow.

Steve's Conclusion
If you need a cellphone - who doesn't these days - why not get one that does all the usual things as well as transmitting color pictures. The Samsung A500 phone is as small as they get and still be large enough to actually use and has a decent battery life. The color screen on this phone is amazing, I can't imagine it getting much better anytime soon. The phone part works great, I had no trouble making or receiving calls and like most cellphones nowadays you can change the ringer to any one of hundreds of tones or even songs. More new ones to download all the time, right from the local PCSVision carrier.

The camera is simple and isn't bad for a low-res (VGA) CMOS sensor digicam. All it needs is a battery and it's good to go for about 500 photos. Operation is simple but you do need to remember to keep your fingers away from the lens, it is a small camera. Judge the image quality yourself from the sample picture below. They look absolutely great on the color screens of these new cellphones.

If you're looking for both a useful and unusual gift for that special someone this year then why not give them a great cellphone / camera. Just be sure to get yourself one too so you can swap pictures back and forth. There will also be a new Samsung cellphone coming out in a couple of months that has a color camera built right in. If you like "cutting edge" electronic gizmos they don't come any sharper than this!








Sample Photos
picture01.jpg
74,434



picture02.jpg
100,662



picture03.jpg
107,923



picture04.jpg
111,344



picture05.jpg
100,486



picture06.jpg
54,454



picture07.jpg
53,747



picture08.jpg
69,428



picture09.jpg
101,241



picture10.jpg
112,638



picture11.jpg
95,890



picture12.jpg
70,567

Visitors of Steves can visit the stores below for real-time pricing and availability. You can also find hot, soon to expire online offers on a variety of cameras and accessories at our very own Camera Deals page.