Pentax Optio S40 Review
Review posted 05/06/2004

Click on the Optio S40 to take a 360° QuickTime VR tour



The new Optio S40 is a compact camera that packs a 4 megapixel imager and a 3X optical zoom lens in a sleek aluminum design. It featuring a smc Pentax lens coupled with their Sliding Lens system that allows the lens to fully retract inside the camera when it is turned off. Equipped with PictBridge technology, the S40 connects directly to any PictBridge compatible printer so you can print images without the use of a personal computer.
Pentax made it easy to select shooting modes with the S40's handy mode dial. Simply set the mode dial to one of the eight desired record modes. For customized operation the S40 allows users to program frequently used functions (recording size, image quality, exposure compensation, metering, white balance, ISO and AF area) to the left and right elements of the four- way controller for access when the dial position is set in modes other than Auto, Movie, and Voice recording. In addition to placing Portrait, Landscape, and Night scene modes directly on the mode dial, the S40 also offers 8 picture modes that provide fully-automatic exposure for select shooting conditions. A useful Help function can be easily accessed when in both recording and playback modes, displaying simple explanations of all button functions on the screen.
The S40 features five image size choices (640x480 - 2304x1728) with three different quality settings. You can record motion video at up to 30fps with sound, with lengths limited only by the capacity of the memory card. The voice recording mode allows users to attaching 30-second memos to selected images. It features a 1.6-inch color LCD monitor with 100% coverage, selectable metering modes, white balance settings, exposure compensation, optical viewfinder, approximately 10MB of built-in memory expandable with any size SD card, audio-video output for display on TV sets and USB connectivity with your computer. The S40 also features an optional acrylic waterproof housing that allows users to explore the world of underwater photography.

Optio S40 Features:
Ultra compact 3.5 x 2.3 x 1 inches, weighs just 4.4 ounces
Stylish and durable aluminum alloy body
3x Pentax zoom lens (35-105mm in 35mm equivalent)
4.0-megapixel CCD imager for images up to 2304 x 1728
Records 320 x 240 motion JPEG with audio at up to 30fps, length limited to media capacity
30 second voice memos can be attached to images
Shooting modes selected from a convenient mode dial
Super macro mode coverage down to 2.4 inches
Three metering choices: multi-segment, center weighted and spot
28-zone, 62-city, world time with alarm clock.
Audio-Video output for TV display
1.6" color TFT LCD monitor with 100% coverage
Powered by CR-V3 or 2xAA batteries
11 MB of internal memory plus SD card slot
PictBridge, Epson PRINT Image Matching II and Exif Print compatible
USB Mass Storage compliant


The Pentax Optio S40 includes an ACDSee software package that is designed exclusively for pentax digital cameras. Valued at $150, the package includes ACDSee 5.1, FotoSlate, FotoCanvas and Photostitcher. ACDSee digital camera software makes it easy to retrieve, view, manage, print, enhance and share your digital photos. The camera will ship to retailers in April 2004.








Physical Views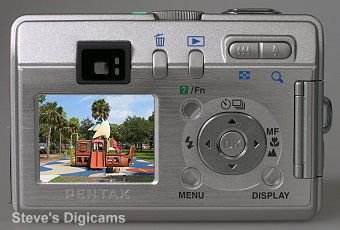 The Optio S40 compared in size to a standard CD.
Compare the size of the Optio S40 and the Optio S4i
Optio S40 Specifications
Effective Pixels
4.0 megapixels
Image Sensor
Type - 1/2.5 inch interline transfer CCD with a primary color filter
Total Pixels - 4.23 megapixels
Color Depth - 12 bit x 3 colors
Recorded Pixels
2304x1728, 2048x1536, 1600x1200, 1024x768, 640x480
Focus System
Type - TTL contrast detection autofocus system
Autofocus - 5 point AF, Spot AF & Infinity Landscape Mode
Manual Focus - 2.4 inches (0.06m) to Infinity
Focusing Range - Normal: 1.31 ft (0.4m) to Infinity; Macro: 7.1 inches (0.18 m) to 1.64 ft (0.5m); Super Macro: 2.4 inches (0.06m) to 7.9 inches (0.2m) at 10.2mm
Lens
smc PENTAX power zoom
Focal Length - 5.8mm- 17.4mm
35mm Equivalent - 35mm-105mm
Aperture Range - f2.6- f4.8
Construction - 6 elements in 5 groups (2 dual-sided aspherical elements)
Optical Zoom - 3X
Digital Zoom - 2.6 X
Combined - 7.8 X
Exposure Control
Light Metering Method - TTL metering with choice of: Multi-segment, Center-weighted & Spot meter
Sensitivity - Auto, or user select ISO 50, 100, 200, 400
Exposure Control Method - Program AE
Exposure Modes - Mode dial: Auto Select mode, Portrait, Landscape, Night scene, Movie, Voice recording, Digital Effect, Program, Picture
Exposure Compensation - +/-2 EV (1/3 steps)
Shutter
Type - Programmed AE electronic lens shutter with CCD electronic shutter. Shutter Speed - approx. 1/2000 - 4 second
White Balance
White Balance Control - TTL Auto, Pre-set, Custom White Balance
Available Settings - Auto, Daylight, Shade, Tungsten Light, Fluorescent Light, Manual
Flash
Operation Modes - Auto, Flash-Off, Flash-On, Auto + red-eye reduction, Flash-On + red-eye reduction; Effective Range -Approx.0.65ft - 11.5ft (0.2m - 3.5m) (5.8mm at Sensitivity 200) Approx. 0.65ft - 6.6ft (0.2m - 2m) (17.4mm at Sensitivity 200)
Viewfinders
Optical Viewfinder - Actual Image zoom viewfinder
LCD Monitor - 1.6 inch, TFT color LCD- with Histogram Display
LCD coverage - 100%
Shooting Specifications
Shooting Modes - Mode dial: Auto Select mode, Portrait, Landscape, Night scene, Movie, Voice recording, Digital Effect, Program, Picture

Picture Modes - Flower, Self-portrait, Surf, Snow, Sunset, Museum, Text, Food, Landscape Portrait, Marine, Marine movie

Digital Filter - Black and white, sepia, Red, Green, Blue, B&W + red, B&W + green, B&W + blue, 2 in 1, Panorama assist
Drive Modes - Single-Shot, Continuous, Remote control, Self-timer-10 sec.
Movie Mode - 320 x 240 @ 30fps w/sound up to capacity of memory card
Time
Modes - dd/mm/yy, mm/dd/yy, yy/mm/dd
World Time - Display of the time in 62 cities (28 time zones)
Alarm Clock - Displays image with alarm (maximum of three memory settings)
Image Storage
Storage Media - 11MB built-in memory
SD compatible card slot
File Formats - Design rule for Camera File system (DCF)
Print Order Format - Digital Print Order Format (DPOF)
Image Recording Format: Still - JPEG (Exif 2.2); Movie - AVI (Open DML motion JPEG Format) 15fps; Sound - WAV (ADPCM), Monaural
JPEG Compression Mode - Best, Better, Good.
Recorded pixels with 10MB built-in memory:
2304x1728: 4 - 8 - 12
2048x1536: 5 - 10 - 15
1600x1200: 9 - 16 - 22
1024x768: 20 - 37 - 49
640x480: 45 - 71 - 95
Playback Specifications
Playback Modes File - Single, Index- Nine image
Magnification - 16X
Slide Show - in playback mode
Image rotation, voice memo, resize
PictBridge direct-USB printing
Erasing Specifications
Erase Modes - Single, All
Image Protect - Single, All
Interfaces
AV output terminal, USB terminal, DC input terminal
Video output - Compatible with NTSC and PAL formats (monaural sound)
Power Supply
One Lithium battery CR-V3 (allows approximately TBD shots*), or two AA batteries (lithium, alkaline, nickel and rechargeable Ni-MH), AC adaptor kit (optional) * According to in-house testing (with LCD monitor on and flash used for 50% of the shots) AC adaptor kit (optional)
Physical Specifications
Operating temperatures - 32 Degrees - 104 Degrees F (0 - 40 Degrees Celsius)
Camera Casing - Aluminum alloy
Dimensions (WxHxD)
3.5 x 2.3 x 1 inches
(89 x 58.5 x 25.5mm)
Weight - 4.4 oz (125g) without battery and SD memory card; 6.2 oz (175g) loaded and ready
Computer Requirements
Mac Requirements - OS: Mac OS 8.6 or later (QuickTime 4.0 or later to view movies), CPU: Power PC 266MHz or higher, Memory: 8MB or more, Hard disk space:6MB or more, Standard equipped USB port
PC Requirements - OS: Windows 98,98 second edition, 2000, Me, XP Home edition / Professional, CPU: Pentium or later recommended, Memory:64MB or more, Hard disk space: 15MB or more, Standard equipped USB port
Kit Inclusions
Optio S40 Camera, CR-V3 Lithium-ion Battery AV Cable, USB Cable, 3D Image Viewer, Software (CD ROM) - ACDSee, USB Driver, Strap (O-ST5), Operating Manual, Serial Number Card, Product Registration Card, Service Network Directory
(Specifications as represented by the manufacturer)





Visitors of Steves can visit the stores below for real-time pricing and availability. You can also find hot, soon to expire online offers on a variety of cameras and accessories at our very own Camera Deals page.