Pentax Optio S40 Review
Features & Controls
The Optio S40 features a Pentax 5.8-17.4mm 3x optical zoom with a 35mm equivalent focal length of 35 - 105mm, the maximum aperture is f2.6 - f4.8. The lens is all glass and consists of 6 elements in 5 groups with 2 dual-sided aspherical elements. When the camera is powered down the lens is retracted inside of the body and a built in shutter closes to protect the lens.
It has a 5-point AF system with user-selectable AF point location, Spot AF, infinity landscape and manual focus. The focusing range in Normal mode is 1.31 ft (0.4m) to Infinity; Macro mode: 7.1 inches (0.18 m) to 1.64 ft (0.5m); Super Macro mode: 2.4 inches (0.06m) to 7.9 inches (0.2m) at 10.2mm focal length.

To focus manually -- Press the Focus mode button until "MF" is displayed and then adjust the focus distance by using the Up and Down positions of the 4-way controller. When you are actively changing the focus, the center portion of the LCD display is magnified and a distance scale is shown on the left. The focus can also be locked at infinity.



You can frame your pictures with the color LCD or to save battery power you can use the optical eyelevel finder. This is a coupled viewfinder with approx. 82% coverage. It has no dioptric adjustment. Next to the finder are two LEDs that indicate the flash and focus status.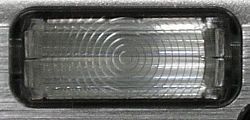 The built in flash offers Auto, Flash-Off, Flash-On, Auto + red-eye reduction, Flash-On + red-eye reduction; Effective Range is 0.65ft - 11.5ft (0.2m - 3.5m) (5.8mm at ISO 200) and 0.65ft - 6.6ft (0.2m - 2m) (17.4mm at ISO 200).



On the top is the On/Off power button in the center of the Mode Dial which has positions for: Program AE, Digital Effects (Black and white, sepia, Red, Green, Blue, B&W + red, B&W + green, B&W + blue, 2 in 1, Panorama assist), Voice Recording, Movie, Night Portrait, Landscape, Portrait, Auto and Picture (Flower, Self-portrait, Surf, Snow, Sunset, Museum, Text, Food, Landscape Portrait, Marine, Marine movie.)

When you are shooting in the Auto mode you can get onscreen guidance on how to use the other modes by pressing the ?/Fn button.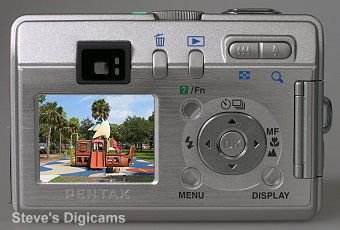 In the upper right is the zoom control which also functions as the index/magnify control in playback mode. Next to that is the Playback mode button and the Delete image button. The ?/Fn button as shown above can call up onscreen help when in the Auto record mode. When you're in other shooting modes the ?/Fn button calls up the onscreen Function menu to quickly change image size, quality or exposure compensation. The Function button can be configured to control other options in the Setup menu.
The 4-way controller lets you navigate menus and select images during playback. In record mode you press "Up" to enable remote, selftimer mode or drive mode, press left to change flash mode, press right to change focus mode (macro, infinity, manual focus and AF point select) and press down for the Custom function you select in the menu. The MENU button calls up and dismisses the menus, the DISPLAY button turns the color LCD on/off and controls the amount of data displayed on it.



The I/O ports:


The PC/AV port handles both the USB 1.1 connection for download and the audio-video output for TV display.




The DC IN jack is for the optional AC power adapter or an external battery pack.



The Optio S40 is equipped with 11MB of internal memory and has a Secure Digital (SD) card slot on the right side for optional memory cards. It's compatible with up to 512MB size SD cards. Data recorded on the internal memory can be copied to SD card.



Approx. capacity of internal 10MB memory
| | | | |
| --- | --- | --- | --- |
| Size/Quality | Best | Better | Good |
| 2304 x 1728 | 4 frames | 8 frames | 12 frames |
| 2084 x 1536 | 5 frames | 10 frames | 15 frames |
| 1600 x 1200 | 9 frames | 16 frames | 22 frames |
| 1024 x 768 | 20 frames | 37 frames | 49 frames |
| 640 x 480 | 45 frames | 71 frames | 95 frames |
The Optio S40 is powered by either one CR-V3 or two AA type batteries. This means you can use alkaline or photo lithium one-use AA, NiMH rechargeable AA cells, one-use CR-V3 lithium or RCR-V3 rechargeable lithium batteries (the latter being my personal choice for power and economy.)
Visitors of Steves can visit the stores below for real-time pricing and availability. You can also find hot, soon to expire online offers on a variety of cameras and accessories at our very own Camera Deals page.