Record Screens & Menus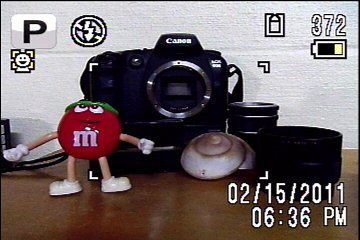 Auto Picture is Pentax's version of intelligent Auto, which is a simple point-n-shoot exposure program that not only chooses the proper exposure settings, but also analyzes the scene being framed and will apply the best Scene mode settings too. It can choose from the following scene settings automatically: Landscape, Portrait, Night Scene, Night Scene Portrait, Standard, Flower, Sport, Candlelight, Blue Sky, Sunset, Text, Group Photo, Portrait + Blue Sky, Portrait + Sunset, and Portrait + Backlight. Unlike most cameras where you have no access to advanced settings, the S1 does allow you to change the ISO or sensitivity settings if you'd like. However, we recommend you keep it set to Auto most of the time. Half-pressing the shutter release will allow the camera to autofocus. When focus is achieved the active AF point bracket will shrink and turn green, now you are ready to capture the shot.
The above animation shows you the different display options available on the S1. Pressing the OK button in the center of the 4-way controller switches between Normal info (Mode used, flash mode, number of available pictures left, battery level, time and date), Extended information (Image size, White balance, Metering, ISO, and Histogram), and no info at all.
Program mode is also fully automatic, as in the camera handles selecting the shutter speed and aperture settings for you, helping you capture good exposures. However, you now have access to various other more advanced settings if you so desire: like White balance, Focus area, Metering, etc.
Shooting Modes:


Auto Picture, Program, Blue Sky, Landscape, Flower, Sunset, Night Scene, Night Scene Portrait, Portrait, Natural Skin Tone, Food, Digital SR (ISO 3200-6400 5M), Kids, Pet, Sport, Surf & Snow, Fireworks, Frame Composite (3M), Party, Candlelight, Text, Miniature Filter (5M), HDR Filter, Movie, Green, and Voice Recording.



Here you can see the S1's in-camera HDR mode. HDR, or High Dynamic Range is a process where several exposures are captured at one instance, using different exposure settings; typically one dark photo, one normal, and one bright. The three are then combined to create a single image with increased dynamic range. With the S1's HDR mode, this is all done automatically for you, with just the press of the shutter release.
Record Mode Options (available options will depend on mode used):


Recorded Pixels - 14M, 10M (1:1), 10M (16:9), 7M, 2M (16:9), 640

White Balance - Auto, Daylight, Shade, Tungsten, Fluorescent or Shutter Adjust

Focusing Area - Choose your focusing area mode; Wide, Narrow, Tracking
AE Metering - Evaluative, Center-weighted, Spot

Sensitivity - Auto or fixed at 64, 100, 200, 400, 800, 1600, 3200, 6400
EV Compensation - Override metering ±2.0EV in 1/3 steps
D-Range Setting - Highlight Correction (On or Off), Shadow Correction (On or Off)
Shake Reduction - Enable or disable image stabilization
Face Detection - On or Off
Blink Detection - On or Off
Digital Zoom - On or Off
Instant Review - On or Off

Memory - Memorize settings between power on and off
Green Button - Choose the function of the Green Button
Sharpness - Adjust image sharpness in three levels
Saturation - Adjust color saturation in three levels
Contrast - Adjust image contrast in three levels

Date Imprint - Off, Date, Date & Time, Time
The Optio S1 has the ability to capture movies at 1280x720p HD, as well as the standard 640x480 and 320x240 resolutions at either 15 or 30 fps. You also have the option of using the Movie SR to help steady your hand held videos. The optical zoom is not available, but can be pre-set, so the camera uses digital zoom while recording (if enabled in the Record menu).

Movie Menu Options:
Recorded Pixels - 1280 @ 15 and 30fps, 640 @ 15 and 30fps, 320 @ 15 and 30fps
Movie SR - On or Off
Visitors of Steves can visit the stores below for real-time pricing and availability. You can also find hot, soon to expire online offers on a variety of cameras and accessories at our very own Camera Deals page.