Pentax Optio MX4 Review
Review posted 11/29/2004

Click on the Optio MX4 to take a 360° QuickTime VR tour



The second of the palm-sized "MX" series cameras from Pentax (as of 11/2004), the Optio MX4 captures both high quality still images and VGA (640x480) sized movies. It meets consumer demand to capture distant subjects with its 10X optical zoom lens, which has a focal range covering angles of view equivalent to those of a 38mm-380mm lens in 35mm format. The optional wide-angle conversion lens steps up the Optio MX4's wide-angle view to the equivalent of a 28.5mm lens in 35mm format. It is comprised of 8 groups of 12 elements, and features aspherical lenses and extra-low dispersion glass elements to minimize aberration. With 4.0 effective megapixels, the Optio MX4 has the power to achieve vivid images at all zoom ranges.
Great for capturing family activities, the Optio MX4 captures movies in MPEG-4 format and employs a streaming recording system to record up to two hours (when used with the optional AC power supply) of continuous movies directly onto the recording media. Optio MX4 users further enjoy movie recording with 640x480 recording pixels at the rate of 30fps (frames per second) to achieve quality comparable to that of a television. The camera also offers a choice of movie recording sizes, quality and frame rates for maximum shooting flexibility. A stylish, functional palm-grip helps minimize hand shake and reduces fatigue during long-duration shooting.
The Optio MX4 offers an array of shooting modes accessible through selections on a mode dial. Users may choose from PICT (picture mode), P (program mode), Tv (Shutter-priority AE), Av (Aperture-priority AE), M (Metered Manual) and voice recording modes. Picture mode includes 10 choices - landscape, flower, portrait, self-portrait, surf & snow, sunset, night scene, soft, Illustration and Panorama Assist.

Optio MX4 Features:
Stylish, compact and durable aluminum body with swiveling grip
10x Pentax power zoom lens (38-380mm in 35mm equivalent)
4.0-megapixel CCD imager for images up to 2304 x 1728
Records 640x480 MPEG-4 movies with audio at 30fps, length limited to media capacity
30 second voice memos can be attached to images
10 PICTure modes, Program AE, Shutter-priority, Aperture-priority Metered Manual and Voice Recording mode.
Wide or Narrow AF, Manual focus and Super macro down to 0m
Three metering choices: multi-segment, center weighted and spot
Eight digital filters: B&W, sepia, red, pink, purple, blue, green and yellow digital filters can add a different mood to recorded images.
Settings for exposure compensation, sharpness, saturation, and contrast
Auto bracketing of exposure, white balance, sharpness, color saturation and contrast
Swiveling 1.8" high-clarity color LCD monitor with 100% coverage
Powered by rechargeable Li-ion battery, or CR-V3
Removable SD card media
PictBridge, Epson PRINT Image Matching II and Exif Print compatible
USB 2.0 Mass Storage compliant
Physical Views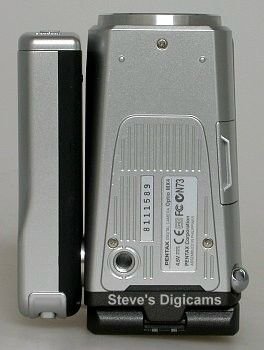 The Optio MX4 compared in size to a standard CD.
Optio MX4 Specifications
Effective Pixels:
4.0 megapixels
Imager:
1/2.7 inch interline transfer CCD with a primary color filter
Total Pixels:
4.23 megapixels
Color Depth:
12 bit x 3 colors
Recorded Pixels:
Movie -640x480 pixels(VGA), 320x240 pixels, 160x120 pixels
Still - 2304x1728 pixels, 1600x1200 pixels, 1024x768 pixels, 640x480 pixels
Lens
Type:
smc Pentax power zoom
Focal Length:
5.8mm - 58mm (38mm - 380mm 35mm equivalent)
Aperture Range:
F2.9 - F3.5
Construction:
12 elements in 8 groups (1 dual-sided aspherical element, 1 aspherical element)
Lens Thread:
37mm
Digital Zoom:
10X
Focus System
Type:
TTL contrast detection autofocus system
Autofocus:
5 point AF, Spot AF & Infinity Landscape Mode
Manual Focus:
0 inches (0m) to infinity
Focusing Range:
Normal: 1.31 ft (0.4m) to Infinity at 5.8mm, 3.9 ft (1.2m) to infinity at 58mm.

Macro: 3.9 inches (0.1 m) to 1.64 ft (0.5m) At 5.8mm, 1.97 ft (0.6m) to 4.92 ft (1.5m) at 58mm.

Super Macro: 0 inches (0m) to 5.9 inches (0.15m) at 5.8mm.

Normal (Movie): 3.9 inches (0.1 m) to Infinity at 5.8mm, 3.9 ft (1.2m) to infinity at 58mm

Exposure Control
Light Metering Method:
TTL metering with choice of: Multi-segment, Center-weighted & Spot Meter
Sensitivity:
Auto, or user select ISO 100, 200, 400
Exposure Control Method:
Program AE
Exposure Modes:
Picture Mode, Program, Shutter-Priority, Aperture-Priority, Manual
Exposure Compensation:
+/-2 EV (1/4 steps)
Shutter:
Type - Programmed AE electronic lens shutter with CCD electronic shutter; Shutter Speed - approx. 1/2000 - 4 second
White Balance:
White Balance Control - TTL Auto, Pre-set, Custom White Balance. Available Settings - Auto, Daylight, Shade, Tungsten Light, Fluorescent Light, Manual
Flash:
Built-in series-control retractable flash, Automatic Discharge in Low-Light when in Auto Modes. Operation Modes - Auto, Flash-Off, Flash-On, Auto + red-eye reduction, Flash-On + red-eye reduction.

Effective Range -Approx.0.33ft -16.73ft (0.1m - 5.1m) (5.8mm at Sensitivity ISO 200); Approx. 1.97ft -12.46ft (0.6m - 3.8m) (58mm at Sensitivity ISO 200)

Shooting Specifications
Shooting Modes:
Picture Mode, Program, Shutter-Priority, Aperture-Priority, Manual, Movie Capture
Picture Modes:
Landscape, Flower, Portrait, Self-Portrait, Surf & Snow, Sunset, Night-Scene, Soft, Illustration, Panorama Assist
Digital Filter
(In playback mode only). Black & White, Sepia, Red, Pink, Purple, Blue, Green, Yellow
Drive Modes:
Single-shot, Continuous (normal/high-speed), Self-timer-10 sec., 2 Sec., Auto-bracket (Exposure, White Balance, Saturation, Sharpness, Contrast)
Movie Mode:
Continuous Shooting Time: Approx. 120 Min. (Related to memory card capacity & camera setting)
Time
Modes:
dd/mm/yy, mm/dd/yy, yy/mm/dd - 12hr/24hr
World Time:
Display of the time in 62 cities (28 time zones)
Image Storage
Storage Media:
Secure Digital (SD) memory card
File Formats:
Still - JPEG (Exif 2.2), DCF (Design rule for Camera File system), DPOF (Digital Print Order Format), Print Image Matching II. Movie - MOV (MPEG-4) 30/15fps with sound (PCM, monaural). Sound - WAV (ADPCM), Monaural, Recording time depends on the remaining capacity of the memory card
LCD Monitor
LCD Monitor:
1.8 inch CG Silicon TFT color LCD with Histogram Display & Brightness Adjustment, Swivels 210° vertically, 180° horizontally
LCD Coverage:
100%
LCD Resolution:
Approx. 134,000 pixels
Playback Specifications
Playback Modes File:
Single, Index - Nine image index
Magnification:
1.2X to 12X
LCD Function:
Scroll, slide show, movie, image rotation, Digital filter, voice memo in playback mode
Size Change:
Trimming, Resize
Erase and Image Protect Modes:
Single, All
PictBridge:
One image Printing, All image Printing, DPOF Auto Print
Language:
English, French, German, Spanish, Italian, Russian, Chinese, Korean, Japanese
Interfaces
Type:
AV output terminal, USB (2.0) terminal, DC input terminal
Video Output:
Compatible with NTSC and PAL formats (monaural sound)
Power Supply
Power Source:
Rechargeable D-LI7 Lithium-ion battery; AC adaptor kit (optional)
Physical Specifications
Operating Temperatures:
32° to 104° F (0° to 40° C)
Camera Casing:
Aluminum alloy
Dimensions (W x H x D):
2.9 x 2.3 x 4.1 Inches (73 x 59 x 103.5mm)
Weight:
11.6 oz (330g) without battery and SD memory card; 13.1 oz (375g) loaded and ready
Computer System Requirements
Mac Requirements:
OS: Mac OS 9.2 or later (QuickTime 4.0 or later to view movies), CPU: Power PC 266MHz or higher, Memory: 8MB or more, Hard disk space: 6MB or more, Standard equipped USB port
PC Requirements:
OS: Windows 98,98 second edition, 2000, Me, XP Home edition / Professional, (QuickTime 6.0 or later to view movies)CPU: Pentium or later recommended, Memory: 64MB or more, Hard disk space: 15MB or more, Standard equipped USB port
(Specifications as represented by the manufacturer)





Visitors of Steves can visit the stores below for real-time pricing and availability. You can also find hot, soon to expire online offers on a variety of cameras and accessories at our very own Camera Deals page.