Pentax *ist D SLR Review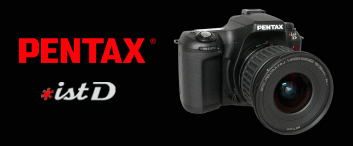 Digital Features & Controls
The "digital half" of the *ist D is found on the back. The 1.8-inch color LCD is used for accessing the menus and reviewing captured images. The button in the upper left is for Multiple Exposure and AE Bracketing modes, in review mode it accesses the DPOF function. To the right of the eyelevel finder is the AE Lock button, in review mode it is the Protect button. Next to that is the Exposure Compensation button. The Av Dial in review mode toggles the thumbnail index display and Zoom (magnified) display modes. To the right of the LCD is the AF (auto focus) start button The 4-way controller/OK button lets you navigate menus and select images during playback. Around the 4-way controller is the Focus Point Selector switch lever.


MENU - Enables the onscreen menu system




DELETE - Erase images




INFO - In record it displays camera and exposure settings (see below), in playback it toggles display of exposure data or histogram



PLAYBACK - Puts camera into review mode



Pressing the INFO button while in capture mode displays a screen full of settings and parameters currently in use. Starting in the upper right is the current Custom Function number (1, 2 or 3), Focus mode (AF Single), Multi-pattern metering, color Saturation at default, Sharpness at +1, Contrast at default, lens focal length is 26mm, ISO 200, Image size is Large / Fine quality, sRGB color space, and Auto white balance.



Record menu options:
Format - Format the CF device
Custom Function - Access/change settings for Custom Function 1,2 or 3 (more on Custom Functions below)
Saturation - Adjust color saturation (High, Normal, Low)
Sharpness - Adjust sharpness (Hard, Normal, Soft)
Contrast - Adjust contrast (High, Normal, Low)
Instant Review - Review time after capture (off, 1s, 3s, 5s)
Auto Power Off - Time delay (off, 30s, 1m, 3m, 10m, 15m, 30m)
Beep - Enable/disable button beep sounds
Date Adjust - Set internal clock
World Time - Setup world time zones
Language - Menu language (English, French, German, Spanish, Italian, Japanese)
Video Out - NTSC or PAL
Brightness Level - Adjust LCD backlight
File # - Serial or Reset
Slideshow - Time delay between pictures in playback
Sensor Cleaning - Mirror up to clean CCD
Reset - Return all settings to default











Custom Functions pg 1:
Program Line - Normal, Depth of Field, Hi-Speed, MTF
Exposure Setting Steps - 1/3 or 1/2 EV steps
Noise Reduction - Enable/disable noise reduction feature
Sensitivity Range - Normal (ISO 200-1600) or Wide (ISO 200-3200)
Sensitivity Correction - Automatic ISO adjust: Off or On











Custom Functions pg 2:
Recorded Pixels of S - 1536x1024, 1152x768, 960x640
Hyper Program - Enable/disable Hyper Program mode
Green Button in Manual - Which mode to jump to: P, Tv, Av
Link AF Point and AE - Metering follows Af point: On or Off
AF with Press Halfway - AF when shutter half-pressed: On or Off











Custom Functions pg 3:
Auto Bracketing Order - Capture sequence in AE Bracketing mode
Shutter Release w/o CF - Enable/disable shutter when no CF card present
F Stop other than A - Enable/disable operation when lens is set to A
Release when Charging - Enable/disable capture during flash recharge
Flash in Wireless Mode - Built-in flash as Controller or Master











Custom Functions pg 4:
Flash with OK Button - Off, Test, Modeling
Meter Operating Time - Display timeout value (3s, 5s, 10s, 15s, 30s)
Self-Timer Delay Time - 2 or 12 seconds
Remote Control Delay - 0 or 3 seconds
Superimpose AF Area - Illuminate AF points in viewfinder











Custom Functions pg 5:
Use LCD w/Video Output - Enable/disable LCD when Video Out is active
Color Space - sRGB or AdobeRGB
Reset Custom Function - Return all Custom Functions to default
Visitors of Steves can visit the stores below for real-time pricing and availability. You can also find hot, soon to expire online offers on a variety of cameras and accessories at our very own Camera Deals page.