Panasonic Lumix DMC-G1 SLR Review
Panasonic Lumix DMC-G1 SLR Review
Panasonic Software Disk
Here you can see the install screen for the included software CD, which comes bundled with two programs: PHOTOfunSTUDIO v2.1E and SILKYPIX v3.0. The screens below were taken after installing each program onto a PC running Windows XP Pro SP3.



PHOTOfunSTUDIO viewer gives you a single interface to quickly and easily manage your photo/video collection as well as several editing functions that will allow you to enhance your images.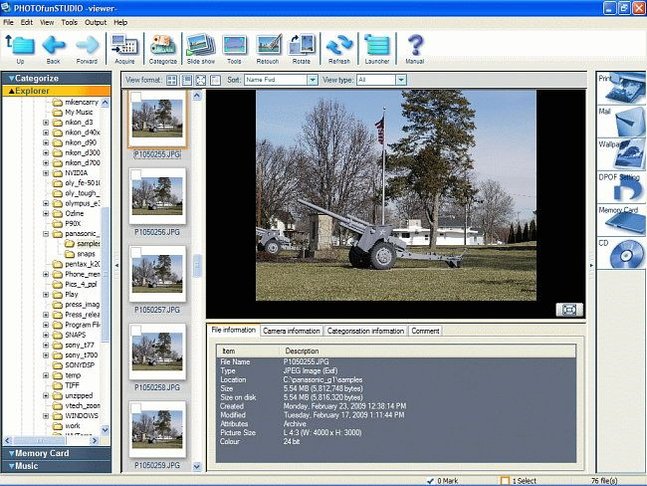 When you double-click on a single photo, you have access to the File information, Camera information, Categorisation info, or you can add a Comment. At the top you can see various icons for Acquiring photos, Categorize, Start a slide show, Tools (Resize, Format conversion, Batch remaining, Burn-in, Recording data change, Create still picture), Retouch (shown below), Rotate, etc.



The Retouch option brings up the screen above. Here you have access to some basic editing tools such as Brightness & Contrast, Hue & Saturation, Sharpness, Auto Enhancement, Red-eye removal, and several color filters.



Because the G1 offers the option to record original image data in RAW file format, you can develop photos according to your preferences and creative intention. A number of highly advanced functions can be applied to these RAW images by using the included SILKYPIX Developer Studio 3.0 SE software utility. The SILKYPIX utility lets you develop RAW data files by using advanced algorithms to provide high-level, basic image processing capabilities. It lets you control problems like unnatural edges from saturated color borders, false colors in structures with intricate detail, and chromatic noise in photos taken at high sensitivity settings.



While editing detailed parameters, the changes are saved to a separate file to prevent any accidental change to the original data. You can redo the processing as many times as necessary to get the results you want, without worrying about making mistakes.
Some of the editing options include:

Exposure bias - For fine-tuning exposure bias, white point designation.

White balance adjustment - For adjusting white balance according to taste, with color temperature and color deflection, gray balance tool, dark adjustment, fine adjustment with a white balance target graphic control, a saturation slider, and a hue slider.

Sharpness, noise reduction adjustment - For adjusting sharpness according to taste, with sharpness adjustment for outline emphasis, detail emphasis, and false outline control. Noise reduction adjustment for false color control and noise cancellation.

Tone adjustment - For adjusting tone according to taste, with tone curve and tonal tuning with contrast, contrast center, gamma and black level.

Color and saturation adjustment - For adjusting saturation according to taste, with fine-tuning of saturation, color mode selection from standard color, memory color, portrait color, and film color, plus a fine color controller and highlight controller for emphasizing chroma/luminance, emphasizing saturation/hue, luminance restoration, and dynamic range.

Lens aberration controller - For shading (peripheral brightness reduction) correction and distortion correction.

Others - Development settings, rotation, digital shift, trimming, histogram display, and more.
Please help support our site and visit the stores below for real-time pricing and availability.
Visitors of Steves can visit the stores below for real-time pricing and availability. You can also find hot, soon to expire online offers on a variety of cameras and accessories at our very own Camera Deals page.