Steve's Conclusion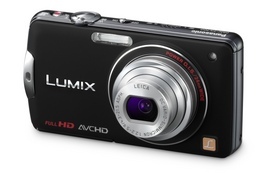 Steve's SnapShot
14-Megapixel Live MOS image sensor

Leica 5x optical zoom lens: 35mm equivalent of 24-120mm
Power O.I.S. system

3.0-inch Touchscreen LCD

Dedicated Video Record Button
1080i or 720p AVCHD video recording
Stereo microphones

Optical Zoom while recording video

Face Detection
iAuto (intelligent auto)
Rechargeable Li-Ion battery
SD/SDHC/SDXC memory card compatible
HDMI output
Pros
Captures sharp photos with pleasing colors.

5x optical zoom lens available while recording video
24mm wide angle extreme is one of the widest available in a camera of this size

High Quality AVCHD movie capture

Fast and accurate Touchscreen GUI

Great performance
Excellent Low Light performance with F2.2 lens
One Touch Video Recording Button
Excellent Battery Life
Cons
Some may think $400 is a hefty price tag

Produced small % of exposures that were a bit strong under harsh sunlight

Higher luminance noise that we'd like to see (which has been typical of these 14-megapixel sensors)

Timing Test Results
Power up to first image captured = 2.5 seconds or less

Shutter lag when prefocused = less than 1/10 of a second
Shutter lag with autofocus = 1/10 - 3/10 of a second
Shot to shot delay wo/flash = 7/10 of a second between frames
Shot to shot delay w/flash = 1.1 - 1.6 seconds depending on power output
iBurst mode = 1.85fps @ full res
2AF burst mode = 1.85ffps @ full res
5AF burst mode = 3.33fps @ full res
10 burst mode = 5.3fps @ full res
GUI navigation = responsive
All tests were taken using a SanDisk Extreme (30MB/s) 4GB SDHC memory card, iAuto or Program mode, Flash off and all other settings at the factory defaults unless noted otherwise.
Bottom Line
Panasonic has taken a great camera (the DMC-FX75) and made it even better with the all new Lumix DMC-FX700. This model boasts their latest and greatest Lumix technologies packed into a diminutive frame that can be tucked away in the smallest handbag or pocket.

Pick This Up If...
You want the one of the most feature packed touchscreen digicams on the market currently (9/2010) that offers top of its class quality and performance.

For those looking for a powerful touchscreen equipped digicam, Panasonic has produced the Lumix DMC-FX700. This model shares very similar specifications with the
DMC-FX75
we reviewed earlier this summer, however they've added a few improvements, along with some added exposure control as well. The FX700 sports a 14-Megapixel Live MOS type image sensor (compared to the CCD type found on the FX75), a Leica F2.2 5x optical zoom lens, Power O.I.S. stabilization system, 3.0-inch Touchscreen LCD, Venus Engine FHD processor, AVCHD video recording at 1080i or 720p HD resolutions with stereo sound, and various exposure programs to suit the needs of a wide variety of users.
Like most of Panasonic's current Lumix offerings, the DMC-FX700 is loaded with "intelligent" options, including iAuto, intelligent ISO, Intelligent Exposure, etc. All of these functions come together to help you capture better photos with the least amount of fuss possible; basically you point the camera and press the shutter button. For those looking for more advanced options, the FX700 can deliver there as well. With Program AE, Shutter and Aperture priority options, and full Manual, the FX700 has an exposure program for everyone.

Most of these settings are controlled through the 3.0-inch touchscreen LCD, including the ability to touch the desired area of focus. When using this option, the camera will immediately focus on the area you "touch" and then capture an image without you having to press the shutter release. I was very pleased with this display and the touch GUI, which both were very responsive. While the LCD only offers 230,000 dots of resolution, it shows a nice clear image with accurate colors. The coating on the surface of the LCD does well to help reduce glare, making it very usable outdoors in bright light. Indoors the live image may get a bit grainy, but you can still see your subject; which is something that was not possible or rather hard with film cameras.

Build quality is excellent. This is a very well put together camera, that feels worth the investment. On top of that, it's extremely small. I had no problem slipping the FX700 into my front pants pocket on some designer blue jeans. Just be sure your car keys are not in that same pocket, otherwise you'll pull out a scratched up camera. Since the FX700 uses a touchscreen system, there are very few controls on the body. What remains is located in comfortable positions, and we love the zoom control mounted around the shutter release. Once cool feature is that the graphical zoom control, which allows you to use the touchscreen system to toggle the focal length.

Since the DMC-FX75 and DMC-FX700 use the same lens and similar resolution image sensors (one being a CCD type, the other Live MOS), our image quality findings were very similar. I found the FX700's outdoor photos were tack sharp and showed pleasing contrast and color saturation. The exposure system did well most of the time, however I did see some instances of overexposure when the sunlight was very harsh one afternoon. Out of 25+ photos, 2 or 3 showed this occurrence. When viewing the images at 100%, we see a little more luminance noise than we would expect to at ISO 100 from a camera with a $400 price tag. This is not the camera itself but the 14-megapixel image sensor being used. We have seen this same issue with almost all of the 14-Megapixel digicams that we have tested over the past year or so.

Other than the luminance noise we noted above, the FX700 handles imager noise well. From ISO 100-800, levels are quite acceptable and you should have no problem making mid to large sized prints all the way up to ISO 800. However, at ISO 1600 you will start to see some heavy detail loss and some color saturation issues from the noise reduction algorithms. Luckily, the FX700 allows you to toggle the strength of the high ISO NR system via the menu (a feature not usually found on a camera in this class). Overall, these ISO 1600 photos can still be used to create small prints (like a typical 4x6), and still look better than ISO 1600 photos from many 14-megapixel cameras currently on the market today.

Panasonic equipped the FX700 with a nice Leica 5x optical zoom lens, which covers an equivalent zoom range of 24-120mm. This is a great range for your typical snapshots of friends and family, as well as for nice macro and landscape type shooting. Overall this is a very nice lens that compliments the FX700 nicely. It's also quite fast with a wide open aperture of F2.2. This will help you capture brighter photos in lower lighting as well as help reduce image blur in those conditions.

The video capture features on the FX700 are quite nice. You can quickly and easily record either 1080i or 720p HD video thanks to the separate Movie mode shutter release. You have two HD options so choose from under the AVCHD format (1080i or 720p) as well as several resulution settings available in Motion JPEG format (720p, WVGA, VGA, and QVGA). While the AVCHD encoding offers higher quality video, it's nice that Panasonic left the Motion JPEG options on the camera as well. Our sample video shows the FX700 can capture crisp video, even them shooting indoors thanks to the fast F2.2 lens. While our example is not the "best", it does show how the camera will perform under typical conditions where you and your loved ones will use the camera (like in your living room with the family and pets). Another great feature on the FX700 is the availability to use the 5x optical zoom while you are recording. This is not an option that is found on many cameras today, and offer some versatility over other models. Just be sure to zoom slowly so the AF system can keep up. Lastly, it was nice to see Panasonic added some stereo microphones to the FX700 over the mono type used on the FX75. While they are still quite sensitive and pick up a lot of background noise, you will notice an increase in sounds quality over your typical mono microphone that is used on most digicams.
Battery life is great for a compact camera. Your typical model of this size allows for 200-250 shots per charge. Panasonic claims you can get up to 300 frames on a single charge using CIPA standard testing methods (flash used 50% of the time). I was able to capture over 100 photos and several short video clips as well as complete all of our other tests with plenty of power to spare (which included extensive use of the playback functions and our timing tests). While not absolutely necessary, you can pick up a spare pack and keep it charged and ready thanks to the external battery charger.

Bottom Line - Like the DMC-FX75, we truly enjoyed using the Lumix DMC-FX700. This is a powerful and elegant ultra-compact digicam that is sure to please a wide range of users. Since both are so similar, we highly recommend you take a look at our
FX75 review
as well. At about $100 less, you loose some of the advanced shooting modes, full 1080 video recording and stereo sound, however most all of the other features and performance stay the same. That said, some may feel the DMC-FX700 is a bit overpriced at $399.99 US. We on the other hand feel this is a great camera with a competitive price tag for such a feature packed digicam of this size.
Visitors of Steves can visit the stores below for real-time pricing and availability. You can also find hot, soon to expire online offers on a variety of cameras and accessories at our very own Camera Deals page.