Olympus Stylus Digital 720 SW Review
Olympus Stylus Digital 720 SW Review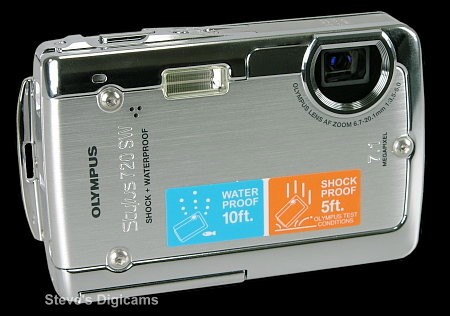 Review posted 5/2/2006

Click on the Stylus 720 SW to take a QuickTime VR tour


The Stylus 720 SW can withstand a 5-foot drop, shoot under water up to 10 feet, and combines light, durable body construction and shock-absorbing materials throughout the interior. The stylish and compact Stylus 720 SW offers 7.1 megapixels of resolution, a 3x internal zooming lens, 2.5" LCD, Bright Capture Technology, Digital Image Stabilization Mode and much more. Designed for everyday use yet versatile and rugged enough to shoot on the mountain, at the game, at the party, on the beach or up to ten feet underwater.
The Stylus 720 SW is packed with a wealth of premium features such a large 2.5" LCD and Olympus' exclusive Bright Capture Technology providing dramatically improved shooting in low-light conditions - indoor, sunset, night time, and underwater. The combination of Olympus' TruePic TURBO Image Processor and the 7.1-megapixel image sensor capture crisp, high-quality images fast. And the 28 shooting modes - including Digital Image Stabilization Mode - offer maximum versatility for shooting in most any situation.
Built with durable materials and shock-absorption technology that minimizes the impact delivered to the lens and circuitry, the Stylus 720 SW delivers superior durability in a premium point-and-shoot digital camera. Swimming, surfing, hiking, climbing, mountain biking, skiing or snowboarding - the 720 SW performs in any conditions. The all-weather exterior with rubber gaskets and O-rings allows the camera to shoot under water to depths up to 10 feet. If you want to go deeper, the optional PT-033 underwater housing enables the camera to shoot at depths up to 130 feet.
Low-light photography has never been easier thanks to Olympus' revolutionary Bright Capture Technology. Shooting in low light is easy with a brightened preview on the LCD; and with specific scene modes for high sensitivity settings (up to ISO 2500) and rapid auto-focus, even fast-action photos can be captured under low levels of available light. The Stylus 720 SW also features Digital Image Stabilization Mode for capturing crisp, clear pictures - free from the blur sometimes caused by camera shake or moving subjects - with high ISO sensitivity and faster shutter speeds.
With a bright, wide-view, 2.5-inch color LCD, the Stylus 720 SW easily doubles as a portable digital photo album. The larger LCD makes it easier to see your images clearly both when shooting and sharing photos with friends without having to download to a computer.
With 25 pre-programmed scene modes, such as Beach & Snow, Available Light Portrait, Sunset, and Under Water Snapshot, the Stylus 720 SW makes it easy to capture beautiful images in a variety of lighting and shooting situations. And with its QuickTime Movie Mode you can also record VGA-quality videos with sound, limited only by the size of the internal memory or xD-Picture Card in the camera.
The compact, all-weather Stylus 720 SW can go virtually anywhere you can. The body is constructed of durable, lightweight metal with rubber gaskets throughout the interior to ensure that rain, sleet, snow won't get in the way of great photos. And with its new optimized battery design, the Stylus 720 SW can take hundreds of shots between charges. Connecting to a computer is easy with the USB Auto Connect feature, which connects directly via USB cable and requires no software. Or, If you prefer, forget the computer altogether. The power of PictBridge technology enables photos to be printed directly from the camera to any PictBridge-enabled printer.

Stylus 720 SW Features:
7-megapixel effective CCD and 3x optical zoom lens
Shock Proof (up to 5ft.), Waterproof (to 10ft.), and Dust Proof
28 shooting modes - 25 are preprogrammed Scene modes
2.5-inch HyperCrystal LCD with 115,000 pixel resolution and 160° viewing angle
Bright Capture Technology for enhanced previewing and image quality in low light
Movies at 640x480, 320x240 or 160x120 @ 15fps with audio, length limited only by memory
Add voice memos to still pictures
Enhanced flash working range with ISO 1600
Remove red-eye or easily convert your color photos into sepia or black-and-white with built-in editing features
ISO sensitivity; Auto, 64 - 1600 (800/1600 SQ1)
Built-in all-weather speaker and microphone
~19.1MB of internal memory + xD-Picture Card slot
Auto-Connect USB for quick and easy image transfer to computer
Direct printing to any PictBridge compatible printer
Lithium rechargeable battery and charger included
Optional PT-033 underwater housing for up to 40m depths

The Stylus 720 SW will be available in March 2006 for about $399.99 (U.S.). It includes: a wrist strap, camera WIN/Mac USB cable, audio/video cable, Li-42B Li-Ion rechargeable battery and charger, quick start guide, basic instruction manual, warranty card, (2) CD-ROM's with OLYMPUS Master software and advanced manual.

Physical Views



The Stylus 720 SW compared in size to a standard CD.


The waterproof Pentax Opto WPi and the Stylus 720 SW.
Stylus 720 SW Specifications
Imager
7.1 Megapixel (effective), 7.4 megapixel gross, 1/2.3" (1.10cm) CCD
Lens
6.7 - 20.1mm (38 - 114mm equivalent in 35mm photography), 10 lenses in 8 groups, 3 aspherical lenses
Zoom
Seamless to 15x (3x optical and 5x digital combined)
Aperture Range
f3.5 - f5.0 (not adjustable)
LCD
2.5" (6.4cm) Color LCD, approx. 115,000 pixels
Focus System
CCD Contrast Detection
Focus Range
Normal mode: 19.7" - infinity (0.5m - infinity)
Macro mode: Wide: 7.9" - infinity (0.2m - infinity),
Super Macro Mode: 2.8" - 19.7" (7cm - 50cm)
Focus Mode
iESP Auto, Spot AF
Shutter Speed
1/1000 sec. - 1/2 sec. (up to 4 sec. in Night Scene Mode)
ISO
Auto, 64, 100, 200, 400, 800, 1600 (equivalent)
Metering Mode
Digital ESP Multi-Pattern, Spot Metering
White Balance
Auto, Pre-set (Daylight, Overcast, Tungsten, and Fluorescent1, Fluorescent2, Fluorescent3)
Exposure Compensation
±2 EV steps in 1/3 EV steps
Recording Modes
Still Image: JPEG
Movie: Quick Time motion JPEG
Adjustment Resolutions
3,072 x 2,304, SHQ/HQ
2,560 x 1,920, SQ1
2,304 x 1,728, SQ1
2,048 x 1,536, SQ1
1,600 x 1,200, SQ2
1,280 x 960, SQ2
1,024 x 768, SQ2
640 x 480, SQ2
Shooting Modes
28 Shooting Modes; Auto, Program Auto, Digital Image Stabilization Mode, Scene Preset (Portrait, Landscape, Landscape & Portrait, Night Scene, Night & Portrait, Sport, Indoor, Candle, Self-Portrait, Available Light Portrait, Sunset, Fireworks, Museum, Cuisine, Behind Glass, Documents, Auction, Shoot & Select1, Shoot & Select2, Beach & Snow, Under Water Wide1, Under Water Wide2, Under Water Macro, Under Water Snapshot, Movie)
Panorama Modes
Up to 10 frames automatically stitchable with OLYMPUS Master software when using Olympus brand xD-Picture Card
Sequential Shooting
High speed: 3.7 frames per second up to 11 frames or more in HQ mode
Normal speed: 1.1 frames per second up to 6 frames or more in SQ mode
Shooting Assist Functions
Histogram, Frame Assist
Movie Mode
QuickTime® Movie with Sound
640x480/15fps, SHQ
320x240/15 fps, HQ
160x120/15fps, SQ
Image Processing
TruePic TURBO™ Image Processor
Pixel Mapping
Automatic Pixel Mapping (APM) available via menu setting
Noise Reduction
Set automatically at shutter speeds of 0.5 second or longer
Image Playback
Still Image; Single, Index Display (4/9/16/25), Up to 10x Enlargement, Slide-Show, Rotation, Calendar, Album, Histogram
Movie: Normal, Reverse, Frame-by-frame
Playback Edit Effects
Still Image: Black & White, Sepia, Resize, Rotation, Red-Eye Fix, Brightness, Saturation, Frame, Title, Calendar
Movie: Frame Index
Direct Printing Options
PictBridge and DPOF
Flash
Built-in
Flash Modes
Auto (for low light and back lit conditions), Red-Eye Reduction, Fill-In, Off
Flash Working Range
Wide: 12.5ft (3.8m), Tele: 8.5ft (2.6m)
Selftimer
12 Seconds/Auto
Setting Memorization
On/Off (Hold changes/Reset to default settings)
Date/Time Calendar
Simultaneous recording into image data, Automatic up to 2099
Memory
19.1MB internal memory
Removable Media Card
xD-Picture Card (16, 32, 64, 128, 256, 512MB or 1GB)
Outer Connectors
Multi-terminal (USB connecter, Audio/Video output, DC input*) *Optional DC coupler (CB-MA1) is required
Auto-connect USB
2.0 Full Speed (USB mass storage)
Weatherproof
Equivalent to IEC Standard publication 529 IPX4
System Requirements
Auto-connect USB: Windows 98SE/ME/2000PRO/XP with USB Port, Mac OS 9.0-9.2x/OS X 10.1-10.4 with USB port Software: Windows 98SE/ME/2000PRO/ XP, Mac 10.2 and higher
Operating Environment
Operation: 32° - 104°F (0° - 40°C), 30% - 90% humidity
Storage: -4° - 140°F (-20° - 60°C), 10% - 90% humidity
Power Supply
Li-Ion Rechargeable Battery (Li-40B or Li-42B), AC Adapter (D-7AC) with the optional DC coupler (CB-MA1)
Size
3.6" W x 2.3" H x 0.78" D (91mm x 58.7mm x 19.8mm)
Weight
5.3 oz. (149g) without battery and media card
Visitors of Steves can visit the stores below for real-time pricing and availability. You can also find hot, soon to expire online offers on a variety of cameras and accessories at our very own Camera Deals page.