Olympus Ferrari Digital 2004 Review
Olympus Ferrari Digital 2004 Review
Steve's Conclusion
The Ferrari Digital Model 2004 is the second generation of limited edition Olympus Ferrari Digital cameras. It's a stylish and durable point-n-shoot, that offers 3.2-megapixels of resolution coupled with a high quality 3x optical zoom lens. With its Program Auto mode, any user can obtain great images without enduring a long learning process, and if you want to be more creative simply select one of the twenty-two scene modes. When using one of these scene modes, it offers helpful advice on what the intended uses for the particular mode are. This is useful when trying to capture a certain look and you are not exactly sure how to achieve it.

Overall ergonomics were average. Controls are well placed and easy to use, and the menu system is logically organized. The large 2.5-inch LCD works great outdoors in bright light and when used indoors in low-ambient lighting it "gains up" well, but it does get a little grainy. The position of the lens makes it very easy to include your index finger in the shot, this is not the first camera that we have seen that has this problem. You will have to learn how to hold the camera properly when shooting. I found that pinching it at the bottom left allows you to hold the camera steady and keeps you finger out of the way. Also I recommend you make sure you always wipe off the protective glass in front of the lens before shooting. No matter how you pick up the camera, it always seems to get finger prints on the lens cover. With most cameras this is not a major concern, but it is with the Ferrari Digital 2004. If there's a big fingerprint on the lens your photos will have a haze to them. You can see what I mean by looking at P8040028.JPG on our sample photos page.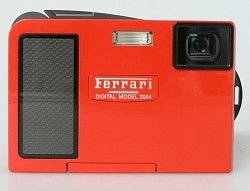 As you can see from the photos above, the Ferrari Digital Model 2004 is basically a "dolled up" AZ-1. The AZ-1 was only released in Europe, so we did not review it. When you hold the camera you will notice that its luxurious paint job is very pleasing to the eye. However, as stated above, it is very prone to finger prints. Because of the limited quantity available and the collectable value, I expect most of these will see little use and get treated more like show pieces.
Shooting performance was average for a camera in this class. From power up to first image captured measured approx. 7.0 seconds. Shutter lag was a fast 1/10 of a second when pre-focused and 6/10 of a second including autofocus. Shot-to-shot delay averaged 2.1 seconds without the use of the flash and about 3 to 4 seconds with the flash. When using its continuous (burst) mode, I was able to capture 11 frames in about 9.5 seconds. Switching from Record mode to Playback takes about 1 seconds and scrolling through images stored on the xD-picture card it almost instantaneous. Our test were done using an Olympus 512MB xD-picture card, quality/size set at SH 3M, preview off, flash off (unless otherwise noted), and all other settings a default. Times may vary depending on lighting conditions, camera settings, media, etc.
It's powered by a small but powerful 3.7v 1035mAh lithium rechargeable battery. Olympus does not specify the battery life. I was able to capture all of our sample images (approx 75 pictures) and conduct other tests before that camera posted a low battery warning. Unfortunately there's no optical viewfinder on this camera, you must use the LCD for all of your framing. Exactly how many pictures you can capture is going to vary depending on how many are taken with flash, how often the lens is zoomed in or out and how frequently you change settings or review pictures on the LCD. As with all cameras that use a proprietary battery, we recommend the purchase of a second battery.
I was pleased with the overall image quality in SH 3MP mode. This is basically a point-n-shoot camera with very little manual control other than selecting one of the white balance presets, spot metering, variable exposure compensation and its 22 Scene modes. When using certain scene modes like (Museum, Candle light, Available light, etc) the image size/quality drops to B (Basic) 1M (1-megapixel.) We feel confident in saying that 3-megapixels of resolution is all that most users need and is sufficient for web images, email attachments and 4x6" prints and the occasional 8x10" print. Outdoors it produced good results. In fact the majority of our indoor and outdoor samples were sharp, well exposed, showed true color, and were nicely saturated. However, there was an average amount of noise in high/low contrast areas. As with most of the Olympus cameras we've see this year, when shooting in Macro mode, the flash does an excellent job of "throttling down" to ensure the photo is not over-exposed.
Bottom line - the Olympus Ferrari 2004 Digital is a unique camera. It would make a great choice for any Ferrari F1 fan. With a street price of around $699, it's too expensive for the average consumer. However, if you're one of those discriminating buyers that has to have this camera, don't delay, there's only 1,000 of these cameras being released in the U.S. and only 10,000 world wide.
Visitors of Steves can visit the stores below for real-time pricing and availability. You can also find hot, soon to expire online offers on a variety of cameras and accessories at our very own Camera Deals page.