Olympus FE-5020 Review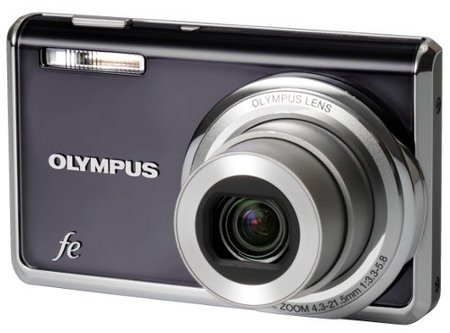 Review posted 1/4/2010

Quick Take
Pros
Easy to use with Auto Scene Selection; Compact and easy to carry; 2.7-Inch LCD; Manages available light well
Cons
Slow performance; Noise at all ISO settings; Short battery life; Image quality is not up to par with competition, with no real "Pop" in our photos

Bottom Line
The Olympus FE-5020 is an entry-level compact model that is simple to operate, with a low end price tag. On the down side it lacks in performance. If you need a quick camera for sporting events, quick snap shots, etc., you may wish to look elsewhere. Image quality is ok, but I think images lack vibrancy. Read more in our Full Conclusion.
Olympus introduces its newest member to the FE line, the 5020. Sporting a 5x wide-angle optical zoom, it is the largest of the FE family. The 5020 is packed with features including: 12 megapixel resolution, a 2.7 in. LCD, 21 preset shooting modes, AF tracking, Intelligent Auto, Magic Filters and the TruPic III Image Processor. All this and more packed in a slim, compact body. The FE-5020 is available in three different colors and has an estimated retail price of $159.99
Now if you're asking yourself what AF tracking is and why do I care about Intelligent Auto, lets take a minute and break some of this down.
AF Tracking: with this feature you can follow your moving subject and the camera will continually adjust the focus.
Intelligent Auto+Shadow Adjustment: Automatically adjusts the camera settings based on what it sees in order to get the best shot possible.
Magic Filters: These filters can be used to add distortion to photos to create a dramatic scene. There are three choices: fish-eye, which adds a convex distortion. Pin-hole, this creates a fade out effect from the center of the shot. And the third option is Pop Art, this really boosts the colors of the intended subject to give it a real artistic flair.
TruPic III Image Processor: According to Olympus, the TruPic III Processor was developed for the professional Digital SLR,and delivers superior images with true-to-life color, sharper detail and less noise.
5x Wide-Angle Optical Zoom: Get close to the action with the 5x optical zoom, and the wide-angle allows for wide landscape shots.
12 Megapixel Resolution: This allows for larger print images without loss of detail.
Olympus FE-5020 Features:


12 Megapixels (effective), 1/2.3' CCD Image Sensor
TruePic III Image Processor
4.3 - 21.5mm (36 - 180mm equivalent in 35mm photography)
5x Optical Zoom + 4x Digital Zoom
2.7' LCD
21 Shooting Modes; Intelligent Auto, Program Auto, Digital Image Satbilization Plus, Magic Filters (3 presets), Scene Modes (1. PORTRAIT, 2. LANDSCAPE, 3. NIGHT SCENE. 4. NIGHT+PORTRAIT, 5. SPORT, 6. INDOOR, 7. CANDLE, 8. SELF PORTRAIT, 9. SUNSET, 10. FIREWORKS, 11. CUISINE, 12. DOCUMENTS, 13. BEACH & SNOW, 14. PET), Movie
Advanced Face Detection tracks up to 16 faces
Digital Image Stabilization Plus: With high ISO sensitivity and faster shutter speeds, you can freeze the action to capture sharp, blur-free images
xD and Micro SD compatible
VGA Movie Mode: easily upload your movies to YouTube
In camera guide
The Olympus FE-5020 is available now with a suggested price of US $159.99.

Included Accessories:
USB Cable
A/V Cable
Manual
Wrist Strap
Lithium-Ion Battery & Charger
OLYMPUS Master 2 Software CD-ROM
Warranty Card
MASD-1 (microSD Adapter)
Visitors of Steves can visit the stores below for real-time pricing and availability. You can also find hot, soon to expire online offers on a variety of cameras and accessories at our very own Camera Deals page.