Features & Controls
The E-PL2 uses a micro Four-Thirds (mFT) lens mount system, and because this is a mirror-less system, these manufactures have been able to reduce the distance between the mount and the image sensor from 40 mm (standard Four Thirds System) to approximately 20 mm. This allows for a much smaller camera bodies as well as lenses.
Olympus has included their effective Supersonic Wave Filter Dust Reduction System on all of their Digital PEN models, which is designed to prevent dust from adhering to the image sensor by using ultra-sonic vibrations. This helps filter and repel dust and other particles, that are then trapped on an adhesive absorber at the bottom of the filter so it doesn't return to the sensor later on.
On top right hand side of the camera is the Mode Dial with positions for iAuto (Intelligent Auto), Program, Aperture priority, Shutter speed priority, Manual, Movie, SCN, and ART modes. To the right is the Shutter release, and the On/Off button.
The E-PL2 is bundled with an all new M.Zuiko Digital ED 14-42mm f3.5/5.6 II optical zoom lens, which is an updated version of the existing 14-42mm lens. While offering almost identical specifications, Olympus claims the new 14-42mm II is movie and still compatible (MSC), and they have also added a bayonet mount on the end of the lens for optional conversion lenses. Three models will be available in February 2011; Wide-angle converter, Macro converter, and Fish-eye converter. These new lens offerings are also compatible with the M.Zuiko 40-150mm lens that was announced earlier in the year.
The M.ZUIKO DIGITAL ED 14-42mm 1:3.5-5.6 II (35mm equivalent focal length: 28-84mm) Micro 4/3 lens provides 3x zoom performance. To maximize the mobility this lens features a retractable parking mechanism and the result is a total length of just approx. 55mm. Compared to the standard 4/3 ZUIKO DIGITAL ED 14-42mm 1:3.5-5.6 this lens is only 65% of the volume and 80% of its weight.
One unique feature about the 14-42mm kit lens is its ability to collapse down when you are carrying or transporting the camera.

On the right if you look close you will see the lock release that is used to unlock the lens from the storage or retracted position. You can also see the lens release on the camera.
The M.ZUIKO DIGITAL 17mm 1:2.8 Pancake (35mm equivalent focal length: 34mm) lens is even smaller than the already compact pancake lens for standard 4/3 bodies. This Micro 4/3 lens boasts a mere 22mm in length and 71g in weight. The circular aperture diaphragm with 5 blades enables natural and smooth defocusing. This wide-angle pancake lens with its ultra compact design is ideal for daily snapshots and as travel companion.
Lens Adapters
To use some of your existing 4/3 system lenses, Olympus does offer the MMF-1 4/3 mount adapter. This lens adapter makes it possible to mount any existing Four Thirds lens on a Micro Four Thirds digital camera. AF shooting using Live View is possible with lenses featuring contrast AF compatibility. When a contrast AF incompatible lens is used, the AF assist function engages.



Olympus also offers the MMF-2 UM lens adapter, which permits the use of Olympus OM lenses to be used on a Micro Four Thirds digital camera.
Autofocus(AF) is not available.
Stop-down metering is used.
Although it is possible to use A (aperture priority AE) mode in auto exposure, the aperture display is not available.
In P (Program AE) or S (Shutter speed - priority AE) mode, the shutter releases, but the auto exposure does not work.
The distance scale on the OM system lens may not indicate the actual distance. Always use the viewfinder for focusing.
Built-in Flash Unit
The E-PL2 offers a manual pop-up flash unit that is tucked away inside the body. This unit offers a guide number of 10 (m) at ISO 200, and synchronized shutter speeds up to 1/180 sec. or less.
Here you can see the built-in flash from behind, along with the flash release button located underneath of the flash unit.
Hot Shoe for External Units
The E-PL2 is also equipped with a hot shoe and Olympus' new accessory port 2 (AP2) that allows the external units to work directly with the camera. The Olympus FL-14, FL-20, FL-36, FL-50, FL-36R or FL-50R external flash units can be attached to the E-PL2's hot shoe and offer full TTL flash control. This shoe is also used to attach the optional accessories like the VF-2 EVF, and an EMA-1 microphone input jack. Olympus has also added a macro spotlight (MAL-1) and a Pen Pal Bluetooth (PP-1), however the PP-1 will only be compatible with the AP2 ports.
Here is a view of the PP-1 PENPAL described in the paragraph above. The PP-1 was built for a faster way to transfer images to any bluetooth compatible smart phone. When a photo is taken the PP-1 will send the image directly to a selected phone where it will be available to upload to any social network, such as Facebook or Twitter.


Here you can see the EMA-1 external microphone adapter. For those who want to capture enhanced audio, the EMA-1 external microphone connector is a great accessory. The connector will accept the optional Olympus ME-51S stereo microphone or any microphone of their choice.
External Flash
Olympus FL-14
While designed specifically for use with their Digital PEN cameras, through our testing we found that the super compact FL-14 external flash unit is also compatible with other E-series models, like the E-620. With an equivalent GN (Guide Number) of 14 at ISO 100 (or 20 at ISO 200), you can accomplish pleasing flash shooting without having to carry around a bulky external unit.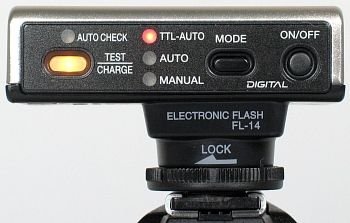 The FL-14 also features an energy circuit that improves recharge rates (approx. 5 sec. recycle time) and enables the flash to operate on just two AAA batteries. In addition, the FL-14 incorporates these features:
Compact and stylish silver metal exterior
Guide Number 20 at ISO 200
28mm equivalent coverage
AAA batteries x2 provide about 80 shots at full power
Approximately 5 second recycle time
3 modes: TTL-AUTO, AUTO, Manual

Visitors of Steves can visit the stores below for real-time pricing and availability. You can also find hot, soon to expire online offers on a variety of cameras and accessories at our very own Camera Deals page.