Olympus E-1 SLR Review
Body, Imager & Lenses
The magnesium alloy body gives the E-1 durability and strength.




Splash-Proof (IEC Standard publication 529 IPX1) body and lens design with a total of 65 gaskets and rubber linings for dust and water resistance on: Connector and Switch Panels, Exterior Seams, Battery Doors and Grip Planes.










The lens mount for the Four Thirds System is twice the diagonal measurement of the imager. With this lens mount the body size, lens size and overall weight are reduced.

The red square in the upper left is the focus assist illuminator, below it is the One-Push white balance button. Lower left is the Depth of Field preview button. Center right is the lens release button and below that is the Focus Mode selector switch.






Four-Thirds CCD Image Sensor
Compare the 1/1.8" (most 3-, 4- and 5-megapixel cameras), 2/3" (used in E-20n) and the 4/3 System CCD imagers. The imager in the E-1 has four times the spatial area of the E-20n's imager. The diagonal measurement of the FT-CCD sensor is 22.3mm.




The E-1 features a high performance Full Frame Transfer CCD from Kodak, the KAF-5101CE, that delivers the highest dynamic range, lowest noise levels and best color of any camera in its class. The 4/3 type sensor measures 22.3mm diagonally with a 4:3 aspect ratio with 5.5 Megapixels total and 5.08 Megapixels effective. The individual pixels are 6.8µm square. Color is applied to pixels via an RGB mosaic color filter with overlying micro-lenses for improved color response and reproduction. The sensor will capture 14bit RGB information, which can be saved in the Adobe RGB or sRGB color space.

The CCD features blooming protection for each pixel. Blooming Protection reduces the overflow of electrons in the bright areas of picture preventing overly bright areas with loss of detail. With this technology the image can retain more of the highlight detail, providing greater image quality.




Interline CCDs have traditionally been used in digital cameras and are either interlaced or progressive scan sensors. Interline chips are designed with a path or "highway" to move data. This highway takes up valuable real estate that could be used for image capture and reduces the size of the photodiode in each pixel. The E-1 Full Frame Transfer CCD transfers image data via a Vertical Charge Register that is a fraction of the size of an Interline highway. In fact, the active pixel area of the Full Frame CCD is 1.5 times larger than an Interline CCD of equal size. Using less of the pixel to transfer data means more space can be used to capture data for better image resolution.
The Full Frame Transfer CCD uses more of the pixel area to actually act as a sensor with a wider aperture for the photodiode and larger pixel capture area. With its larger capacitor, a Full Frame Transfer CCD captures more electrons than a conventional Interline CCD to deliver higher sensitivity, higher Signal/Noise ratio, and wider dynamic range and greater latitude. The E-1's progressive scan Full Frame Transfer CCD allows for better speeds and higher image quality than found in many 6+ Megapixel Interline CCDs.



Exclusive Supersonic Wave Filter™
Olympus has patented this new ultrasonic technology to address the dust problem common among interchangeable digital SLR cameras. The Supersonic Wave Filter protects the imager from unavoidable micro dust that settles on the imager during regular use. Located between the shutter and the imager, the Supersonic Wave Filter uses high-speed ultrasonic vibration to cause most types of dust to fall away, thus preventing dust spots from appearing on the image.
The dust is collected in a receptacle located directly under the filter. The entire process is completed in less than 200 milliseconds and is performed every time the camera is turned on. The cleaning process can also be initiated manually via the camera menu.



Digital Specific "Smart" Lenses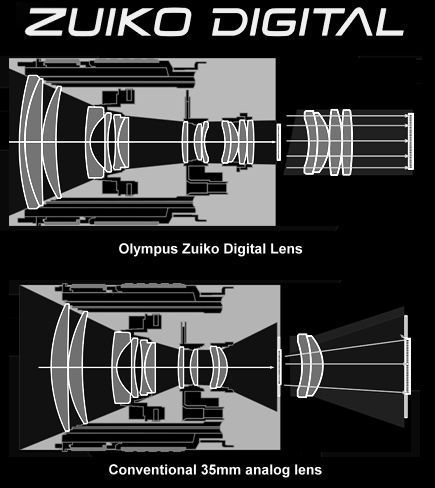 Olympus Zuiko Digital Lenses are designed so light strikes the camera's image sensor directly, ensuring rich, accurate colors, sharp contrasts and bright images even at the edges.
Lenses that are smart, that talk with the camera about their specific optical designs and imaging information. Lenses, particularly zoom lenses have some distortion. This is true of all manufacturers. Zuiko Digital Lenses store data in the header portion of the digital file allowing for software-assisted correction of anomalies including pin cushion and barrel distortion.
Shoot wide open or stopped all the way down and achieve superior results over 35mm film based lenses. Zuiko Digital Specific Lenses are about three times the resolution of ordinary film based lenses.
User Upgradeable Firmware
The Smart Lens Design allows users to shoot with the most current firmware versions of each particular E SLR System component. Update the camera system using:
Internet-Enabled Computer
Camera Connected via USB 2.0 or Firewire (IEEE 1394)
Olympus Software; one Button Update
The firmware information is collected for the lens, flash, and body and updated accordingly - no tricky file downloading or installation procedure necessary.

Be sure to see our E-1 Firmware update info on the conclusion page for the latest information.






Zuiko Digital Specific Lenses are designed to meet the demands of digital photography today and into the future.
First Digital Specific lens design
Targets light more precisely to the sensor
About three times the resolution of film lenses
ED glass elements and aspherical elements
Faster Apertures, the rear element is closer to the imager
Smart Lens Design - intelligently communicates with the E-1 body
Reduced size and weight compared to 35mm equivalent lenses
Precision Multi-Coating for better light management and reduced flare
Designed for the most accurate color consistency
Initially, Olympus will introduce five Zuiko Digital Specific Lenses:
14-54mm f2.8-3.5 (28mm - 108mm equiv. for 35mm)
50-200mm f2.8-3.5 (100mm - 400mm equiv. for 35mm)
50mm f2.0 1:2 Macro (100mm Macro equiv. for 35mm)
300mm f2.8 Super Telephoto (600mm equiv. for 35mm)
TC14 1.4X Teleconverter (1.4X - 1 stop equiv. for 35mm)

Otober 14, 2003:
2004 will see the Olympus E-System increased by five new interchangeable ZUIKO DIGITAL lenses. With these new additions, the company not only presents equipment that allows the system's users to explore new creative and thematic avenues. It also shows its commitment to continually extending the professional digital SLR system based on the FourThirds standard. Among the new models planned for release next year is the ZUIKO DIGITAL 11-22mm, F2.8-3.5 lens (35mm camera equivalent: 22-44mm), plus three other zoom lenses and a bright lens with a fixed focal length. Naturally, the company's R&D department is not stopping there. It is also busy developing more lenses for release in 2005 and later.
For more information go to Olympus E-1 Lens page.




ZUIKO DIGITAL 11-22mm, F2.8-3.5
Melville, NY, December 12, 2003 - Olympus America Inc. will introduce a new Zuiko Digital Specific(tm) 11-22mm F2.8-3.5 wide-angle zoom lens (equivalent to 22-44mm on a 35mm film camera) for the Olympus E-1 Digital SLR early next year. The new lens is the latest Zuiko Digital Specific Lens designed for the Olympus E-System, the world's first 100% all-digital interchangeable lens SLR system. The 11-22mm F2.8-3.5 lens ($699.95 USD MSRP) will hit the street in early February 2004.

ZUIKO DIGITAL 11-22mm F2.8-3.5 SPECIFICATIONS
35mm Equivalent: 22-44mm
Lens Construction: 12 elements in 10 group
Angle of View: 53° - 89°
Closest Focusing Distance: 11.02 inches/ 0.28m
Max. Image Magnification: 0.13x
Max. Aperture: F2.8 Wide - F3.5 Tele
Min. Aperture: F22
Number of Blades: 7
Filter Size: 72mm
Dimensions: 2.95 x 3.64 inches /75 x 92.5mm
Weight: 15.60 oz./485g
EC-14 Yes
EX-25 No
Lens Hood (Included) LH-75
Lens Cap (Included) LC-72
Lens Case (Included) LSC-0918

Thanks to www.zuiko.com for the following information:
MOUNT YOUR OM LENSES ON THE E-1???
On the NEW PRODUCT LIST at the Olympus America website (sorry, this list only viewable by authorized Dealers), there is product #260209, "OM Adapter MA-1" which is listed as "For use with E-System digital cameras. OM to 4/3 adapter."
Visitors of Steves can visit the stores below for real-time pricing and availability. You can also find hot, soon to expire online offers on a variety of cameras and accessories at our very own Camera Deals page.