Olympus D-595 Zoom Review
Olympus D-595 Zoom Review
Review Posted 7/21/2005

Click to take a 360-degree QTVR tour of the D-595


The 5.0-megapixel D-595 Zoom combines the power of manual control with the convenience of an easy-to-use design for incredible results. Featuring manual control of shutter speed and aperture options, a 3x optical zoom and 19 shooting modes, the D-595 Zoom combines manual settings with the ease of a point-and-shoot, packing high-end advanced features into an affordable, easy-to-use compact camera.
The 3x optical zoom lens (38-114mm equivalent in 35mm photography f2.8 - f4.9) combines with a 4x digital zoom to deliver a total 12x zoom so virtually no photo opportunity is out of reach. And with the super macro mode it is possible to capture amazingly small details, as tiny as the date on the back of a penny, from as close as 0.8 inches.
TruePic TURBO is a super-charged image processor that significantly enhances image quality and processing speed. Users will experience rapid startup, shutter release and playback, as well as capture sharper, more realistic images.
One of the greatest benefits of digital photography is the ability to compose and review images on the LCD, as it allows users to accurately frame their photographs and make on-the-spot decisions about saving or deleting them. To ensure that users can easily view their subject and frame the best-shot possible, the D-595 Zoom has a, 85,000 pixel 1.8-inch Semi-Transmissive TFT LCD - for easy viewing even in bright sunlight.
Fully automatic snapshots are still as easy as ever, and the inclusion of 19 shooting modes, accessed via a rotating dial and menu button on the back of the camera, makes it easy to capture great images in a variety of lighting situations, such as Portrait, Fireworks, and Indoor. A QuickTime Movie mode with sound enables users to create short movies of events that can be emailed to family and friends. And with the new frame integration function, users can select various colorful, decorative borders for favorite pictures to print or email to friends.
It also features PictBridge technology to make printing quality photos a breeze. Simply connect the camera directly to any PictBridge-enabled printer and start printing right away.
Camedia D-595 Zoom Features:
5.0 megapixel (effective) CCD for image sizes up to 2560x1920
Compact design makes the D-595 Zoom easy to handle and carry.
3x optical zoom with 38-114mm coverage (35mm photography equivalent)
1.8-inch color LCD display with 134,000 pixels of resolution
19 shooting modes including Program Auto, Portrait, Landscape, Etc.
Olympus TruePic TURBO image processor for increased performance
320x240 resolution QuickTime movie mode with audio
Automatic Pixel Mapping checks the CCD and re-maps it for maximum performance.
Removable xD-Picture Card storage, 16MB included
Automatic Noise Reduction when using Night Scene mode.
Built-in multi mode flash
Powered by 2 AA or 1 CR-V3 type battery
Auto-Connect USB for hassle-free downloads
PictBridge Compliant
The D-595 Zoom is available now with an MSRP of $219.99. It includes (2) AA alkaline batteries, USB cable (Win/Mac), Audio/Video cable, wrist strap, Quick Start Guide, Quick Reference Guide, basic instruction manual, CD-ROM with OLYMPUS Master software and advanced instruction manual, warranty card.

Physical Views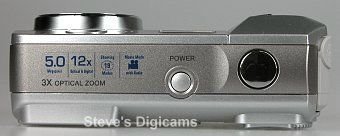 The Camedia D-595 Zoom compared in size to a CD.


The Stylus Verve S and the D-595 Zoom.
D-595 Zoom Specifications
CCD Imager
5.0 megapixel effective, 5.0 megapixel gross, 1/2.5" CCD
Lens
6.3 - 18.9mm (38 - 114mm equivalent in 35mm photography), 6 lenses in 5 groups (including 3 aspherical elements)
Seamless Digital Zoom
Seamless to 12x (3x optical and 4x digital combined)
Aperture Range
f2.8 - f4.9 (adjustable in 1/3 EV steps)
Shutter Speeds
1/2000 sec. - 15 sec.
ISO
Auto, 50, 100, 200, 400 (equivalent)
Recording Mode(s)
Still Image: DCF Standard (JPEG, EXIF 2.21), PIM III
Movie Mode: DCF Standard (QuickTime® motion JPEG)
Adjustable Resolutions
2560 x 1920, SHQ High/HQ Normal
1600 x 1200, SQ1 Normal
640 x 480, SQ2 Normal
DPOF (Digital Print Order Format)
PictBridge and DPOF
Image Adjustment Modes
Still Image: Frame Integration
Movie: Frame Edit, Frame Index, Frame Capture
Image Effects
Black & White, Sepia/Two-in-one
Panorama
Up to 10 frames automatically stitchable with Olympus Master Software when using Olympus brand xD-Picture Card™
Sequence
1.2 frames per second up to 5 frames
Viewfinder
External
LCD
1.8" Color TFT, approx. 85,000 pixels
Focusing System
TTL Contrast detection
Focusing Ranges
Normal Mode: 19.7" (0.5m) - infinity
Macro Mode: 7.9" (0.2m) - infinity
Super Macro Mode: 0.8" (20mm)
Exposure Control
±2 EV steps in 1/3 EV steps
Metering System
Digital ESP, Spot
White Balance System
iESP2 multi-pattern auto TTL
Flash
Built-in
Flash Modes
Auto (for low light and backlit conditions)
Red-eye Reduction
Fill-in
Off
Flash Working Range
Wide: 12.5 ft. (3.8m); Tele 7.2 ft. (2.2m)
Removable Media Card
xD-Picture Card™ (16, 32, 64, 128, 256, 512MB and 1GB)
Selftimer/Remote
12 seconds/Auto
Setting Memorization
On/Off (Hold changes/Reset to default settings)
Outer Connectors
USB Connecter (Auto-Connect), Audio/Video and DC input
Auto-connect USB
2.0 Full Speed (a.k.a. USB 1.1 speed)
Image Playback
Still Image: Index display, Up to 5x enlargement, Slide show, Scene rotation
Movie: Normal, Reverse, Frame-by-frame
Operating Environment
Operation: 32° - 104°F (0° - 40°C), 30% - 90% humidity
Storage: -4° - 140°F (-20° - 60°C), 10% - 90% humidity
Power Supply
AA batteries (x2), Lithium (CR-V3), AC Adapter
Date/Time Calendar
Simultaneous recording into image data, Automatic up to 2099
Calendar
Automatic up to 2099
Size
4.1"W x 2.4"H x 1.4"D (104.5mm x 60.5mm x 36.2mm)
Weight
5.3 oz. (150g) without battery and media card
Number of Storable Photos

Quality Mode
Resolution
128MB xD-Picture Card
512MB xD-Picture Card
Still image
(w/o sound)
Unit: shots
SHQ
2560 x 1920
35 shots
142 shots
HQ
2560 x 1920
105 shots
420 shots
SQ1
1600 x 1200
257 shots
1030 shots
SQ2
640 x 480
1330 shots
5324 shots
Still image
(w/ sound)
Unit: shots
SHQ
2560 x 1920
35 shots
141 shots
HQ
2560 x 1920
102 shots
409 shots
SQ1
1600 x 1200
241 shots
968 shots
SQ2
640 x 480
997 shots
3993 shots
Movie
(w/o sound)
Unit: min.
HQ
320 x 240
193 sec.
774 sec.
SQ
320 x 240
387 sec.
1548 sec.
Movie
(w/sound)
Unit: min.
HQ
320 x 240
190 sec.
762 sec.
SQ
320 x 240
375 sec.
1503 sec.

All capacity figures are approximate.
Specifications are as represented by the manufacturer.
Visitors of Steves can visit the stores below for real-time pricing and availability. You can also find hot, soon to expire online offers on a variety of cameras and accessories at our very own Camera Deals page.