Olympus D-40 Zoom Review
Review posted 9/26/01

Click to take a QTVR tour of the D-40 Zoom



The D-40 Zoom measures just 3.4" (wide) x 2.7" (high) x 1.7" (thick), it's not only one of the smallest, but one of the most technologically advanced digital cameras on the market. Incorporating a new 2.8x optical zoom lens, matched to a 4-Megapixel (effective) CCD imager, it delivers rich, colorful, sharp and detailed photographs. Enhanced Color Management delivers better skin tones in portraits, truer blue skies and greener trees in landscapes, without any further operator programming. Users simply select the mode, point and shoot.
For night shots or long exposures, the D-40 Zoom features a Noise Reduction mode. The 4-megapixel CCD produces images up to 2272 x 1704 pixel files that can create prints up to 11" x 14". An Optimum Image Enlargement mode for applications requiring larger output gives users the flexibility to print images up to 16" x 20". The D-40 Zoom offers great picture quality, is easy to use and builds a range of advanced features into a hassle-free camera that fits in the palm of a hand.

A new LCD menu interface gives users fast and easy access to commonly used functions. Three of the four default menu categories in the top menu can be programmed by the user as shortcuts, eliminating the need to navigate multiple screens to change camera settings. The D-40 Zoom features a new 10-position Mode Dial, with creative modes pre-set to fine tune exposure, white balance and color saturation settings for any shooting situation. A new "My Image" mode gives users one-touch access to their own customized settings.
To download, save and share photos, the D-40 Zoom also features Olympus' USB Auto-Connect technology. USB Auto-Connect executes fast and worry-free image file downloads without the need for additional software or drivers for Windows® 2000, Windows Me, Windows XP and Mac OS 8.6 - Mac OS X computers.
The D-40 Zoom offers a host of easy to use capabilities for maximum photographic image quality and creativity. The iESP multi-patterned White Balance system automatically adjusts camera settings to ensure proper color reproduction. Metering modes are automatic and feature a choice of ESP multi-patterned or spot metering for easy, yet advanced exposure control. In addition to full manual operation, users can select from Aperture or Shutter Priority, multiple Program Scene modes, a two-frame-per-second Burst mode, Black- and-White and Sepia shooting modes, Auto Exposure Bracketing and Exposure Compensation settings.


Features of the D-40 ZOOM:
Super-compact and lightweight, just 6.7 ounces
4-megapixel CCD for images up to 2272 x 1704
Optimum Image Enlargement mode [OIE] - Enlarges images up to 3200 x 2400 pixels (7.7 Megapixels) in SHQ or HQ mode
SQ, HQ and SHQ JPEG modes as well as uncompressed TIFF format.
320x240 QuickTime motion video at 15fps with sound up to 30 secs.
2 frames/second HQ burst, up to 8 frames (excluding TIFF)
Autoexposure Bracketing, 1/3 EV, 2/3 EV and 1 EV, 3 or 5 images
Spot AF, iESP AF and manual focus modes.
1.5-inch color TFT LCD monitor.
Digital iESP multi-pattern and spot metering modes.
Program AE, Shutter-priority, Aperture-priority or full Manual exposure control.
Noise Reduction System for exposures of four seconds or longer
10-position Mode Dial provides for easier access to program scene modes such as Portrait, Self Portrait, Landscape-Scene, Night Scene and more.
"My Image" mode - create unique custom settings that can be accessed by turning the Mode Dial to the "My Image" position.
Sharpness (Hard, Normal, Soft) and Contrast (High, Normal, Low) settings
Sepia mode, black & white mode, blackboard mode or whiteboard mode
ISO sensitivity can be fixed at 100, 200, 400 or automatic.
White balance options now include a custom one-touch function.
Built-in speaker and microphone
Automatic Pixel Mapping - correct the rare occurrence of dead (black) pixels or stuck (white) pixels without returning the camera for service.
USB Auto-Connect - Connect to most any USB-compatible Windows computer (running Windows Me, 2000, or XP) or Macintosh (running MacOS 8.6 - OS X) in seconds.
The D-40 ZOOM ships with a 16MB Olympus SmartMedia memory card, USB cable, AV cable, one LB-01 Lithium battery (also uses 2 standard AA batteries), RM-1 remote control, Olympus Camedia Master Software for image manipulation and creation, instruction manual, QuickStart Guide, and strap.
Physical Views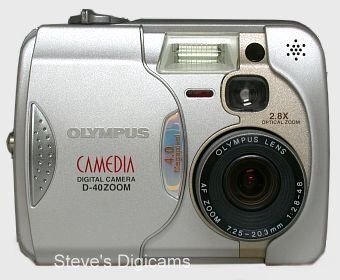 The ultra-compact D-40 Zoom and the 3-megapixel Pentax Optio 330.
Olympus D-40 Zoom Specifications
CCD Imager:
4.0 Megapixel (Effective - Pixels used to capture image)
CCD Imager:
4.1 Megapixel Gross (Gross - Full optical CCD resolution)
CCD Size:
1/1.8" (.55") CCD (in inches)
Lens:
Olympus aspherical glass 3x zoom lens 7.25-20.3mm (35mm-98mm equivalent in 35mm photography), 7 elements in 5 groups
Seamless Digital Zoom:
7.0x (2.8x optical and 2.5x digital combined)
Aperture Range:
F 2.8/4.8-f8.0 (adjustable in 1/3 steps)
Shutter Speeds:
1/2 sec. - 1/1000 sec. Automatic Mode
4 sec. - 1/1000 sec. Night Scene Mode
16 sec. - 1/1000 sec. Manual Mode
ISO:
Auto: 100-400 / Manual: 100, 200, 400 (equivalents)
Recording mode(s):
Still image: EXIF TIFF (non-compressed), EXIF JPEG, ®DCF (design rule for Camera File system), QuickTime® Motion JPEG with .WAV Sound (Movie Mode)
Adjustable Resolutions:
2272 x 1704 TIFF, JPEG (x2), RAW
2,288 x 1,712 SHQ only
2048 x 1536 TIFF, JPEG (x2)
1600 x 1200 TIFF, JPEG (x2)
1280 x 960 TIFF, JPEG (x2)
1024 x 768 TIFF, JPEG (x2)
640 x 480 TIFF, JPEG (x2)
*3200 x 2400 JPEG OIE* (x2)
*2816 x 2112 JPEG OIE* (x2)
*2560 x 1920 JPEG OIE* (x2)
320 x 240 @15fps QuickTime Motion JPEG (32 sec.)
160 x 120 @15fps QuickTime Motion JPEG (130 sec.)
DPOF (Digital Print Order Form):
Print Reserve, All print reservation, Date/time; Trimming
*Optimum Image Enlargement Mode:
3200 x 2400, 2816 x 2112, 2560 x 1920 (JPEG x2, All OIE resolutions interpolated from the maximum CCD resolution of 2272 x 1704)
Image Adjustment modes:
Noise Reduction: available at shutter speeds of 1 second or longer
Sharpness: +/- 5 steps
Contrast: +/- 5 steps
Saturation: +/- 5 steps
White Balance +/- 3 steps Red-Blue
Image Effects:
Sepia Mode
Black and White Mode
Blackboard Mode
Whiteboard Mode
Panorama:
Up to 10 frames stitchable with CAMEDIA Master software when using Olympus brand SmartMediaTM
Sequence:
2 frames per second burst up to 8 frames in HQ mode
Viewfinder:
Optical real-image viewfinder with autofocus/backlight mark
LCD:
1.5" color TFT LCD (114,000 pixels)
Used for viewing, reviewing or editing images
Focusing System:
iESP Multi-Pattern AF (autofocus) TTL system (contrast detection)
Manual focus setting by gauge on LCD
Focusing Ranges:
Macro Mode: W 3.9" ~ 31" (0.1 m ~ 0.8m), T:9.8" ~ 31" (0.25 ~ 0.8m)
Normal Mode: 31" ~ infinity (0.8m ~ infinity )
Manual Mode: 3.9" (0.1 m) ~ infinity set by gauge on LCD
Exposure Control:
Program Auto (f 2.8 - f8.0, 1/1000 sec. - 1/2 sec.)
Aperture Priority (f 2.8 - f8.0, 1/1000 sec. - 1/2 sec.)
Shutter Priority (f 2.8 - f8.0, 1/1000 sec. - 1/2 sec.)
Program Scene Modes (f 2.8 - f8.0, 1/1000 sec. - 1/2 sec.)
Manual (f 2.8 - f8.0, 1/1000 sec. - 16 sec.)
Exposure Compensation +/- 3 Steps EV by 1/3, 2/3 and 1 stop settings
Auto Bracketing 3 or 5 images +/- 3 Steps EV by 1/2 and 1 stop
AE Lock (exposure lock)
Metering System:
Digital ESP Multi-Pattern Meter, Spot Metering
White Balance System:
iESP Multi-pattern auto TTL
Pre-set manual (Daylight, Overcast, Tungsten and Fluorescent) or temps
One-touch manual calibration
Flash:
Built-in Flash
Flash Modes:
Auto Flash for low and backlight
"Red-eye" Reduction
Fill-in Flash (forced on flash)
Slow Shutter Synchronized Flash (1st or 2nd curtain effect)
Slow Shutter Synchronized Flash with "Red-eye" Reduction (1st curtain only)
Flash Off
Flash Working Range:
Wide: 31" - 9.8' (0.8m - 3m) @ ISO 100
Tele: 9.8" - 5.9' (0.25m - 1.8m) @ISO 100
Flash Charging Time:
Less than 6 seconds (at normal temperature with new batteries)
Removable Media Card:
3V (3.3V) SmartMediaTM card (4, 8, 16, 32, 64, and 128 MB)
16MB card included
Self-timer/Remote:
12-second delay (selftimer)/3-second delay (remote) RM-1 Remote included
Settings Memorization:
On, Default, and Custom - Quickly accessible from Mode Dial
Outer Connectors:
USB connector (Auto-Connect), NTSC Audio/Video Out, DC input with Olympus 3.4V AC Adapter
Auto-Connect USB:
Compatible with Windows 98 rev2/ME/2000 Pro/XP-MacOS 8.6-9.01/OSX
Image Playback:
Index display, up to 4X enlargement, Slide-show, Scene rotation
Operating Environment:
Operation: 32°F -104°F (0°C - 40°C) 30-90% Humidity
Storage: -4° F - 140°F (-20°C - 60°C) 10-90% Humidity
Power Supply:
Main Power Source: 1 x LB-01 (CR-3V) Lithium battery (included) 2 x AA Ni-MH rechargeable batteries, 2 x AA Lithium batteries,2xAANiCD rechargeable batteries, 2 x AA Alkaline batteries (emergency use only), (Manganese batteries cannot be used)AC Power: E-7AU AC adapter 3.4 Volt (optional)
Date/Time Calendar:
Simultaneous recording into image date
Calendar:
Automatic up to the year 2031
Size:
3.4" (W) x 2.7" (H) x 1.7" (D) (excluding protrusions)/
87mm (W) x 68.5mm (H) x 43.5mm (D) (excluding protrusions)
Weight:
6.7 oz./
190 grams without batteries and SmartMediaTM card
Visitors of Steves can visit the stores below for real-time pricing and availability. You can also find hot, soon to expire online offers on a variety of cameras and accessories at our very own Camera Deals page.