Olympus C-8080 Wide Zoom Review
Olympus C-8080 Wide Zoom Review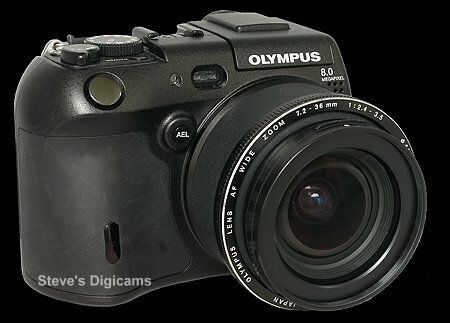 Pre-production First Look posted 2/12/04
Production sample photos posted 3/20/04
Full review posted 3/29/04

Click to take a QTVR tour of the C-8080 Wide Zoom



The C-8080 Wide Zoom features a lightning-fast startup and shot-to-shot recycling time thanks to its Olympus TruePic TURBO Image Processor. This is a top-of-the-line consumer camera with advanced controls, 8 million pixel imager and a super-bright, ED glass wide angle, 5x optical zoom lens. The C-8080 is housed in a compact and rugged, black magnesium alloy body with a large and comfortable rubberized grip.
The C-8080 employs a super-sharp, through-the-lens electronic color viewfinder (EVF) that rivals optical viewfinders with 240,000 pixels of resolution. This is a full information viewfinder and allows you to view all of the camera settings without taking your eye off of your subject. And on the back is a multi-position 1.8" LCD monitor that swivels upward from the camera body 90 degrees allowing you to shoot from the hip or 45 degrees downward to get the perfect over-the-head shot.
The camera's high quality Olympus glass lens features three extra-dispersion (ED) lens elements and is designed specifically for digital capture. Two new conversion lenses have been specially created for the C-8080 Wide Zoom, the WCON-08D is a 0.8x wide-angle converter lens that reduces the focal length by a factor of 0.8x (35mm conversion of 22.5mm) and to get closer to the action, the TCON-14D, a 1.4x teleconverter lens, increases the focal length by a factor of 1.4x (35mm conversion of 196mm). To attach the TCON-14D or WCON-08D, the CLA-8 adapter is required.
Photographers will appreciate the C-8080's wide range of exposure modes, scene program modes and control options thanks to the easy to operate Mode Dial and 13 direct control buttons located around the body. Eight customizable "MyMode" settings enable users to have quick and easy access to frequently used settings they assign. Plus a dedicated Custom button allows users to jump into the feature they use the most with just the press of a button.
The camera allows you to store your images on a wide variety of media with its xD-Picture Card and CompactFlash Type II card slots. xD-Picture Cards are available up to 512MB (soon to 1GB) and CF cards go up to 4GB as well as microdrives. Both media slots can be occupied simultaneously and are easily switched by a button on the back of the camera. Transferring images to the computer is easy with the Auto-Connect USB 2.0, no software drivers are required (for most modern computer operating systems).


C-8080 Wide Zoom features:
8-Megapixel CCD for images up to 3264 x 2448
f2.4 5x Wide Angle Zoom lens (28 - 140mm equivalent)
Stylish and rugged black magnesium alloy body
JPEG, TIFF and RAW image formats
Articulated 1.8-inch color LCD tilts up 90° and down 45°
Program AE, Shutter-priority, Aperture-priority, full Manual, Auto Exposure Bracketing
Shutter speeds from 16 secs to 1/4000 sec in Manual mode.
1.6 frames/second burst in any JPEG mode
iESP multi-pattern AF with Spot AF, Selective Spot AF, Full time AF and Manual focus (with gauge and LCD enlarged view) modes.
Digital iESP multi-pattern, Spot and Multi-point Spot metering modes.
Noise Reduction minimizes background noise in low-light situations
Sharpness, Contrast and Saturation is adjustable +/- 5 steps
ISO sensitivity: 50-400 or AUTO
Built-in flash with Auto, Fill, Red-eye reduction and Slow-sync modes
640x480, 320x240 QuickTime movies w/audio at 15 fps
Two media slots: xD-Picture Card and CompactFlash II including Microdrives
TTL hot shoe for Olympus FL-50 or FL-20 external flash
High-capacity BLM-1 Li-ion battery and charger included
Optional B-HLD30 holds two BLM-1 batteries and adds portrait grip and shutter release
PictBridge, Exif Print and Epson PRINT Image Matching II compatible

The C-8080 Wide Zoom is available now and includes a 32MB xD-Picture Card, Li-Ion rechargeable battery and charger, Auto- Connect USB cable, Audio/Video Out cable, carrying strap, lens cap with retainer cord, lens hood, Olympus CAMEDIA Master Software, RM-2 Remote Control, user manual and Quick Start guide.

DIWA Platinum Medal Award

The Olympus CAMEDIA C-8080 WIDE ZOOM receives the DIWA Platinum Award after being chosen by the DIWA members as the best of the gold winning "Advanced digital cameras" in 2004. Its high speed wide angle zoom lens proved to be a perfect match with the 8 Megapixel 2/3" image sensor, providing low-noise images with natural, vibrant colours and remarkable sharpness. The C-8080 WIDE ZOOM combines the benefits of a reasonably compact design with the flexibility of automatic and full manual controls. This is highlighted by super macro capability, a comfortable grip, a user-friendly adjustable 1.8" LCD screen and a detailed electronic viewfinder, as well as support for external flash and optical converters. In addition to its outstanding performance and numerous features, the Olympus CAMEDIA C-8080 WIDE ZOOM delivers excellent value for money.

Physical Views
The 5-Megapixel C-5060 Wide Zoom and the C-8080 Wide Zoom.
C-8080 Zoom Specifications
CCD Imager
8.31 megapixel effective
8.00 megapixel gross
Size 2/3" CCD
Lens
Olympus aspherical glass 5x zoom lens 7.13 - 35.6mm (28 - 140mm equivalent in 35mm photography). Comprised of 15 lenses in 13 groups with 3 aspherical ED (extra-dispersion) elements.
Seamless Digital Zoom
15x (5x optical and 3x digital combined)
Aperture Range
f2.4/3.5 - f8.0
Shutter Speeds
Program AE: 1/4000 sec. - 4 sec.
Aperture/Shutter priority AE: 1/4000 sec. - 16 sec.
Manual: 1/4000 sec. - 16 sec., Bulb (max. 8 minutes)
ISO
Auto, 50/64/80/100/125/160/200/250/320/400 (equivalent)
Recording Mode(s)
Still image: EXIF 2.2 TIFF (non-compressed), EXIF 2.2 JPEG, DCF (Design rule for Camera File system), PIM2 (Print Image Matching), Movie mode: QuickTime® motion JPEG
Adjustable Resolutions
3264 x 2448 (RAW, TIFF, SHQ, HQ)
3264 x 2176 (3:2, TIFF, SHQ, HQ)
2592 x 1944 (TIFF, SQ1)
2288 x 1712 (TIFF, SQ1)
2048 x 1536 (TIFF, SQ1)
1600 x 1200 (TIFF, SQ2)
1280 x 960 (TIFF, SQ2)
1024 x 768 TIFF, JPEG (SQ2)
640 x 480 TIFF, JPEG (SQ2)
640 x 480 @15fps Quick Time Motion JPEG
320 x 240 @15fps Quick Time Motion JPEG
DPOF (Digital Print Order Format)
Print Reserve, All print reserve, Date/time
Pixel Mapping
Selectable mode remaps CCD via bicubic interpolation
Image Adjustment Modes
Sharpness: +/- 5 steps
Contrast: +/- 5 steps
Saturation: +/- 5 steps
Image Edit Effects
B&W, Sepia, Resize (portable file size for e-mail or Web), Guideline
Rotation
Panorama
Up to 10 frames stitchable with CAMEDIA Master software when using Olympus brand xD-Picture Card
Sequence
1.6 fps burst in any JPEG mode
Viewfinder
0.44" TFT color LCD display w/240,000 pixels
LCD
1.8" (4.5cm) low-temperature poly-silicon LCD (approx. 134,000 pixels)
Focusing System
AF (autofocus) TTL system (contrast detection)
Focusing Ranges
Normal mode: 23.6" - infinity (0.6m - infinity)
Macro mode: 3.9" - 6.5' (0.1m - 2m)
Super Macro mode: 2" (5cm)
Exposure Control
Program auto (f2.4(W)/f3.5(T) - f8.0, 4 sec. - 1/4000 sec.)
Aperture priority: f2.4 (W)/f3.5 (T) - f8.0, 1/4000 sec. - 16 sec.
Shutter priority: f2.4 (W)/f3.5 (T) - f8.0, 1/4000 sec. - 16 sec.
Program scene modes: f2.4 (W)/f3.5 (T) - f8.0, 1/4000 sec. - 4 sec.
Night-Scene mode: 1/4000 sec. - 4 sec.
Manual: f2.4 (W)/f3.5 (T) - f8.0, 1/4000 sec. - 16 sec.
Exposure compensation +/- 2 EV in 1/3 or 1/2 EV steps
Auto bracketing: Selectable from 1/3 EV, 2/3 EV and 1 EV steps, 3 or 5 images
AE lock (exposure lock)
Scene Programs
Portrait, Sports, Landscape, My Mode (customizable), Night Scene
Metering System
Digital ESP metering, Spot meter, center-weighted
White Balance System
iESP2 Auto TTL, Pre-set manual (Daylight, Overcast, Tungsten and Fluorescent)
Flash
Built-in pop-up flash
TTL Hot Shoe for FL-20 or FL-50 TTL flash
Flash Modes
Auto for low and back light
Red-Eye Reduction
Fill-In (forced on)
Slow Shutter Synchronized (first curtain)
Slow Shutter Synchronized (first curtain with red-eye reduction)
Forced Off (built-in or external)
Flash Working Range
Wide: 31" - 17.4' (0.8m - 5.3m), Tele: 31" - 11.8' (0.8m - 3.6m)
Flash Charging Time
Approximately 7 seconds at normal temperature with fully charged BLM-1 battery.
Removable Media Card
3v (3.3v) xD-Picture Card (16, 32, 64, 128, 256 or 512MB), Compact Flash Type I or Type II, IBM Microdrive (except 340MB), 32MB xD Picture Card included
Self timer/Remote
12-second delay/2-second delay (RM-2)
Setting Memorization
On/Off (Hold changes/ Reset to default settings)
Outer Connectors
USB 2.0 connector (Auto-Connect), Video Out, DC Input for optional AC adapter
Auto-connect USB
Compatible with Windows 98 rev2/ME/2000 Pro/XP and Mac OS 8.6 - OS X 10.1
Windows 98 rev 2 driver provided on CD
Mac OS 8.6 requires USB mass storage driver 1.3.5 available at apple.com
Downloading to computer without USB port possible with optional card readers
Image Playback
Still image: Index display, Up to 5x enlargement with image scrolling, Slide show, Scene rotation, Protect
Movie: Normal, Reverse, Frame-by-frame, Voice playback
Operating Environment
Operation: 32° - 104°F (0° - 40°C), 30 - 90% humidity
Storage: -4° - 140°F (-20° - 60°C), 10 - 90% humidity
Power Supply
Li-Ion rechargeable battery (BLM-1) and charger (BCM-2) included
AC Power: 7.8V AC adapter (optional)
Date/Time Calendar
Simultaneous recording into image date
Calendar
Automatic up to the year 2099
Size
4.9" (W) x 3.3" (H) x 3.9" (D)
(124mm x 84.5mm x 99mm)
Weight
23.3 oz. (660 g) without battery or xD card

(Specifications as represented by the manufacturer)
































Visitors of Steves can visit the stores below for real-time pricing and availability. You can also find hot, soon to expire online offers on a variety of cameras and accessories at our very own Camera Deals page.