Olympus C-8080 Wide Zoom Review
Olympus C-8080 Wide Zoom Review
Features & Controls
The C-8080 features an Olympus glass lens comprised of 15 lenses in 13 groups with 3 aspherical ED (extra-dispersion) elements and was designed specifically for digital capture. The fast and bright f2.4/3.5 to f8.0 lens is a 15x seamless wide angle zoom (5x optical wide zoom and 3x digital combined), 28mm-140mm equivalent in 35mm photography.
There are three optional Olympus filters that screw on the front of the lens via 58mm threads. The UV and polarizing filters increase the creative possibilities while the protective filter prevents the camera's lens from being smudged or scratched.

Two conversion lenses have been specially created for this camera, a wide angle and a telephoto adapter. They feature a bayonet mount and can be quickly attached or removed via the CLA-8 conversion lens adapter.

The WCON-08D is a 0.8x wide-angle converter lens that reduces the focal length by a factor of 0.8x (35mm conversion of 22.5mm) when fitted to the C-8080 Wide Zoom, providing greater wide-angle coverage without altering the aperture setting.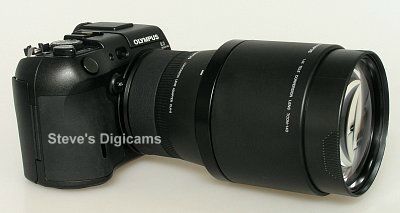 To get even closer to the action, the TCON-14D, a 1.4x teleconverter lens, increases the focal length by a factor of 1.4x (35mm conversion of 196mm).



When manually focusing you get an onscreen distance gauge (in feet or meters) and a magnified center view which makes it easier to actually "see" the proper focus. The C-8080 features iESP multi-pattern AF (autofocus) TTL system (contrast detection), Spot AF, Selective Spot AF and Full Time AF. Auto or Manual focus with 240 steps.
The C-8080 has both a passive focus sensor and a low-light AF-assist lamp, it also uses the more powerful AF-assist beams of external Olympus flash units when they're attached. Normal AF range is 23.6" to infinity, Macro mode is 3.9" to 6.5' and the Super Macro mode covers a distance of 2".





The C-8080 employs a high-resolution 0.44" TFT color LCD with 240,000 pixels as the eyelevel finder.
The viewfinder's diopter is adjusted via a knob around the base of the eyecup.







The high resolution 1.8-inch color LCD can be used for preview, review and accessing the camera's menu system. Pressing the MONitor button selects the EVF or LCD display.









The color LCD has 134,000 pixels of resolution and is mounted on an articulated arm that allows it to swing 45° downward and 90° upward.







The C-8080 has a popup, multi-mode intelligent speedlight; Auto (automatic flash activation in low light and backlight), red-eye reduction, fill-in (forced activation), Slow Shutter Sync (first curtain), Slow Shutter Synch (first curtain) w/red-eye reduction, Forced off (no flash).
Working flash range (at ISO 100): Wide angle 31 in. to 17.4 feet, Telephoto 31 in. to 11.8 feet. Flash charging time is approx. 7 seconds with fully charged battery. The flash squelches down nicely for macro exposures.

The TTL hot shoe allows the easy attachment of external and more powerful speedlights. Delivering great illumination power, the FL-50 has a guide number of 50 at tele settings and of 28 for wide-angle shots. The ultra-compact and lightweight FL-20 can easily fit into a shirt pocket and has a guide number of max. 20, ideal for fill flash.
The very precise flash output of the FL-50 and FL-20 (in 1/8EV increments) make them ideally suited for use with digital camera CCDs to provide even illumination across the entire imaging sensor.
When using the FL-50 (or FL-36), the C-8080 controls the flash's motorized zoom head, but does not make use of its long range focus assist illuminator.
Studio strobes can be connected using the optional Olympus hot shoe to PC adapter.

By enabling the option "Dual Control Panel" in the Setup menu you can have all of the camera and exposure data displayed on the color LCD by toggling the Monitor button. This is a realtime display and changes as you change the various settings on the camera. This display is VERY readable in the dark and more than makes up for the lack of a monochrome data LCD.
Visitors of Steves can visit the stores below for real-time pricing and availability. You can also find hot, soon to expire online offers on a variety of cameras and accessories at our very own Camera Deals page.