Olympus C-730 UltraZoom Review
Olympus C-730 UltraZoom Review
Record Screens & Menus
(All these screens can be displayed on either the EVF or the color LCD. The color LCD has more resolution but the EVF is easier to see when outdoors.)
Record screen in "P"rogram AE mode with the histogram feature enabled. The aperture is F3.2, shutter speed is 1/1.6 second and the 0.0 indicates no exposure compensation. The "[ ]" in the center is where the autofocus performs its calculations. Flash is disabled and we're in single shot drive mode. SHQ is the image quality and there's sufficient memory for another 51 pictures.



The Mode Dial selects the recording mode:
AUTO - Fully automatic "point-n-shoot" mode. The camera sets optimal focusing and exposure, no special functions or manual adjustments can be made.

Portrait - Camera uses large aperture to make centered subject sharp but intentionally blurs the background

Sports - Camera uses faster shutter speeds to stop fast-moving subjects without blurring.

Landscape-Portrait - Large depth of field to get a close subject and distant background in focus.

Landscape-Scene - Camera automatically sets for optimal scenic background type shots with maximum depth of field (range of focus.)

Night Scene - Camera sets slow shutter speed for evening or night shots, use of a tripod is recommended.

Self Portrait - Take a picture of yourself while holding the camera with the lens facing yourself.

Movie - Capture motion video clips with sound. The HQ mode is 320 x 240 and SQ mode is 160 x 120.

MyMode - User-configurable exposure mode, you "build" your own custom profile of settings which are memorized for easy recall with the Mode Dial.

A/S/M - Assigns "A"perture priority, "S"hutter speed priority or "M"anual mode to the A/S/M position of the Mode Dial depending on which you have selected in the menu.

Aperture priority is used to control depth of field, you set the desired aperture and the camera sets the appropriate shutter speed.

Shutter speed priority lets you select a shutter speed and the camera sets the appropriate aperture value.

Manual mode lets you adjust both the shutter speed and aperture values. The camera will not insure proper exposure. The exposure value is indicated on the LCD and can be adjusted accordingly.

Program AE - Camera selects optimum shutter speed and aperture for the shot but the user can manually adjust exposure compensation, flash compensation and use special functions.

Play - Playback mode




Screen in aperture priority mode. You selet desired aperture and the camera automatically selects the right shutter speed. A small aperture increases the depth of field (range of focus) or use a large aperture to intentionally blur the background for portrait shots. In shutter speed priority you select shutter speed and camera selects the aperture. Select a fast shutter speed to freeze fast-moving subjects or use a slower shutter speed to capture flowing water or low-light subjects.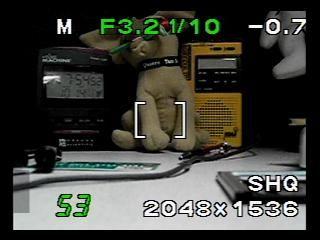 In full Manual you select both shutter speed and aperture, the exposure value is displayed constantly (-0.7 in the upper right) so you can adjust one value or the other to achieve the proper exposure.








Movie record mode screen. The flash is always disabled. Recording size is currently HQ (320x240), we have sufficient memory for a total of 383 seconds of recording at this quality level (with a 128MB SM card.)

The maximum length of a movie clip in HQ is 16 seconds, in SQ mode it is 70 seconds.










Pressing the Spot/Macro button cycles through: Spot metering, Macro focus, Macro focus with Spot metering or normal focus mode.










Pressing the FLASH button cycles through: Auto, Fill flash, Red-Eye reduction, Slow sync with red-eye reduction or Slow-sync.










Pressing the MENU button while in any still recording mode (except AUTO) brings up this menu screen. Using the Up, Down or Left buttons accesses the Shortcut menus (Drive, White Balance, Resolution) to quickly change those settings. You can access the full menu by pressing the Right button to go to the full Mode Menu.










The Mode Menu consists of four sections, the first is the CAMERA menu:
DRIVE - Single frame, sequential, high-speed sequential, AF sequential or AE Bracketing

ISO - Auto, 100, 200, 400

A/S/M - Set the function of the A/S/M position on the Mode Dial for "A"perture priority, "S"hutter speed priority or "M"anual.

Flash Intensity - Adjust the flash output -2.0 to +2.0

Slow Sync - Slow shutter speed flash sync for front or rear curtain or red-eye reduction

Noise Reduction - Enables/disable noise reduction on long shutter speeds

Multi Metering - Determine exposure with up to 8 different spots in the image

Digital Zoom - Enable or disable digital zoom option

Fulltime AF - Enable or disable continuous auto focus

AF Mode - Select iESP or Spot focus

Sound - Record sound while taking still pictures

Macro - Enable or disable super-Macro focus

Panorama - In-camera panorama mode, only available when using Olympus brand SmartMedia or xD-Picture cards.

2 in 1 - Combines two pictures taken in succession into one "side by side" image

Function - Off, B&W, Sepia, White Board or Black Board color effects

AF Area - Change position of the AF target mark using 4-way selector

Info - Changes amount of shooting information displayed on LCD monitor

Histogram - Enable or disable the live histogram displayed on LCD




The second section is the PICTURE menu:
Quality - Image size and quality; SQ2, SQ1, HQ, SHQ or TIFF

WB - White balance options; Auto, Sunny, Cloudy, Incandescent, Fluorescent or Manual Set

WB Adjust - Fine tune the white balance manually

Sharpness - Image sharpness; Hard, Normal or Soft

Contrast - Image contrast; High, Normal or Low

Saturation - Adjust the level of the color depth


The third section is for formatting the SmartMedia card




The fourth section is the SETUP menu:
All Reset - On resets all camera settings to default when camera is turned off. Off will retain all settings.

Language - Select the menu language (English, French, German, Spanish)

PW On/Off Setup - Sets the picture/sound displayed at startup

Rec View - If ON then show last image captured on LCD for several seconds

Sound - If ON then make a beep sound when buttons are pressed

Shutter - Sets tone and volume for the shutter sound effect

Sleep - Sets the sleep timer (30s, 1,3,5,10m)

MyMode - Set the parameters used in MyMode

File Name - Continuous file numbering or reset

Pixel Mapping - Checks the CCD imager for errors

LCD - Adjust brightness of LCD monitor

Clock - Set the time and date

m/ft - Set the distance scale at meters or feet

Video Output - Select NTSC or PAL video format

Battery Save - Enable camera operation with reduced power consumption

Short Cut - Change the assignment of the shortcut menus

Custom Button - Assign frequently used function to camera's custom button (AE Lock, Drive, ISO, A/S/M, Slow Sync, Noise Reduction, Digital Zoom, Fulltime AF, AF Mode, Sound, Info, Histogram, Resolution or White Balance)
Visitors of Steves can visit the stores below for real-time pricing and availability. You can also find hot, soon to expire online offers on a variety of cameras and accessories at our very own Camera Deals page.