Olympus C-5500 Sport Zoom Review
Olympus C-5500 Sport Zoom Review
Review posted 03/20/2005

Click to take a QTVR tour of the C-5500



Olympus' new C-5500 Sport Zoom incorporates a wealth of features including a 5.1-megapixel CCD, a large 2-inch LCD, world-class 5x optical zoom lens, and an inspiring array of manual and automatic functions. The combination of advanced features and intuitive operation enables users of all skill levels to achieve their precise creative goals. The C-5500 Sport Zoom gives users that extra bit of manual control for capturing perfect snapshots along with the power to create digital masterpieces.
Getting started with the C-5500 is as easy as popping in the batteries and turning it on. And once it's on, everyday users will appreciate that the C-5500 includes a full range of basic photography functions. With the Full Auto mode, even beginners can take perfect photos without worrying about complex settings. More experienced digital photographers will appreciate being able to have control over basic settings such as exposure, aperture and shutter speed with the Program Auto, Aperture Priority, Shutter Priority, and Manual Exposure modes.
For taking quick and precise photos in a range of different lighting situations - such as at night, in candlelight, at the beach, or at sporting events - with optimal aperture, shutter speed, white balance, color saturation and flash setting, users can select from 15 fully automatic shooting modes. Users can also create up to four My Mode settings for additional customization through self-defined combinations of white balance, sharpness, contrast and other settings in an easy-to-view histogram function.
The C-5500 Sport Zoom features a 5x optical zoom lens (f2.8/f4.8 - f8.0, 38mm - 190mm equivalent) designed to maximize the imaging potential of its high-resolution image sensor. Incorporating all-glass lens elements, which include three high-index lenses and two lens elements that are aspherical on both sides, the camera's compact "multi-variator" lens unit delivers low distortion and reduced chromatic aberration. For close-up photographs with intricate detail, the Super Macro mode enables shooting from as close as 0.8", filling the frame with dramatic detail and extremely shallow depth-of-field.
The C-5500 Sport Zoom also features a new "anti-shake" function for enhanced stability when shooting QuickTime® Movies of television-quality 30 frames-per-second with sound. Olympus' exclusive TruePic TURBO™ Image Processor suppresses noise and boosts image definition to deliver sharper, clearer images with excellent color definition. The fast startup of less than one second and nearly instant shutter release time ensure high-speed response, so you can capture precisely the image you set your eyes on. A burst mode of 2.7 frames-per-second makes this camera ideal for capturing fast-paced action.
The body of the C-5500 Sport Zoom is designed to be compact while offering a high degree of functional operating ease. Measuring just 4.9" W x 3.3" H x 3.9" D and weighing 8.6 ounces, the C-5500 is ergonomically designed to fit comfortably your hand for long photo sessions.
The large, bright and viewable 2-inch LCD monitor with 115,000 pixels of resolution provides easy viewing when composing or reviewing images. This large monitor comes in handy when using the camera's Direct Histogram function that provides real-time access to exposure information so users can confirm exposure before snapping the picture. A histogram displayed on the LCD with red and blue highlighting to indicate over- and under- exposed areas makes detection of overly white and blacked-out areas simple.
Connecting the C-5500 Sport Zoom to a computer is easy with the USB Auto Connect feature, which connects directly via USB 2.0 cable and requires no software. Or, if you prefer, forget the computer altogether. The power of PictBridge technology enables photos to be printed directly from the camera with any PictBridge-enabled printer, such as the Olympus P-10 Digital Photo Printer, without using a computer. Printing and sharing images is more convenient than ever, and the P-10's photo lab-quality dye-sublimation printing produces archival-quality prints in rich color.
OLYMPUS Master™ software provides the ultimate in digital imaging management. An intuitive user interface makes downloading to your computer quick and simple, and images are searchable by date or keyword in the Calendar View. And with one-click editing tools, such as red-eye reduction, images can be touched up before printing or emailing. Online support, templates, firmware upgrades and other user services are just a mouse-click away.

C-5500 SportZoom Features:
5.1 Megapixel CCD imager for up to 2592x1944 pixel images
5x optical 38-190mm f/2.8-4.8 zoom, 4x seamless digital zoom
Autofocus target selection, choose from 143 AF zones
Super Macro coverage as close as 0.8"
Low-light focus assist illuminator
2" color LCD with realtime histogram and 5x playback zoom
15 shooting modes including Auto, Program AE, Shutter-speed priority, Aperture priority, Manual and creative scene modes for beginners
Quicktime movie mode w/anti-shake and sound, 320x240 HQ and SQ quality
2.7fps Continuous burst capture of Large/Fine images
Digital ESP metering on focus point or Spot metering option
Stitch Assist mode for perfect panoramas
Exposure compensation: +/-2EV in 1/3-step increments
White Balance: iESP2 Auto, 6 presets, manual WB and WB compensation
Shutter speeds of 15 seconds to 1/1500 second
Selectable ISO settings from 80 to 400
Built-in microphone and speaker
Powered by either 4 AA or 2 CR-V3 batteries
USB Direct-print with any PictBridge compatible printer
USB connectivity for PC and Mac
Removeable xD-Picture Card, 16MB supplied

The C-5500 is available now with an estimated street price of $349.99 (U.S.). It includes a 16MB xD-Picture Card, four long-life AA batteries, an Auto-Connect USB 2.0 cable, Audio/Video Out cable, wrist strap, OLYMPUS Master Software, user manual and Quick Start Guide.



Physical Views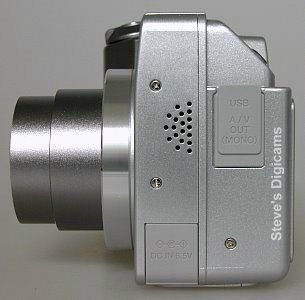 The C-5500 compared to an average CD disc.
The C-5500 and Olympus C-7070 Wide Zoom for size comparison.
C-5500 SportZoom Specifications
CCD Imager
5.1 megapixel effective, 5.3 megapixel gross, 1/ 1.8" CCD
Lens
7.9 - 39.5mm (38 - 190mm equivalent in 35mm photography), 9 lenses in 7 groups
Seamless Digital Zoom
Seamless to 20x (5x optical and 4x digital combined)
Aperture Range
f2.8-f4.8 to f8.0 (1/3 EV step)
Shutter Speeds
1/1500 sec. - 15 sec.
ISO
Auto, 80, 100, 200 and 400 (equivalent)
Recording Mode(s)
DCF Exif2.2, JPEG
Adjustable Resolutions
2592 x 1944, SHQ / HQ / 3.2
2592 x 1728, SHQ (3.2) / HQ (3.2)
2288 x 1712, HQ
2048 x 1536, SQ1
1600 x 1200, SQ1 / SQ2
1280 x 960, SQ2
1024 x 768, SQ2
640 x 480, SQ2
DPOF (Digital Print Order Format)
Yes
Image Adjustment Modes
(Adj. ±5) sharpness, contrast, color phase
Image Effects
Black and White, Sepia
Panorama
Up to 10 frames automatically stitchable with Olympus Master software when using Olympus brand xD-Picture Card™
Sequence
High-speed: 2.7 frames per second up to 5 frames Normal speed: 1.4 frames per second up to 10 frames in HQ mode; in default recording mode
Viewfinder
Real image optical viewfinder
LCD
2.0" (50cm) TFT LCD, approx. 110,000 pixel
Focusing System
CDD Contrast detection
Focusing Ranges
Wide: 1.9' (0.6m) - infinity, Tele: 3.9' (1.2m) - infinity
Macro mode: Wide: 3" (0.08m) - 1.9' (0.6m), Tele: 1.9' (0.6m) - 3.9' (1.2m)
Super Macro: .07" (0.02m) - 3" (0.08m) (Wide only)
Exposure Control
±2 EV steps in 1/3 steps
Metering System
Digital ESP, Spot
White Balance System
iESP2 multi-pattern auto TTL, Pre-set (Daylight, Overcast, Tungsten, Fluorescent-1, Fluorescent-2, Fluorescent-3), WB compensation +/- 7
Flash
Built-in, Pop-up
Flash Modes
Auto, Red-eye Reduction, Fill-in
Flash Working Range
Wide: 12.5ft (5m); Tele 7.2ft. (3.5m)
Removable Media Card
xD-Picture Card™ (16, 32, 64, 128, 256, 512MB, or 1 GB)
Selftimer/Remote
12 seconds/by Remote Control; Auto, 3 seconds
Setting Memorization
On/Off (hold changes/Reset to default settings)
Outer Connectors
USB connecter (Auto-Connect), Audio/Video, and DC input
Auto-connect USB
2.0 Full Speed
Image Playback
Still Image: Index display (4,9,16), Enlargement Up to 5x, Slide-show (Standard, Fade, Slide Zoom), Histogram, Rotation, Calendar Movie: Normal, Fast Forward, Frame-by-frame
Operating Environment
Operation: 32° - 104°F (0° - 40°C), 30 - 90% humidity
Storage: -4° - 140°F (-20° - 60°C), 10 - 90% humidity
Power Supply
4 AA or 2 CR-V3 Batteries
Date/Time Calendar
Simultaneous recording into image data
Calendar
Automatic up to 2099
Size
4.9" W x 3.3" H x 3.9" D (110mm x 67mm x 47mm)
Weight
8.6 oz (267g) without battery and media card
Number of Storable Photos

Quality Mode
Pixel Resolution
16MB xD-Picture Card (included)
512MB xD-Picture Card
Still images
(w/o sound)
Unit: shots
SHQ
HQ
2592 x 1944
2592 x 1944
4 shots
12 shots
139 shots
409 shots
SHQ1
HQ1
2592 x 1728
2592 x 1728
4 shots
14 shots
156 shots
456 shots
SQ1
SQ1
2288 x 1712
2288 x 1712
5 shots
16 shots
178 shots
523 shots
SQ1
SQ1
2048 x 1536
2048 x 1536
6 shots
20 shots
221 shots
652 shots
SQ1
SQ1
1600 x 1200
1600 x 1200
11 shots
32 shots
363 shots
1030 shots
SQ2
SQ2
1280 x 960
1280 x 960
17 shots
49 shots
560 shots
1597 shots
SQ2
SQ2
1024 x 768
1024 x 768
26 shots
76 shots
863 shots
2457 shots
SQ
SQ
640 x 480
640 x 480
66 shots
165 shots
2129 shots
5324 shots
Still images
(w/sound)
Unit: shots
SHQ
HQ
2592 x 1944
2592 x 1944
4 shots
12 shots
138 shots
399 shots
SHQ
HQ
2592 x 1728
2592 x 1728
4 shots
13 shots
155 shots
443 shots
SQ1
SQ1
2288 x 1712
2288 x 1712
5 shots
15 shots
176 shots
507 shots
SQ1
SQ1
2048 x 1536
2048 x 1536
6 shots
19 shots
218 shots
626 shots
SQ1
SQ1
1600 x 1200
1600 x 1200
11 shots
30 shots
354 shots
968 shots
SQ2
SQ2
1280 x 960
1280 x 960
16 shots
45 shots
541 shots
1452 shots
SQ2
SQ2
1024 x 768
1024 x 768
25 shots
66 shots
819 shots
2129 shots
SQ
SQ
640 x 480
640 x 480
58 shots
124 shots
1879 shots
3993 shots
Movie
(w/o sound)
Unit: min.
HQ
SQ
320 x 240
320 x 240
approx. 24 sec.
approx. 48 sec.
approx. 774 sec.
approx. 1548 sec.
Movie
(w/sound)
Unit: min.
HQ
SQ
320 x 240
320 x 240
approx. 23 sec.
approx. 46 sec.
approx. 762 sec.
approx. 1503 sec.

All capacity figures are approximate.
Visitors of Steves can visit the stores below for real-time pricing and availability. You can also find hot, soon to expire online offers on a variety of cameras and accessories at our very own Camera Deals page.