Olympus C-5050 Zoom Review
Olympus C-5050 Zoom Review
Features & Controls
The C-5050 Zoom sports a very fast F1.8 - F2.6 lens with a 35-105mm focal length (35mm equivalent.) It's an all-glass, aspherical lens constructed of 10 elements in 7 groups. Further enhanced by a digital zoom function with 1 - 2.5x (5x VGA only) possible.

New on the C-5050 is a low-light AF-assist lamp (seen above next to the red selftimer light). Auto or Manual focus with 240 steps, a magnified LCD display and on-screen distance gauge for critical focusing. Normal AF range is 31" to infinity, Macro mode is 8" to 31" and the Super Macro coverage is from 1" to 8".

Add-on lenses and filters can be attached with the optional Olympus CLA-1 lens adapter. Shown here is the Tiffen equivalent (p/n OLYC2000AD). It comes with a 49mm to 55mm step up ring, using the larger diameter filters avoids vignetting when the lens is at full wide angle. The adapter does block some of the optical finder's field of view when in full wide angle.



This is the best lens cap and it isn't made by Olympus! The Olycap has a tough rubber sleeve that fits like a glove and won't slip off by accident. It completely surrounds the lens housing with a protective covering that seals out dust and moisture while providing protection from impact. The cap flips open and snaps shut with just the touch of your finger. It has a spring-loaded hinge that keeps the cap open and out of the way when using the camera.
It's available from Dancraft for $9.50 and works with all C-2xxx, C-3xxx and C-4xxx series Olympus cameras. (Dan now has Olycap's for the model C-4040, C-700 series, and the new C-5050 too.)



Built in multi-mode intelligent speedlight; Auto (automatic flash activation in low light and backlight), red-eye reduction, fill-in (forced activation), Slow Shutter Sync (first curtain), Slow Shutter Synch (first curtain) w/red-eye reduction, off (no flash).
Working flash range (at ISO 100): Wide angle 2.6 to 18 feet, Telephoto 0.7 to 12 feet

The TTL hot shoe allows the easy attachment of external and more powerful speedlights like the Olympus FL-40. When using the FL-40, the C-5050 Zoom operates in full TTL mode and controls the flash's motorized zoom head. It also uses its longer range focus assist illuminator.
Studio strobes can be connected using the optional Olympus hot shoe to PC adapter.




The C-5050 has a large and bright optical finder complete with a diopter control adjustment knob on the side.
The green LED indicates a focus lock and the amber LED tells you the status of the flash.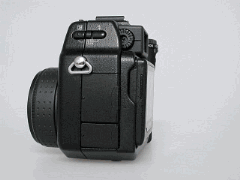 Here's an animated view of the multi-angle 1.8-inch color LCD monitor as we flip it through the various angles. It can be tilted down to use over your head or it can be tilted upwards and used like a waist-level viewfinder.


Controls on top: The shutter release has the zoom lens control mounted around it. The zoom lever also functions as the index and zoomed playback control while in play mode. Selftimer/Remote direct button and the Custom direct button (if both are pressed for three seconds all camera settings return to default.) The Mode Dial has positions for Program AE, Aperture priority, Shutter priority, Manual, My Mode, Movie, Night Scene, Landscape, Landscape+Portrait, Sports, Portrait and Playback mode.

The monochrome data LCD is shown here with all possible icons illustrated. Unfortunately it is not illuminated - this would be highly useful.

By enabling the option "Dual Control Panel" in the Setup menu you can have all of the camera and exposure data displayed on the color LCD by toggling the Monitor button. This is a realtime display and changes as you change the various settings on the camera.
Visitors of Steves can visit the stores below for real-time pricing and availability. You can also find hot, soon to expire online offers on a variety of cameras and accessories at our very own Camera Deals page.