Nikon D90 SLR Review
Playback Features


In playback the display mode or amount of information displayed is controlled by pressing the info button. Depending on the options you have selected in the Playback menu, pressing the info button can display minimal information, extended exposure information, highlight display mode, and the RGB/light histograms.
Pressing the OK button while viewing an image will bring up the Retouch Menu, as shown above.




Pressing the ISO/Index button will bring up 4, 9, or 72 thumbnails, allowing you to quickly search through stored files. Press the button again and you will enter the Calendar display, which lets you search images that were captured on a certain date.




The full screen image can be enlarged up to 27x (depending on image size) in multiple steps, at any step you can use the multi-selector to scroll around inside the magnified image.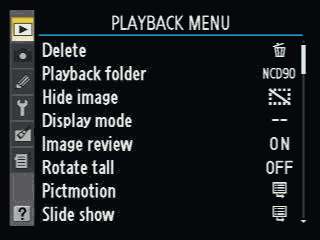 Playback Menu
Delete - Delete images from CF card
Playback folder - Select the active playback image folder
Hide image - Hide or reveal selected images
Display mode - Select the playback display features: Shooting data, Histogram, Highlights, RGB Histogram, Focus point
Image review - Display image immediately after capture
Rotate tall - Automatically rotate portrait oriented images for display
Pictmotion - Create and view slide shows with custom transitions and background music
Slide show - Start an automated slide show of the images in the current image folder
Print set - Enter DPOF printing information
Retouch Menu
D-Lighting - brightens shadows, ideal for dark or back-lit photos
Red-Eye Correction - Remove red-eye in your flash portraits (saves as a corrected copy, does not overwrite original)
Trim - Crop and image and save as a new file
Monochrome - Choose Black&White, Sepia or Cyanotype (blue and white monochrome)
Filter Effects - Choose from Sky light or Warm filter
Color Balance - Use the multi-selector to create a copy of an image with modified color balance.
Image Overlay - Combine two existing RAW photos to create a single picture that is saved separately. The new image is saved at the current image quality and size settings.
NEF (RAW) processing - Convert RAW images to JPEG format in-camera with minimal editing options for white balance, image size, exposure comp., picture control, etc.
Quick retouch - Enhances saturation and contrast as well as applies D-lighting as required; image is then saved as a new file
Straighten - Correct images that are not 100% level
Distortion control - Reduce effects of peripheral distortion (barrel distortion and pin-cushioning) in your photos; Auto or Manual options, edited image is saved as a new file
Fisheye - Create copies of images that appear to have been photographed using a fisheye lens
Here you can see the D-lighting option. You can control the intensity of this feature with settings for Low, Normal or High.
You can also adjust Color balance right in the camera.
Don't have time to edit a NEF (RAW) file on your PC or Mac, no problem. The D90 offers quick and basic RAW conversion in-camera, for processing on the fly.

Please help support our site and visit the stores below for real-time pricing and availability.
Visitors of Steves can visit the stores below for real-time pricing and availability. You can also find hot, soon to expire online offers on a variety of cameras and accessories at our very own Camera Deals page.