Nikon D80 SLR Review

Features & Controls (cont.)
On the grip side is the monochrome data LCD which displays all of the most important camera settings at a glance. At the top you can see the shutter release with the main power switch mounted around it. The
symbol on the power switch turns on the LCD's backlight when needed. The
button is for setting the exposure compensation and the
button is for selecting the desired metering mode. Along the right side of the data LCD are the drive mode and AF mode buttons.


The data LCD displays the shutter speed, ISO, battery level, flash mode, image quality, image size, white balance, number of shots remaining, "K" appears when there are more than 1000 shots left, shooting mode, aperture, exposure compensation, flash compensation, focus area, AF mode, bracketing progress, metering, multiple exposure, black-and-white, Beep indicator, and bracketing



The mode dial has the usual positions for AUTO, "P"rogram AE, "S"hutter speed priority, "A"perture priority and "M"anual exposure modes as well as the Digital Vari-Program modes for Portrait, Landscape, Closeup, Sports, Night Landscape and Night Portrait.
Digital Vari-Program mode automatically optimizes white balance, sharpening, tone (contrast), color, saturation and hue for optimal results according to the type of picture you're taking. For example, select Portrait mode and the camera will automatically enhance the image with beautiful skin tones, complimentary edge sharpening and soft background focus that highlights your subject.

Located on the front below the shutter release is the sub command dial, it's mostly used to change the aperture value and its function can be swapped with the main command dial on the back by using a Custom function setting.


On the back is a 2.5-inch, 230,000-dot, low-temperature polysilicon TFT color LCD with brightness adjustment. The new graphical menus use a larger typeface for easy navigation.
Controls on the Back
| | |
| --- | --- |
| | Delete images while in review mode |
| | Enters review mode |
| | Calls up and dismisses the onscreen menu system |
| | Help in Custom menu mode, changes White Balance in record mode, Protect/unprotect images in review mode |
| | In review mode display 4 or 9 thumbnail images, is also used to change zoom ratio when in zoom review, in record mode it is used to change ISO speed in conjunction with command dial |
| | Enters Zoom review mode and changes image quality in record mode |
| | Auto Exposure / Auto Focus Lock |
| | Main Command Dial, changes settings when used with other buttons, selects shutter speed (its function can be swapped with the sub command dial by changing a Custom setting) |
| | 4-way selector is used to select images and display image data in review mode and change the active focus area in capture mode |
| | Locks the 4-way selector against accidental changes |
| | Accepts menu selections |
Secure Digital Storage
The D80 is equipped with a Secure Digital (SD) memory card slot and is compatible with any capacity SD or SDHC card. Shown here with PQI's High-speed (150x) 4GB card.
Approx. Storage 1GB SD Card
I/O Interfaces
The I/O ports are on the left side, on the top is the USB 2.0 (high-speed) port for transferring image data to the host computer. Next is the DC-IN port for the optional EH-5 AC Adapter. The VIDEO OUT port is user-selectable (NTSC or PAL) for output to a TV monitor. On the bottom is the connector for the MC-DC1 remote shutter release.

Power Source
The D80 uses the Nikon EN-EL3e 7.4V 1500mAh Li-ion rechargeable battery pack. It is recharged with the supplied MH-18a Quick Charger. The EN-EL3e is more powerful (1500mAh vs 1400mAh) than the older EN-EL3 battery used on previous models. Nikon claims the battery life is sufficient for capturing from 600 frames (normal single-frame shooting mode, JPEG Large Normal quality, speedlight used for every other shot, etc.) up to 2,700 frames (continuous frame mode, 1/250 sec, JPEG Medium Basic quality, etc.) per charge.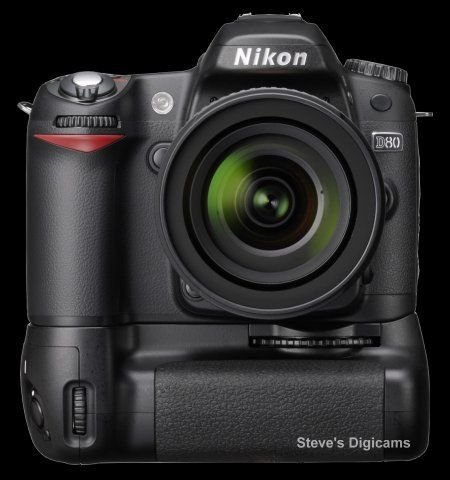 The optional MB-D80 Multi-Power Battery pack allows you to use either one or two EN-EL3e batteries or six AA-size batteries. The pack also features an additional command dial and alternative buttons for shutter release and AE-Lock/AF-Lock that make vertical shooting more comfortable.

Visitors of Steves can visit the stores below for real-time pricing and availability. You can also find hot, soon to expire online offers on a variety of cameras and accessories at our very own Camera Deals page.