Nikon D50 SLR Review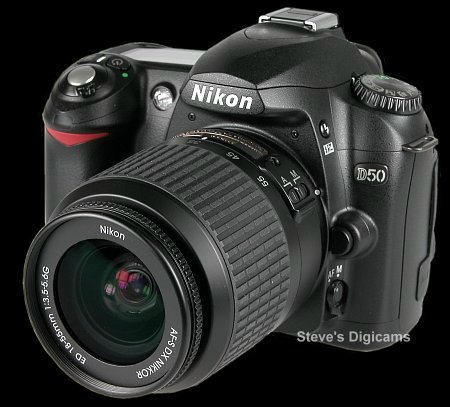 Review posted 8/4/05


Click to take a QuickTime tour of the D50



The D50 is the smallest, lightest and easiest-to-use Nikon digital SLR camera to date, and is designed for the broadest range of consumers including family memory-keepers looking to take advantage of the image quality, speed and responsiveness Nikon digital SLR's offer, as well as photo enthusiasts and amateur photographers who want to capture brilliant digital pictures with vibrant color and immaculate sharpness. The affordably priced D50 makes exceptional digital SLR photography a reality for everyone.
The D50 is the perfect combination of intelligent, easy-to-use features and impeccable image quality. The seven Digital Vari-Program modes make capturing the moment easier than ever, and the new "Child" mode, for example, assures that moms and dads don't have to be photography experts to capture the most vivid color and contrast when taking pictures of their children. The D50 also includes a full range of manual controls and custom settings, so users can grow with the camera, and advanced photo enthusiasts can find themselves right at home with a D50 in their hands.
The D50 incorporates a new 6.1 effective megapixel Nikon DX Format CCD image sensor and a highly advanced image processing engine. 3D Color Matrix Metering II ensures accurate exposure control in all types of lighting situations by automatically comparing input from its frame-wide metering sensor to a large onboard database of over 30,000 scenes from actual photography. Newly developed exposure evaluation methods detect highlights and shadows in the frame, and compensate for them to help prevent inaccurate exposure. Shutter speed choices extend from 30 seconds to an action-stopping 1/4,000 second. High-speed flash sync speeds up to 1/500 second makes great fill flash photography possible and the i-TTL flash technology makes it automatic.
Always ready, the D50 goes from power on to ready to shoot in an imperceptible 0.2 seconds. The shutter responds almost instantly, thereby minimizing 'shutter-lag' and eliminates the frustration experienced with most consumer digicams. Continuous shooting at 2.5 pictures per second can be maintained for a burst of up to 137 pictures, making action photography a reality. Pictures taken are instantly processed and recorded to a tiny SD (Secure Digital) memory card -- and the USB 2.0 Hi-Speed interface means faster transfer of images to your computer.
The compact, lightweight design makes it easy to carry the D50 anywhere there's a good moment to capture. Its smart design and easily accessible controls provide handling efficiency and ease of operation, helping bring the fun back to picture taking. The plain-language menus are displayed clearly on the large 2.0-inch LCD screen, and intuitive help menus are available for on-the-spot reference. A high capacity, rechargeable lithium-ion battery delivers the power to shoot up to 2,000 images on a single charge.
One of the benefits of shooting with a digital SLR is the ability to take advantage of the creative possibilities offered by interchangeable lenses. With the introduction of the D50, Nikon also introduced two new and affordable DX Nikkor lenses: the AF-S DX Zoom-Nikkor 18-55mm and AF-S DX Zoom-Nikkor 55-200mm. They are ideally paired with the D50 to offer consumers a broad zoom range, while maintaining a lightweight and ultra-compact size. The D50 is compatible with over 50 high-performance AF Nikkor lenses, providing the same superb color reproduction, image clarity and fast and accurate autofocus performance relied upon by the countless number of professional photographers.
Nikon's PictureProject software is designed to make it easy to share, manage and edit pictures on your computer. PictureProject boasts powerful features wrapped into an intuitive interface that navigates quickly and is easy to master. The software allows users to easily transfer images to PC's or MAC's and browse, organize, and share them. Pictures taken in vertical orientation are automatically rotated. Controls for retouch tasks including brightness and red-eye correction, are intuitive and fast. PictureProject's In Touch™ plug-in allows users to share photos with friends and relatives without attaching them in an email or uploading them to a website. Instead Pictureproject in-Touch facilitates a direct transfer of the pictures from the sender's computer to a recipient's computer.

Nikon D50 Features:
6.1-Megapixel CCD imager yielding 3008 x 2000 pixel images
Compact and lightweight digital SLR camera
Accepts Nikon F-mount lenses (with 1.5x FOV multiplier)
Choice of three color modes ensures the best match for the shot
Simultaneous recording of compressed NEF (RAW) and JPEG image files
Seven Digital Vari-Program selections (Auto, Portrait, Landscape, Child, Sports, Close up, and Night Portrait)
Program w/shift, Shutter priority, Aperture priority and Manual modes
Near-instant 0.2-second power-up, and short shutter release lag (response) time
Continuous shooting at 2.5fps for a continuous burst of up to 137 pictures (using JPEG NORMAL - Large settings, and a SanDisk Ultra II 256MB SD Card)
Fast 5-area AF system with predictive focus tracking and Lock-on™
Shutter speed range from 30 to 1/4,000 seconds
Flash sync shutter speeds up to 1/500 sec. for great fill-effects under brighter light and back lighted conditions.
Image enhancement options optimize sharpening, tone (contrast), color, saturation or hue
Auto ISO sensitivity from ISO 200 to 1600; can also be set manually.
Three TTL exposure modes: 3D Color Matrix Metering II with 420-pixel RGB Sensor, variable Center-Weighted, or Spot Metering
Large 2.0-inch color LCD with 130,000 pixels and white LED backlight
Onscreen menus for Playback, Shooting, Custom functions and Setup
Review with zoomed-playback & pan, histogram and highlights
Noise Reduction circuitry for long exposures
3D Multi-Sensor Balanced Fill-Flash with SB-600, SB-800 flashes
Secure Digital memory card removable storage
Selectable video output with NTSC or PAL format
USB 2.0 high speed data and control interface
Long-life rechargeable battery with power to shoot up to 2,000 images
Custom Settings for personalizing camera operation
Wireless remote control with the optional ML-L3 remote control
The Nikon D50 outfit, including the new AF-S DX Zoom-Nikkor 18-55mm f/3.5-5.6G ED lens, is available now, see our buy box below for current pricing.

Physical Views
Compare the Nikon D50 and Nikon D70s
Nikon D50 Specifications
Type of Camera
Single-lens reflex digital camera
Compatible Lenses
1) DX Nikkor: All functions supported
2) Type G or D AF Nikkor: All functions supported
3) Micro Nikkor 85 mm F2.8D: All functions supported except autofocus and some exposure modes
4) Other AF Nikkor: All functions supported except 3D Color Matrix Metering II
5) AI-P Nikkor : All functions supported except 3D Color Matrix Metering II and autofocus
6) Non-CPU : Can be used in exposure mode M, but exposure meter does not function; electronic range finder can be used if maximum aperture is f/5.6 or faster
Note: IX Nikkor lenses can not be used
Picture Angle
Equivalent in 35mm [135] format is approx. 1.5 times lens focal length
Image Sensor
RGB CCD, 23.7 x 15.6mm
Total pixels: 6.24 million
Effective pixels: 6.1 million
Image size (pixels)
3,008 x 2,000 [L], 2,256 x 1,496 [M], 1,504 x 1,000 [S]
Sensitivity
200 to 1600 (ISO equivalent) in steps of 1 EV
Storage Media
Internal memory: approx. 12MB, SD memory card
File Formats
Compressed NEF (RAW): 12-bit compression,
JPEG: JPEG baseline-compliant
File System
Exif 2.21, Compliant DCF 2.0 and DPOF
Storage Capacity

(Number of frames per 256MB SD Memory card, image size L)
RAW approx. 33, FINE approx. 70, NORMAL approx. 137
BASIC approx. 258, RAW & BASIC approx. 29
White Balance
Auto (TTL white balance with 420-pixel RGB sensor), six manual
modes, preset white balance, white balance bracketing possible
LCD Monitor
2.0-in., 130,000-dot, low-temperature polysilicon TFT LCD
with brightness adjustment
Playback Function
1 frame: Thumbnail (4 or 9 segments); Magnifying playback; Slide show; Histogram indication; Highlight point display; Auto image rotation
Delete Function
Card format, All frames delete, Selected frames delete
Video Output
Can be selected from NTSC and PAL
Interface
USB 2.0 (Hi-Speed)
Text Input
Up to 36 characters of alphanumeric text input available with LCD
monitor and multi-selector; stored in Exif header
Viewfinder
Fixed eye-level penta-Dach-mirror type; built-in diopter adjustment
(-1.6 to +0.5 m-1)
Eyepoint
18mm (-1.0 m-1)
Focusing Screen
Type-B BriteView Clear Matte screen Mark V with superimposed focus brackets
Viewfinder Frame Coverage
Approx. 95%
Viewfinder Magnification
Approx. 0.75x with 50mm lens at infinity; -1.0m-1
Viewfinder Information
Focus indications, AE/FV lock indicator, Shutter speed,
Aperture value, Exposure/Exposure compensation indicator,
Flash output level compensation, Exposure compensation,
Number of remaining exposures, Flash ready indicator
Autofocus
TTL phase detection by Nikon Multi-CAM900 autofocus
module with AF-assist illuminator (approx. 0.5m to 3.0m)
Detection range: EV -1 to +19
(ISO 100 equivalent, at normal temperature: 20°C)
Lens Servo
1) Autofocus (AF-A): Auto-Servo AF; camera automatically
chooses single-servo AF (AF-S) or continuous servo AF (AF-C);
predictive focus tracking automatically activated according to
subject status
2) AF-S
3) AF-C
4) Manual focus (M)
Focus Area
Can be selected from 5 focus areas
AF Area Mode
1) Single Area AF, 2) Dynamic Area AF,
3) Closest Subject Priority Dynamic Area AF
Focus Lock
Focus can be locked by pressing shutter-release button halfway
(single-servo AF) or by pressing AE-L/AF-L button
Exposure Metering System
TTL full-aperture exposure metering system
(1) 3D Color Matrix Metering II with 420-pixel RGB sensor
(2) Center-weighted: Weight of 75% (8mm dia. circle)
(3) Spot: Meters 3.5mm dia. circle (about 2.5% of frame)
centered on active focus area
Exposure Metering Range
1) EV 0 to 20 (3D Color Matrix or center-weighted metering)
2) EV 2 to 20 (spot metering) (ISO 100 equivalent, f/1.4 lens, 20°C)
Exposure Mode
Digital Vari-Program (Auto, Portrait, Landscape, Child, Sports, Close up, Night portrait),
Programmed Auto [P] with flexible program; Shutter-Priority Auto [S];
Aperture Priority Auto [A]; Manual [M]

Exposure Compensation
±5 EV in increments of 1/3 or 1/2 EV
Auto Exposure Lock
Luminosity locked at detected value with AE-L/AF-L button
Auto Exposure Bracketing
Three frames ±2 EV in 1/3 or 1/2 steps
Shooting Modes
1) Single frame shooting mode
2) Continuous shooting mode: approx. 2.5 frames per second
3) Self-timer mode
4) Delayed remote mode: 2 sec. delay
5) Quick-response remote mode
Shutter
Combined mechanical and CCD electronic shutter, 30 to 1/4000 sec.
in steps of 1/3 or 1/2 EV, bulb
Sync Contact
X-contact only; flash synchronization at up to 1/500 sec
Flash Control
1) TTL: TTL flash control by 420-pixel RGB sensor
Built-in Speedlight: i-TTL Balanced Fill-Flash or standard i-TTL
flash (spot metering) SB-800 or 600: i-TTL Balanced Fill-Flash or
standard i-TTL flash (spot metering)
2) Auto aperture: Available with SB-800 with CPU lens
3) Non-TTL Auto: Available with Speedlights such as SB-800,
80DX, 28DX, 28, 27, and 22s
4) Distance-priority manual available with SB-800
Flash Sync Mode
1) Front-curtain Sync (normal sync), 2) Red-eye Reduction,
3) Red-eye Reduction with Slow Sync, 4) Slow Sync,
5) Rear-curtain Sync
Built-in Speedlight
Auto, Portrait, Child, Close-up, Night portrait: auto flash with
auto pop-up [P], [S], [A], [M]: manual pop-up with button release
Guide number (ISO 200/ISO 100, m): approx. 15/11 (manual full 17/12)
Flash Compensation
-3 to +1 EV in increments of 1/3 or 1/2 EV
Accessory Shoe
Standard ISO hot-shoe contact with safety lock provided
Self-timer
Electronically controlled timer of 2 to 20 seconds duration
Remote Control
Wireless Remote Controller ML-L3 (optional)
Power Source
One Rechargeable Li-ion Battery EN-EL3, AC Adapter EH-5 (optional)
Tripod Socket
1/4 in. (ISO1222)
Dimensions (W x H x D)
Approx. 133 x 102 x 76mm
Weight
Approx. 540g without battery, memory card, or body cap
Supplied Accessories*
Rechargeable Li-ion Battery EN-EL3, Quick Charger MH-18a, Video Cable, USB Cable UC-E4, Strap, Body cap, Eyepiece Cap DK-5, Rubber Eyecup DK-20, Accessory shoe cover, PictureProject CD-ROM
Optional Accessories
Rechargeable Li-ion Battery EN-EL3, Multi Charger MH-19, Quick Charger MH-18a, AC Adapter EH-5, Speedlight SB-800/600, Eyepiece Magnifier DG-2, Angle Finder DR-6, Nikon Capture 4 (Ver.4.3) Software, Wireless Remote Control ML-L3, Semi-Soft Case CF-D50


Specifications are as represented by the manufacturer.


































Visitors of Steves can visit the stores below for real-time pricing and availability. You can also find hot, soon to expire online offers on a variety of cameras and accessories at our very own Camera Deals page.