Nikon D2X SLR Review
Durable, Weather Resistant Body
The D2X like the D2H, is built to take the day-to-day use and abuse that comes with being a camera made for professional photojournalists and sports shooters. The body is composed of durable yet lightweight magnesium alloy to protect the inner components and allow it to be carried without fatigue.


This is a camera that isn't afraid to get a little wet. Because the weather isn't always perfect, the D2X's sealing system was designed to cover every possible seam and exposed part to make the body highly resistant to drops of water and dust.






Wireless Image Transmission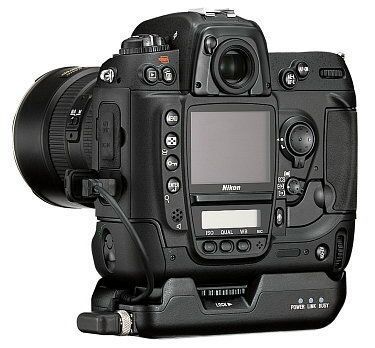 Nikon's Wireless Transmitter WT-1A for the D2H opened new roads in digital SLR photography by making it possible to transmit images directly from the camera over a wireless LAN. Now, the new Wireless Transmitter WT-2A will open the floodgates of creativity for photographers by allowing them to not only transmit images over a Wi-Fi network, but also allow wireless remote control of the D2X over a Wi-Fi network from a computer running Capture 4.2 software. Photographers can set the D2X in places that may be inaccessible or unsuitable for photographers, and wirelessly adjust settings, trigger the camera, and instantly retrieve the images over a LAN. The applications of this technology are promising and limitless. The new IEEE802.11b/g compatible Wireless Transmitter WT-2A also provides faster image transmission with improved security and compatibility with the latest protocols.
The WT-2 draws its power supply from the D2X battery, consuming roughly 20% of its charge during normal usage. Its robust magnesium chassis construction and water resistant connectors match the camera's construction and durability.




GPS Support
GPS support for the recording of location information with shooting data: Location information such as latitude, longitude and altitude can be transferred from a GPS device and recorded with the shooting data for an image. Nikon has developed the new MC-35 cable (optional) for connection to NMEA0183-compatible GPS devices.






i-TTL Balanced Fill-Flash
and Wireless Flash Control
The Speedlight new SB-800 features i-TTL flash control for automatic balanced fill-flash and advanced wireless lighting capabilities when used with the D2X. The i-TTL Balanced Fill-Flash control utilizes Nikon's new Advanced Data Communication system to introduce improved monitor-pre-flash and wireless operation.
The SB-800 offers groundbreaking new features such as advanced wireless control for multiple SB-800 speedlights controlled from a master speedlight, new Auto FP high-speed sync, new Flash Value (FV) lock, flash color information communication for improved color accuracy and a new Wide-Area AF Assist Illuminator that is tailored to the D2X's new 11- area Multi-Cam 2000 AF sensor module.
The SB-800 speedlight system features new wireless technology to control up to four groups of SB-800 speedlights wirelessly. This set of four includes one Master Controller and three remote groups - each of which can contain any number of SB-800 speedlights for total lighting control. Features for speedlights within each group can be individually controlled from the Master Controller. These settings are made and confirmed on the Master Controller's large dot-matrix LCD screen. All speedlights within this wireless arrangement can operate in i-TTL mode for completely automatic flash exposures - which are calculated via a new monitor pre-flash function that measures light from each source and combines them with overall camera exposure readings - producing an accurate, well exposed photograph with balanced lighting. Each group within the wireless arrangement can also be programmed to different flash modes such as i-TTL AA, or Manual mode, or any combination of these modes.
One of the most appealing features of Nikon's i-TTL wireless system is the ability to adjust flash compensation settings on the fly for each group of speedlights, from the Master Controller. This makes controlling light output from speedlights placed in hard to reach locations simple and effortless. The SB-800 makes multiple flash photography as easy as using a single speedlight mounted on a camera, without the hassles of cables or stands.
In addition to wireless flash capabilities, the SB-800 offers significant new features designed for high-speed photography and exceptional overall accuracy. Highlights of these new features include:
Auto White Balance Adjustment using Flash Color Temperature Information: The SB-800 achieves a high level of color accuracy when used with the D2X digital SLR camera. With changes in the duration of light emitted by a speedlight, there are slight variations of color temperature. Using the D2X in Auto White Balance mode, the SB-800 communicates these slight variations in color data back to D2X and the camera's auto white balance system implements the fine adjustment needed for overall excellent white balance.
FV-Lock: FV-Lock (Flash Value Lock) is comparable to the way an AE-Lock functions in a camera. Once the camera measures a correct flash value, the SB-800 locks this value until the photographer resets it - helping to maintain the flash value for correct exposure of the subject.
Auto FP High-Speed Sync Flash: The SB-800's Auto FP function can automatically fire the speedlight in i-TTL mode at shutter speeds up to 1/8,000 second, offering excellent opportunities to use flash in bright light with fast aperture lenses.
Modeling Flash: A modeling flash feature in the SB-800 fires a stroboscopic burst of light for approximately one second, allowing photographers to visually confirm lighting and shadow effects before shooting.
Quick Battery Recycle Pack: Included with the SB-800 Speedlight is the SD-800 Quick Battery Recycle pack that cuts recycling time in the SB-800 to as short as 2.7 seconds for full power manual flash.
Additional features: Additional features in the SB-800 include zoom coverage, bounce and rotating flash head, large LCD read-out panel, accessory filters for special color effects and emulation of fluorescent and incandescent lighting, robust locking flash shoe, and autofocus assist light.
Battery Power Pack
The D2X is powered by the same Nikon EN-EL4 11.1V 1900mAh Li-ion battery pack as the D2H. This battery offers the convenience of automatic calibration and monitoring and is compact and lightweight. A fully charged EN-EL4 can provide power for up to 2,000 images. Lithium batteries have no memory effect and perform better in lower temperatures. The end cap is removable to save space in your gadget bag.




The MH-21 Quick Charger is also quite compact and lightweight. It connects to the AC outlet via a removable cord. The MH-21 is able to recharge an exhausted EN-EL4 in about 100 minutes. It is also used to re-calibrate the EN-EL4 when required.




You'll never have to wonder how much battery power you have left. There is a 6-level battery indicator on the top data LCD, a 5-level indicator in the viewfinder and this information screen can be called up from the Setup menu and displayed on the color LCD. The EN-EL4 has a "smart chip" built into it that measures the discharge capacity and compares it to the full capacity that was recorded when it was last calibrated.
Visitors of Steves can visit the stores below for real-time pricing and availability. You can also find hot, soon to expire online offers on a variety of cameras and accessories at our very own Camera Deals page.