Nikon Coolpix S4 Review
Review posted 11/16/2005
Full review posted 1/5/2006
Introduction & Physical Views

Click on the Coolpix S4 to take a QuickTime VR tour



Nikon revives the swiveling lens design that made the early year Coolpix cameras famous for ease of use. We had been told late in 2002 that the Coolpix 4500 would be the last of the "swivelers," but thankfully Nikon has decided to do it again.
The Coolpix S4 features a powerful 10x optical zoom, six megapixels of resolution and a large 2.5-inch LCD, all housed in a compact body that fits into a shirt pocket. The powerful optical zoom combined with the swiveling body design of the camera gives digital photographers unprecedented freedom and creativity with the ability to take pictures from a wide range of angles such as from the hip, self-portraits and even from overhead.
The 10x Zoom Nikkor lens delivers 38-380mm (35mm equivalent) focal length coverage to capture extreme close-ups, expansive landscapes and zoom into distant action. The body design allows the lens and the 2.5-inch LCD to move independently so users can view their shot from any angle. For comfortable shooting, the S4 features a newly-designed hand grip as well as conveniently placed buttons and controls.
The S4 is packed with innovative and advanced features for beginning through advanced photographers. Using exclusive technology, Nikon has narrowed the picture-taking process down to three simple steps - turn on the camera, frame the shot and snap the picture. Face Priority AF automatically senses the presence of a human face within the frame and adjusts the focus accordingly. The In-Camera Red-Eye Fix™ technology detects and corrects red eyes in most typical situations without the need to press buttons or select and highlight the eyes in playback.
To help ensure a balanced exposure and sharpness, Nikon's exclusive D-Lighting function automatically compensates for insufficient flash or excessive back lighting in order to obtain balanced exposure throughout the frame. Blur Warning, another feature unique to Nikon, alerts the user when a shot is compromised by camera or hand shake, allowing another shot to be taken before leaving the scene.
The S4 features 16 Scene Modes with four of them offering Scene Assist to simplify shooting in common situations. To capture moving memories the S4 features four Movie Modes at up to 640×480 @ 15fps with three of the modes offering sound recording and electronic vibration reduction. The Time-Lapse movie function can capture action taking place over extended periods of time such as the opening of a new flower.
Additionally, the S4 includes helpful functions such as: Best Shot Selector (BSS), Macro mode, 4x Digital Zoom, Single AF and Continuous AF focusing, user settable White Balance, Color saturation, ISO sensitivity and Color effects. For further convenience the S4 includes 13.5 MB of internal memory and operates on two AA-size alkaline or rechargeable batteries that deliver as many as 290 shots per charge.
PictBridge compatibility makes it possible to print directly to a printer, without the need for a PC. For those who enjoy organizing and sharing their photographs on a computer, Coolpix cameras ship with Nikon's PictureProject software, a user-friendly photo management software designed expressly for use by Coolpix photographers, that offers a broad selection of cataloging, editing and sharing functions. This software package is aimed at providing a central location that is simple, intuitive and seamless for Coolpix digital photographers.

Coolpix S4 Features:
6-megapixel effective CCD for prints up to 13x19 inches
Swiveling 10x optical zoom (38-380mm in 35mm equivalent)
5-area AF with focus assist lamp and 6cm Macro mode
Large 2.5-inch TFT color monitor
Program AE and 16 pre-programmed Scene modes
Face Priority AF for perfect portrait shots
Single, Continuous, Multi-Shot 16 and Time-lapse shooting modes
QuickTime movies with audio, up to 640x480 @ 15fps with vibration reduction - length limited only by available memory
Built-in flash with auto, fill, slow sync, and red-eye reduction
Nikon's exclusive D-Lighting and In-Camera Red-Eye Fix technology
TTL Auto White Balance, 5 presets and custom set
Adjustable color modes and saturation
Graphical User Interface, icon-based or text menus
Built-in Help guide displays explanation of menu items
Exif 2.2 and PictBridge compatible
SD memory card slot and 13.5MB internal memory
Plug-n-Play USB connectivity
PictBridge direct-print compliant
One-Touch upload for easy image transfers
Powered by two AA type batteries, long life up to 290 images

The Coolpix S4 includes PictureProject a complete image editing and processing package for Windows XP, 2000, Me or 98SE, Macintosh Mac OS X 10.1.5 or later, two AA Alkaline batteries, hand strap, lens cap, AV cable, and USB cable. The S4 is available now with an MSRP of US$399.95.

Physical Views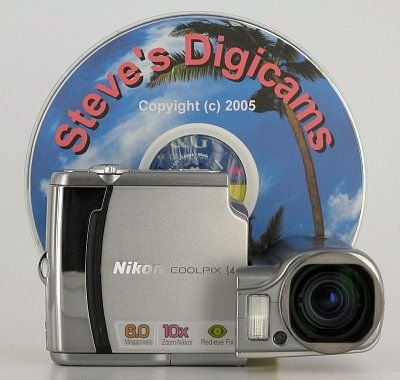 The Coolpix S4 compared to a standard CD disc.


The Coolpix S4 and the original swiveling Coolpix 900 circa 1998.


The Coolpix S4 and the last swiveling Coolpix 4500 from 2002.
Coolpix S4 Specifications
CCD
1/2.5-in. high-density CCD
6.0 million effective pixels
Image sizes
2816 x 2112 High
2816 x 2112 Normal
2048 x 1536
1024 x 768 PC
640 x 480 TV
Lens
10x Zoom-Nikkor; f = 6.3-63mm (equivalent to 38-380mm) F3.5 with macro; 12 elements in 9 groups; all glass, Nikon Super Integrated Coating (SIC) applied; glass-molded aspherical lens elements included
Digital Zoom
4x
Autofocus
Contrast-detect TTL AF
5-Area AF with automatic selection
with AF-assist LED
Focus range
12 in. (30cm) to infinity in normal,
2.5 in. (6cm) to infinity in Macro mode
LCD monitor
2.5-in., 110,000-dot, amorphous silicon TFT LCD with LED backlight
brightness (5 levels) adjustment, Auto gain-up at low-brightness,
frame coverage: approx. 97%
Auto OFF mode
30 sec.; can be set manually (1/5/30 min.)
Image Storage
EXIF 2.2 compressed JPEG compliant with design rule for camera file system (DFC)
QuickTime Motion JPEG (Movie with audio)
Media
Internal memory: approx 13.5MB;
SD memory card (not included)
Shooting modes
AUTO
Scene Assistance (Portrait, Landscape, Sports, Night portrait)
Scene (Party/Indoor, Beach/Snow, Sunset, Dusk/Dawn, Night landscape, Close up, Museum, Fireworks Show, Copy, Back light, Panorama assist, Voice Recording)
BSS (Best Shot Selector); AE-BSS
Movie with sound (640x480/15fps, 320x240/15fps, 160x120/15fps)
Capture modes
Single, Continuous (approx. 1.3fps), Multi-shot 16 (16 consecutive frames 1/16 in size)
Exposure metering
256-segment Matrix
Shutter
Mechanical and charge-coupled electronic shutter
Automatic 2 sec. to 1/1000 sec.
Aperture
Electronically controlled preset aperture
Range: 5 stops (f3.5, f4.0, f6.8, f8.0 and f13.6)
Exposure control
Programmed Auto with exposure compensation (±2 EV in 1/3 EV steps)
Exposure range
EV +1.1 ~ +17.1 (W), EV +2.6 ~ +18.6 (T)
Best-shot Selector
Camera takes up to 10 shots (at approx 2fps) and records the most detailed image of the 10 using anti-jitter logic which is effective for poor lighting, telephoto and macro shooting. Not available when the speedlight is on.
ISO Sensitivity
Auto (50-200) or ISO 50, 100, 200, 400
White balance
1) Matrix Auto White Balance with TTL control
2) Manual or preset for Daylight/Incandescent/Fluorescent/ Cloudy/Speedlight)

Self-timer
10 sec. duration
Built-in Speedlight
Shooting range 0.4-3m / 1.3 - 10 ft. at ISO Auto
Flash control
Flash modes:
1) Auto Flash
2) Flash Cancel
3) Anytime Flash
4) Red-eye reduction by LED lamp
5) Slow Sync
Playback menu
1 frame, Thumbnail (4/9 segments), Slide show, Zoom playback (max 10x: 0.2 steps at 1x to 6x, 1 step at 6x to 10x, position selectable), Shooting information display
Delete function
Deletes all frames or selected frames
Interface
USB (12Mbps, effective speed: approx 2Mbps), mass storage or PTP
Supported Platforms
Windows 98SE/Me/2000/XP
Mac OS 9.0-9.2 (only built-in USB ports supported)
Mac OS X (10.1.2 or later)
Video output
NTSC or PAL (selectable)
I/O terminal
Power input
Video output and Digital output terminal
Power requirements
AA-size Alkaline x 2;
AA-size Rechargeable Ni-MH battery (EN-MH1) x 2;
AA-size Lithium battery x 2;
DC input: AC adaptor
Battery life
AA-size Alkaline batteries: approx 160 frames
Nikon EN-MH1 batteries: approx 290 frames
Lithium AA batteries: approx. 450 frames
(based on CIPA standard testing)
Dimensions
(W x H x D)
4.4 x 2.7 x 1.4 in. (111.5 x 68.5 x 37mm)
Weight
Approx. 7.2 oz (Approx. 205g) (without battery and SD memory card)
Specifications are as represented by the manufacturer
Visitors of Steves can visit the stores below for real-time pricing and availability. You can also find hot, soon to expire online offers on a variety of cameras and accessories at our very own Camera Deals page.