Nikon Coolpix 5400 Review
Nikon Coolpix 5400 Review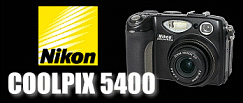 First Look posted 5/28/03
Full review posted 7/15/03
Introduction & Physical Views

Click on the Coolpix 5400 to take a QuickTime VR tour



The 5.1-megapixel Nikon Coolpix 5400 is equipped with a new 4x Zoom-Nikkor lens with wide-angle coverage from 28mm to 116mm (35mm equivalent) and comprised of Extra-Low Dispersion (ED) glass elements. This lens produces incredibly sharp and vivid images and with its Ultra Macro mode allows you to photograph objects as close as one-half inch from the lens. The palm sized Coolpix 5400 is loaded with real camera features and is housed in a stylish, lightweight and durable magnesium alloy body.
The Coolpix 5400 produces still images up to 2592 x 1944 pixels which yield photo-quality prints up to 16 x 20-inches and larger. The camera is very robust with minimal shutter lag and a high-speed autofocus. The enhanced continuous shooting mode captures up to 7 full-size images at the rate of 3 frames per second. And a new 5 shot buffer mode lets you capture the last five images of any action sequence thanks to a 64MB buffer. This buffer is also used to allow for up to 70 seconds of 640 x 480 VGA resolution motion video with audio to be recorded. Smaller 320 x 240 resolution movies can be recorded for up to 180 seconds and there is a new time-lapse movie mode as well.
The Coolpix 5400 can satisfy the needs of novice to experienced photographers with a full range of exposure modes. The AUTO mode makes the camera function like a simple Point-n-Shoot so anybody can take great pictures right away. When you want more control over the process just turn the mode dial and choose from Program AE, Shutter or Aperture priority, Manual or one of 15 pre-programmed Scene modes. Nikon's 256-segment matrix metering insures properly exposed images with selectable Center-Weighted, Spot and Spot AF metering options. Adjustable ISO sensitivity from 50 to 400, white balance options, automatic or manually selected focus points, 7 mode flash with hot shoe for Nikon speedlights, optional telephoto, wide angle and fisheye adapter lenses and remote control.

The Nikon Coolpix 5400's enhanced, fully-articulating 1.5-inch color LCD allows the photographer to shoot at virtually any angle in order to get the best shot. The LCD is also optimized for easy viewing in bright sunlight.

Coolpix 5400 Features:
5-Megapixel CCD for images up to 2592 x 1944 pixels
Nikkor 4x zoom (28-116mm in 35mm equivalent) with ED glass
Macro focus with AF as close as 1/2-inch
Fully articulating 270°, 1.5" color LCD monitor
Record in TIFF-RGB (uncompressed), JPEG or RAW (after firmware update) file formats
Quick Review feature for instant playback
Programmed AE, Shutter-Priority, Aperture-Priority, Manual and 15 Scene Modes
Drive modes: Single, Continuous H, Continuous L, Ultra High Speed Continuous, 16-Shot Multi, 5 shot buffer (captures last 5 frames)
Capture 7 full-size frames at 3fps w/64MB buffer
640x480 or 320x240 Movies with audio @ 15fps
Coolpix-exclusive Best Shot Selector exposure mode
Shutter speeds from 1/4000 sec. to 8 secs (Bulb to 10 minutes!)
Five-area multifocus system, user-selectable and Spot-AF
256-segment Matrix Metering, Center-weighted or Spot
Noise Reduction for long exposures
ISO sensitivity of Auto, 50, 100, 200, 400
AE Bracketing with white balance and exposure value
Built-in 7 mode flash with slow sync, rear curtain and repeating flash
Hot shoe for external Nikon Speedlights
USB 1.1 port for image download
CompactFlash Type II card slot (Microdrive compatible)
EN-EL1 rechargeable battery and charger included

The Nikon Coolpix 5400 features the latest version of NikonView 6, complete with Nikon's new and exclusive One-Touch Red-Eye Fix software, which instantly fixes red-eye with the touch of a button from most typical red-eye digital photos. Also included is ArcSoft® PhotoStudio™ for image manipulation and enhancement, VideoImpression™ for editing and sharing QuickTime movies, and Panorama Maker™, which lets users easily stitch a number of images together to create beautiful panoramic photos. The camera also comes with PhotoBase™, which allows photos and slide shows to be downloaded and displayed on the screen of a PDA.
The Nikon Coolpix 5400 includes the new NikonView 6 software CD-ROM, shoulder strap, USB cable, video cable, a Lexar 16 MB "Speed Rated" Starter Memory Card and a Li-Ion rechargeable battery and quick charger.



Physical Views


The Coolpix 5400 compared in size to a standard CD.


The 5-Megapixel 4x zoom Trio: Nikon 5400, Sony V1 and Canon G5
Coolpix 5400 Specifications
CCD
1/1.8-in. high-density CCD; total pixels: 5.26 million
5.1 million effective pixels
Image sizes
5M (2592 x 1944)
3:2 (2592 x 1728)
2M (1600 x 1200)
1M (1280 x 960)
PC (1024 x 768)
TV (640 x 480)

Free firmware update adds NEF RAW (2592 x 1944)

Lens
4x Zoom-Nikkor lens
f = 5.8-24mm (equivalent to 28-116mm) F2.8-4.6 with macro; 9 elements in 8 groups (one ED lens and two aspherical lenses); all glass, Nikon Super Integrated Coating (SIC) applied
Digital Zoom
Up to 4x stepless digital zoom
Autofocus
Contrast-detect TTL AF
5-area Multi AF or Spot AF selectable
Focus modes
1) Continuous AF mode (when using LCD monitor)
2) Single AF mode (when not using LCD monitor and/or selectable from shooting menu)
3) Manual from 0.4 in. to infinity with focus confirmation indication
Shooting distance
19.7 in. to infinity
0.4 in. to infinity in Macro mode
Viewfinder
Real-image zoom viewfinder
Diopter adjustment: -3~+1m-1
LCD monitor
Fully articulating, 270°, 1.5", 134,000-dot, low-temp. polysilicon TFT LCD
LED backlight w/adjustable brightness (5 levels)/hue adjustment (11 steps)
Frame coverage: approx. 97%
Auto OFF mode
30 sec.; can be set manually (1/5/30 min.)
Image Storage
System: EXIF 2.2 file (uncompressed TIFF-RGB or compressed JPEG)Design rule for camera file system (DCF); Digital Print Order Format(DPOF); QuickTime Motion JPEG (Movie, Audio)
Media
CompactFlash (CF) Card Type I or II
IBM Microdrive 512MB or 1GB compatible
User Setting
1) White Balance
2) (Exposure) Metering
3) Continuous (Shooting)
4) Best Shot Selector (BSS/AE-BSS)
5) Image adjustment (Auto/Normal/More Contrast/Less Contrast)
6) Saturation control (-2 - +2/Black and White)
7) User setting (two combinations of mode setting can be memorized in #1-#2)
8) Image quality/size
9) Sensitivity
10) Image Sharpening
11) Auxilliary Lens
12) Exposure options (AE Lock, Maximum Bulb/Time duration)
13) Focus options
14) Zoom options
15) Speedlight options
16) Auto bracketing
17) Noise reduction
18) Reset
19) My menu
20) CF card format
Capture modes
1) Single
2) Continuous H (3fps up to 7 frames)
3) Continuous L (1.5fps up to 18 frames)
4) Multi-Shot 16 (16 frames @ 2fps)
5) Ultra High-speed Continuous (QVGA 30fps up to 100 frames)
6) 5 Shot Buffer (last 5 frames @ 1.5fps) 7) TV Movie with audio (VGA 640x480 15fps up to 70 sec)
8) Small Movie with audio (QVGA 320x240 15fps up to 180 sec)
9) Time Lapse Movie
Exposure metering
4-mode TTL metering:
1) 256-segment Matrix
2) Center-Weighted
3) Spot and
4) Spot AF Area
Shutter
Mechanical and charge-coupled electronic shutter:1/4,000 (with minimum aperture) to 1 sec. In AUTO mode and Programmed Auto (P); 1/4,000 to 8 sec. In Shutter-Priority Auto (S) and Aperture-Priority Auto (A), 1/4,000 to 8 sec., and Bulb/Time limit (up to 10 minutes) in Manual (M), 1/8,000 to 1/30 sec. In Ultra High-speed continuous mode
Aperture
6-blade iris diaphragm
F2.8 - F7.9 in 10 steps (wide angle)
Exposure control
1) Programmed Auto with Flexible Program
2) Shutter-Priority Auto
3) Aperture-Priority Auto
4) Manual; Exposure Compensation (±2 EV in 1/3 EV steps)
5) Auto Exposure Bracketing (3 or 5 steps within ±2 EV)
AE-BSS (three modes; Highlight, Shadow, Histogram)
Exposure range
EV -1.0~+18.0 (W), EV +0.5~+18.0 (T) (ISO 100 equivalent)
Best-Shot Selector (BSS)
Camera takes up to 5 shots (at approx 2fps) and records the most detailed image using anti-jitter logic which is effective for telephoto and macro shooting. Not available when the speedlight is on.
ISO Sensitivity
50, 100, 200, 400 or Auto;
can be controlled in any exposure mode
White balance
1) Matrix Auto White Balance with TTL control
2) 6-mode Manual with fine tuning (Daylight/Incandescent/Fluorescent/ Cloudy/Speedlight/Shade)
3) Custom Preset
4) White balance bracketing
Self-timer
10 sec. or 3 sec. duration
Built-in Speedlight
Range: 1.6 - 14.8 ft (0.5 - 4.5m) (W), approx.1.6 - 9.2 ft (0.5 - 2.8m) (T)
Flash control
Flash modes:
1) Auto Flash
2) Flash Cancel
3) Fill Flash
4) Slow Sync
5) Red-Eye Reduction 6) Rear Curtain
7) Repeating Flash
External Speedlight
Connects to ISO 518 hotshoe. Nikon Speedlight SB-80DX/50DX/30/28/28DX/27/26/25/24/23/22s; built-in Speedlight can be cancelled when using external Speedlight(s)
Playback menu
1) 1 frame
2) Thumbnail (4/9 segments)
3) Slide show
4) Movie with audio 5) Zoom playback (25 steps up to 6x)
Shooting information
Histogram indication & highlight point display
Peaking indication
Hide and protect attributes can be set to each image
Focus confirmation indication
Delete function
Deletes all frames or selected frames
Interface
USB 1.1 interface
Supported Platforms
Windows 98SE/Me/2000/XP
Mac OS 9 - 9.x, OS X (10.1.2 or later)
Video output
NTSC or PAL (selectable)
I/O terminal
Power input
Video output
Digital output terminal (USB)
Hot shoe for external Speedlight
Included Accessories
Lens cap, Camera strap, Audio Video Cable, Nikon Coolpix Starter Memory Card, USB cable UC-E1, Rechargeable Li-ion battery EN-EL1, battery charger MH-53, Nikon View CD-ROM (please note, standard accessories may differ by country or area)
Optional Accessories
Fisheye converter FC-E9, Wideangle converter WC-E80, Telephoto converter TC-E15ED, Slide copy adapter ES-E28 (recommended for use with 1.1x digital zoom or higher), Step-down ring lens adapter UR-E9, UR-E10, and UR-E11, Lens hood HN-CP10, AC adapter/battery charger EH-21, AC Adapter EH-53, Car battery charger (12V DC in) MH-53C, Remote cord MC-EU1, Soft case CS-CP16
Power requirements
Nikon EN-EL1 lithium rechargeable (supplied)
or 2CR5/DL245 one-use lithium. Optional Nikon EH-21 AC adapter.
Battery life
Approx. 110 mins. (EN-EL1) when using LCD monitor
Dimensions
(W x H x D)
Approx. 4.3 x 2.9 x 2.7 in.
Weight
(without battery)
Approx. 11.3 oz.
Specifications as represented by the manufacturer

Visitors of Steves can visit the stores below for real-time pricing and availability. You can also find hot, soon to expire online offers on a variety of cameras and accessories at our very own Camera Deals page.