Nikon Coolpix 5400 Review
Nikon Coolpix 5400 Review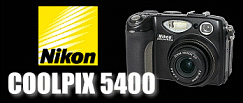 Steve's Conclusion
The Coolpix 5400, at least at the time of this review, shares the spotlight at the high-end of Nikon's Coolpix digital camera line with the Coolpix 5700. Like the Coolpix 5700, it incorporates a high-resolution 5.1-megapixel CCD imager in a durable but more compact magnesium body, the noticeable reduction in size being largely attributable to the 4X optical zoom lens versus the 8X of the 5700. The zoom range extends from a 35mm-equivalent 28mm wide-angle to 116mm telephoto. It features a similar type of fully-articulated color LCD but it has a higher resolution 134,000 pixel 1.5-inch display. In addition, the 5400 offers a coupled optical viewfinder with diopter correction rather that the EVF of the 5700. Two new flash modes are offered in the 5400; Rear-curtain Sync creates a stream of light effect behind moving objects, and Repeating Flash illuminates a moving object multiple times in a single frame.
Replacing the Coolpix 5000 in Nikon's product lineup, the Coolpix 5400 is a full-featured prosumer camera with exposure options that include Program AE, Shutter speed priority, Aperture priority, Full Manual, AE Bracketing of both the exposure value and white balance and Best Shot Selector. Shutter speeds from 8 to 1/4000sec plus Bulb (max. 10 minutes!) and aperture settings from F2.8 to F7.9. New to the Coolpix 5XXX series is Scene Mode, which offers settings programmed for 15 varied shooting conditions. Scene Mode extends point-n-shoot convenience to circumstances which would otherwise require the photographer to exercise more manual control of camera functions. A 7,123-step auto focus system with macro coverage down to .4 inches! The ISO sensitivity can be set to Auto or fixed at ISO 50, 100, 200, or 400 (the ISO 400 setting yields noisy images even at short shutter speeds). Metering options include 256-element matrix, center-weighted averaging, spot or spot AF that follows the 5-area Multi AF focusing system.
Shooting performance is good for this class of camera. Shutter lag, the elapsed time between depressing the shutter release and image capture, is about 9/10 second in Single AF mode. This performance can be improved to 3/10-to-4/10 second by pre-focusing (half- depressing the shutter release until autofocus is achieved). The shutter-release responsiveness can be further improved to 1/10-to-2/10 second by using Quick Response Shutter Release Speed in the Monitor Options Setup menu. This option eliminates the delay imposed by presenting a high-quality image on the LCD viewfinder, and is very useful in photographing fast-moving subjects. We were able to capture 7 full-size fine-quality images in 2.5 seconds using the Continuous High Speed option. Autofocus was achieved in about 1/2 second under most shooting conditions in Single AF mode. While not up to the standards of a professional SLR, the image capture performance of the 5400 will enable you shoot outdoor sports with good results once you have gotten used to the slight (by consumer digicam standards) delays.
The 4X optical Zoom-Nikkor lens has a focal length equivalent of 28-116mm with a maximum aperture of F2.8 (W) - 4.6 (T) and is constructed of 9 elements in 8 groups. It is an all-glass optic with glass-molded aspherical lens elements and has Nikon Super Integrated Coating (SIC) applied. This lens also features a real 6-bladed iris diaphragm for true depth of field control. There's also a 4X stepless digital zoom but as we have stated over and over, digital zoom is best turned off. Digital zooms simply enlarge the center of the image to fill the entire frame. It may look good on the LCD but it often yields a pixelly and soft image, don't use it, just move closer to your subject. The 4X zoom of the 5400 is more versatile than the 3X of the Coolpix 5000 it replaces. It retains the 28mm-equivalent wide angle, but increases the telephoto end of the zoom range to 116mm from 85mm. You'll find that having a 28mm wide-angle provides flexibility when shooting indoors, and nicely complements the Panorama Assist scene mode with a wider field of view than most competing cameras. The more powerful 116mm telephoto end of the zoom range offers you more flexibility when composing shots of distant subjects. The lens produces superior images throughout its zoom range, with only a hint of barrel distortion at full wideangle, and minor pin cushioning at full telephoto. Nikon offers auxilliary lenses to extend the 5400's focal coverage. The WC-E80 reduces focal length by a factor of 80%, and the TCE15ED increases it by a factor of 150%; having both of these lenses in your kit will extend the Coolpix 5400 zoom range from 23mm to 174mm in 35mm equivalence. Nikon also offers the FC-E9, a fisheye converter with a focal length of 5.6mm (35mm equivalent) and 190-degree field of view.
You'll find indoor shooting results a mixed bag. The 28mm-equivalent wide-angle provides a generous field of view in confined interiors, and the flash range of 14'9" (W), 9'2" (T) is sufficient for most indoor shots. You'll be satisfied with the results if you are shooting in a well-illuminated room, but low ambient lighting conditions present challenges that the 5400 can not always cope with. The lack of a focus assist lamp means that the 5400 is frequently unable to achieve autofocus, you'll be warned by a flashing green AF indicator in the viewfinder. Many Coolpix users have resorted to using a hand- held laser pointer as an AF-assist light with good results but, in my opinion, a high-end camera such as the 5400 should not require you to resort to such tricks to obtain in-focus shots in fairly ordinary shooting conditions. Competing 5-megapixel cameras such as the Canon G5, the Olympus C-5050Z and the Sony DSC-V1 offer focus-assist features which operate effectively not only in low light, but in total darkness as well. Nikon needs to incorporate focus-assist lamps in its Coolpix cameras, it's not a luxury -- it's a necessity.
The dedicated external flash shoe allows the use of speedlights in conjunction with the built-in flash, or alone. While the 5400 does a fine job controlling external flash output for well exposed photos, it does not support the more advanced features of its own flash products. The Nikon SB-50DX and SB-80DX Speedlights have powerful AF-assist illuminators and auto-zoom heads; neither of these features can be controlled by the Coolpix 5400. While Nikon have done well developing the high-end Coolpix line with a variety of accessories that can extend the camera's range of uses, it's unfortunate that Nikon's own speedlights have been overlooked as members of that system. If your photography relies heavily on the use of an integrated external flash, the Coolpix 5400 will disappoint; if you need an external flash occasionally only for additional power, save yourself a few bucks and get a 3rd-party flash without the automated features that the 5400 fails to exploit. Canon and Olympus cameras do use all of the features of their dedicated external flash units - I hope that Nikon gets the hint soon!
Power is provided by Nikon's EN-EL1, a 7.4v 680mA lithium rechargeable pack. When fully charged it can give you approx. 110 minutes of continuous operation. An extra EN-EL1 would be a very wise first purchase and is highly recommended. The EN-EL1 battery pack is charged outside of the camera with the supplied MH-53 charger. This small and compact (100-240 VAC) charger can fully replenish a depleted pack in about 120 minutes. The 5400 can also be powered by a one-use 2CR5 lithium battery but using this type of battery frequently can get quite expensive. I do recommend carrying one in your gadget bag for emergency use though. Another power alternative is using an external battery pack, such as those offered by Digital Camera Battery, which can power both the camera and an external flash concurrently.
At the end of the day, it's image quality that matters most, and the Coolpix 5400 will produce sharp, well-saturated photos except in low-light conditions as described earlier. It has features that will please both expert and amateur, and its automatic exposure modes are simple enough for anyone to achieve good results, while offering the manual controls that experts need to deal with demanding or unusual shooting conditions. The 5400 also does an excellent job at long exposures, the eight-second shutter speed and noise reduction system yields very clean night photos. All this is offered at a price point $200 less than the camera it replaces, the Coolpix 5000.
---
Coolpix 5400 Firmware Update
June 14, 2004 - Nikon USA has posted the Coolpix 5400 firmware v1.4 update. This new firmware adds a RAW option to the Image Quality menu. With this option selected RAW data from the CCD is saved in Nikon Electronic Image Format (NEF file) without processing or compression preserving the highest level of detail. And corrections have been made to some English and French menu text.

Want a second opinon?
DC Resource's Nikon 5400 review
Digital Secret's Nikon 5400 Report
Visitors of Steves can visit the stores below for real-time pricing and availability. You can also find hot, soon to expire online offers on a variety of cameras and accessories at our very own Camera Deals page.