Nikon Coolpix 4200 Review
Nikon Coolpix 4200 Review
Review posted 8/24/2004
Introduction

Click on the Coolpix 4200 to take a QuickTime VR tour


The Coolpix 4200 is a very compact and stylish 4-megapixel camera that features a high-quality Nikkor ED (Extra-low Dispersion) glass element 3x optical zoom lens and Nikon's exclusive new In-Camera Red-Eye Fix. The Coolpix 4200 is durable with an all-metal body and lightweight at just 5.5 ounces. And it's PictBridge-enabled, for direct printing to any compatible photo printer. With a maximum image size of 2272x1704 pixels, it can produce beautiful prints at sizes of up to 11x14-inches.
The Coolpix 4200 is one of Nikon's newest weapons in the war against red-eye. The exclusive Nikon red eye fix feature is activated when the camera is set to the red eye reduction flash mode. A pre-flash minimizes red eye as the first step. The camera then analyzes the picture using powerful image processing and analysis technology. In-Camera Red-Eye Fix incorporates years of image processing and imaging analysis technology and know-how. The process is completely automatic and transparent to the user. The user will simply experience a reduction in the number of pictures with red eye. There are limitations to the feature as the system is optimized to the flash operating distance.
Other features include 12MB of internal memory and a card slot for optional SD memory cards. Advanced 5-point auto focus system with AF assist illuminator. 15 Scene Modes including four with Scene Assist, Panorama Assist Mode, Macro shooting capability as close as 1.6 inches, Best Shot Selector (BSS) takes a series of shots, then automatically picks and records the clearest one. Three Movie modes with sound, including TV movie (640x480 VGA) at 15fps, Small size (320x240) at 15 fps, and Smaller size (160x120) at 15fps. The length of a movie is limited only by the capacity of the internal or SD memory. Blur Warning alerts users to photos that are not sharp. The camera is powered by a proprietary Li-ion rechargeable battery (supplied).

Coolpix 4200 Major Features:
4-megapixel effective CCD for images up to 2592x1944 pixels
Nikkor 3x optical zoom w/ED element (38-114mm in 35mm equivalent)
5-point auto focus with low-light AF-assist illuminator
Macro focus gets you as close as 1.6 inches
Compact, lightweight and durable metal body
1.5-inch TFT color monitor
Program AE and 15 pre-programmed Scene, Portrait, Landscape, Sports and Night Portrait exposure modes
Single, Continuous, 5 Burst buffer, Multi-Shot 16 and QuickTime Movie modes
Automatic shutter speeds from 1/2000 sec. to 4 sec's
Built-in flash with auto, fill, slow sync, and red-eye reduction
256-segment Matrix metering with center-weighted and spot options
TTL Auto White Balance, 5 presets and custom set
Exif 2.2 and PictBridge compatible
12MB internal memory and SD memory card slot
Plug-n-Play USB 1.1 connectivity, mass storage compliant
One-Touch upload for easy image transfers
Rechargeable Li-ion battery and charger included.

The Coolpix 4200 provides users with all the equipment they need to get started including the new PictureProject photo management software, Arcsoft software suite, wrist strap, USB cable, audio-video cable, Li-ion rechargeable battery and quick charger. The Coolpix 4200 is available now with an MSRP of $399.95.

Physical Views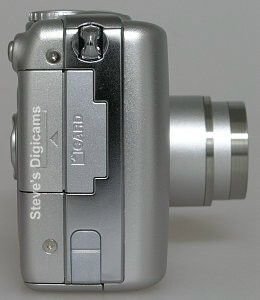 The Coolpix 4200 compared in size to a standard CD disc.


The 4-Megapixel Coolpix 4200 and Coolpix 4100.
Coolpix 4200 Specifications
CCD
1/1.8-inch-type, Interline CCD, Primary color filter;
Effective pixels: 4.0 million;
CCD total pixels: 4.13 million
Image sizes
2,272 x 1704
2,048 x 1,536
1,600 x 1,200
1,024 x 768
640 x 480
Lens
3x Zoom Nikkor Lens f=7.8-23.4mm (35mm [135] camera-format equivalent to 38-114mm) /f2.8 - f/4.9; 7 elements in 6 groups (one ED lens and two aspherical lenses are used)
Autofocus
Contrast-detect through the lens AF; AF area selection is available, Auto: 5 points, Manual: 99 points, Off: Center; AF-assist illuminator, Single-AF or Continuous-AF
Focus range
12 in. to infinity in normal,
1.6 in. to infinity in Macro mode (wide angle)
Optical viewfinder
Real-image zoom viewfinder, Magnification: 0.31-0.77, frame coverage: approx. 75%
LCD monitor
1.5-in., 110,000-dot, low-temp. polysilicon transreflective TFT LCD with LED backlight, brightness (5 levels) adjustment, Auto gain-up at low-brightness, frame coverage: approx. 100%
Auto OFF mode
30 sec.; can be set manually (1/5/30 min.)
File format
JPEG (EXIF2.2/DCF/DPOF); Compressed: JPEG baseline compliant (Fine 1:4, Normal 1:8, Basic 1:16); Quick Time Motion JPEG (Movie); WAV(Voice)
Media
Internal memory: approx 12MB;
SD memory card (optional to 1GB)
Storage
Internal Memory: Fine approx. 5, Normal approx. 11, Basic approx. 21; 256MB SD: Fine approx. 116, Normal approx. 225, Basic approx. 427
Shooting modes
Programmed Auto Exposure,
Scene modes with Scene assistance (Portrait, Landscape, Sports, Night portrait);
Scene modes without scene assistance: (Party, Beach/Snow, Sunset, Museum, Fireworks show, Close up, Copy, Back light, Panorama assist, Dusk/Dawn, Night landscape);
Continuous: Single; Continuous (1.3f/S, Multi-shot 16, 5 shot buffer);
BSS (Best Shot Selector)
Auto exposure bracketing, WB bracketing
Movie with sound (640x480/15fps, 320x240/15fps, 160x120/15fps)
Exposure metering
256-segment Matrix
Matrix, Center-weighted or Spot
Shutter
Mechanical and charge-coupled electronic shutter
4 sec. to 1/2000 sec.
Aperture
Electromagnetically controlled preset aperture; Range: 2 stops (Wide F2.8, F4.8 [-1.5EV] ) (Tele F4.9, F8.2 [-1.5EV] )
Exposure control
Programmed Auto with exposure compensation
(±2 EV in 1/3 EV steps)
Auto Bracketing
Exposure range
(W) EV +1.0- +15.8 (T) EV +2.6 - +17.4 (Sensitivity : Auto)
Best-Shot Selector (BSS)
Camera takes up to 10 shots (at approx 2fps) and records the most detailed image of the 10 using anti-jitter logic which is effective for poor lighting, telephoto and macro shooting. Not available during Continuous shooting, Auto Bracketing, or when the speedlight is on.
ISO Sensitivity
Auto, ISO 80, 100, 200, 400
White balance
1) Matrix Auto White Balance with TTL control
2) Manual or preset for Daylight/Incandescent/Fluorescent(FL1 or FL2)/ Cloudy/Shade/Speedlight)

Self-timer
3 or 10 sec. duration
Built-in Speedlight
Range (ISO Auto): [W] 11.8 in. (0.3m) - 14.9 ft. (4.5m)
[T] 11.8 in. (0.3m) - 11.5 ft. (3.5m)
Flash control
Flash modes:
1) Auto Flash
2) Flash Cancel
3) Anytime Flash
4) Red-eye reduction by pre-flash
5) Slow Sync
Playback menu
1) 1 frame with or without histogram
2) Thumbnail (4/9 segments)
3) Slide show
4) Zoom playback (0.2x steps from 1.2x to 6x, position selectable)
Protect attribute can be set for each image
Delete function
Deletes all frames or selected frames
Interface
USB (12Mbps, effective speed: approx 2Mbps), Mass Storage or PTP (PictBridge)
Supported Platforms
Windows 98SE/Me/2000/XP
Mac OS 9.0-9.2 (only built-in USB ports supported)
Mac OS X (10.1.2 or later)
Video output
NTSC or PAL (selectable)
I/O terminal
Audio-Video output and Digital output terminal
Power requirements
Rechargeable Li-ion EN-EL5 3.7V, 1100mAh (included),
AC adaptor EH-62A (optional)
DC input: AC adaptor
Battery life
Rechargeable Li-ion battery (EN-EL5) x1: approx. 150 frames (CIPA test conditions)
Dimensions
(W x H x D)
3.5 in. x 2.4 in. x 1.4 in. (88.0 x 60 x 36.5 mm)
Weight
Approx. 5.5 oz or 155g (without battery and SD memory card)
Others
Direct print (PictBridge), Languages of menu: 10 languages (En/De/Es/Fr/It/Ne/Sv/Jp/Simplified Chinese/Korean), Firmware upload from SD card, Backup for watch function with backup battery, Auto File Numbering, Complies with DCF standard, Complies with DPOF standard, Exif2.2 print, Data Transfer Marking, Print Marking, Data transfer by Transfer button (MSC/PTP), Welcome screen: can be selected, Auto power off, Date imprint, World time, Voice memo(20s), Converter lenses cannot be used, Grid line for LCD monitor: can be selected by monitor button, Complies with USB standard
Picture Project Requirements
Macintosh: OS: Mac(R) OS X (10.1.5 or later), RAM: 64MB or more recommended, Hard Disk: 60MB required for installation, Display: 800 x 600 with 16-bit color (full color recommended), Others: CD-ROM drive required for installation

PC: OS: Windows(R) 98SE, Windows(R) ME, Windows(R) 2000 Professional, Windows(R) XP Home Edition, Windows(R) XP Professional pre-installed models, RAM: 64MB or more recommended, Hard Disk: 60MB required for installation, Display: 800 x 600 with 16-bit color (full color recommended), Others: CD-ROM drive required for installation

Specifications are as represented by the manufacturer
Visitors of Steves can visit the stores below for real-time pricing and availability. You can also find hot, soon to expire online offers on a variety of cameras and accessories at our very own Camera Deals page.