Nikon Coolpix 4200 Review
Nikon Coolpix 4200 Review
Features & Controls
The Coolpix 4200 is equipped with a 3x optical Zoom-Nikkor ED (Extra-low Dispersion) glass lens, with a 38 - 114mm (in 35mm equivalent) focal length coverage. The maximum aperture is F2.8 to 4.9 and it has a dedicated macro mode. The lens is retracted inside the camera at power-down and is protected by a built-in lens cap.
Auto focus is handled by a contrast detect TTL system with auto 5-point area selection or any one of 99 points manually. The user can select from Single-AF or Continuous-AF focusing modes. The focus range is 11.8 in. to infinity in normal wide angle mode and from 1.6 in. to infinity in Macro mode. The camera has an AF-assist lamp to enhance focusing in low-light situations; its effective range is limited to 1'4"-6'7" at wide angle and 1'4"-4'6" at telephoto..



Nikon have finally understood that their cameras are often used in low ambient light, and have equipped recent Coolpix cameras with a focus-assist lamp. The LCD monitor gains-up to help framing in low-light situations. (This is a shot taken in a fairly dark room to illustrate the LCD's visibility.)



The eyelevel optical viewfinder zooms in and out with the lens and shows approx. 75% of the captured image. The two LEDs indicate the flash and focus/CF card status. There is no diopter adjustment.



The built-in speedlight has a shooting range of approx. [W] 11.8 in. (0.3m) - 14.75 ft. (4.5m) and [T] 11.8 in. (0.3m) - 11.5 ft. (3.5m), and can be set for Auto Flash, Red-Eye Reduction (with pre-flash), Fill Flash, Slow Sync or Disabled.



The power on/off switch is adjacent to the shutter release on the top of the camera. The Mode Dial has positions for:
Scene - Party, Beach/Snow, Sunset, Museum, Fireworks show, Close up, Copy, Back light, Panorama assist, Dusk/Dawn, Night landscape.

Portrait - Portrait, Portrait Left, Portrait Right, Portrait Close-up, Portrait Couple and Portrait Figure.

Landscape - Landscape, Scenic View, Architecture, Group right and Group left.

Sports - Sports, Sports Spectator and Sports Composite.

Night Portrait - Night Portrait, Portrait Left, Portrait Right, Portrait Close-up, Portrait Couple and Portrait Figure.

Setup - Camera Setup menu

Movie - Record motion video with sound

AUTO - Programmed Auto Exposure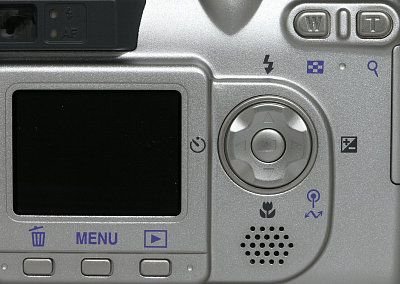 Controls on the back: Upper right are the zoom lens buttons. The 4-way selector is for navigating menus and selecting pictures, press the center button to accept selections - it serves as the one-touch download button when the USB cable is connected. In record mode press "Up" to select the desired flash mode, press "Left" to activate the selftimer, press "Right" for exposure compensation or press "Down" to enable macro focus mode.
Below the color LCD is the image delete (trash can) button, the MENU button which calls up the onscreen menus, and the playback button, which puts the camera in review mode.



The interface connector is a combination device used to connect either the USB 1.1 cable for downloading images to Mac and Windows computers or connect the Audio-Video cable for viewing on a TV set. The video signal is selectable for NTSC or PAL.



The Coolpix 4200 is equipped with an SD memory card slot, however no card is supplied with the camera. There is 12MB of internal memory. Images and moves can be copied from internal memory to SD card if desired.
Image storage: Internal Memory: Fine approx. 5, Normal approx. 11, Basic approx. 21; with a 256MB SD card: Fine approx. 116, Normal approx. 225, Basic approx. 427



The camera is powered by the supplied Nikon EN-EL5 Li-ion rechargeable 3.7v 1100mAh battery pack. It is rated for approx. 150 frames (50% with flash.) The battery is charged with the MH-61 rapid charger.





Nikon WP-CP2 UW Housing for Coolpix 4200 / 5200
Nikon has an optional WP-CP2 underwater housing available for the Coolpix 4200 and 5200. It is made of polycarbonate resin and waterproof up to 40 meters. Supplied with O-ring set WP-OG1, silicon gel WP-S1 and hand strap WP-AN1. Retails for $299.





Fantasea CP-5 UW Housing for Coolpix 4200 / 5200
Fantasea Line, distributor of the world's most popular and affordable underwater photographic products, has announced the addition of a new underwater camera housing, the Fantasea CP-5, for the Nikon Coolpix 4200 and Coolpix 5200 digital cameras.
The Fantasea CP-5 housings, like the CP-3N, are rated to a maximum working depth of 130'/40m underwater. It is an injection molded plastic housing, constructed to take the rigorous environments that underwater photographers and outdoor photographers experience, and will protect digital cameras in these demanding activities. The housing offers push button controls that will provide access to the cameras most important controls and features. The CP-5 is a compact ergonomic design for easy one-hand shooting. Its operation is equally simple, as photographers need only to open and close one latch to insert the camera into place, without any mounts, screws, or gear alignments to bother with before shooting.
The suggested retail price of the CP-5 is $149.95, and includes a pre-paid flood insurance policy for one year. In the event of accidental water leakage, the Coolpix camera inside is covered and will be replaced. As with the CP-3N housing, this attractive additional protection provides the ultimate peace of mind for photographers, who want to be sure their cameras are adequately and safely protected during use in these rugged environments.
Visitors of Steves can visit the stores below for real-time pricing and availability. You can also find hot, soon to expire online offers on a variety of cameras and accessories at our very own Camera Deals page.