Konica Minolta Maxxum 7D SLR Review
Konica Minolta Maxxum 7D SLR Review
Review posted 1/3/2005
Conclusion updated 3/1/2005

Click on the MAXXUM 7D to take a QuickTime VR tour



The Konica Minolta MAXXUM 7D (called the Dynax 7D in other market areas) digital Single Lens Reflex (SLR) camera is a 6.1-million-pixel, interchangeable lens digital camera, it's compatible with virtually any MAXXUM AF lens. The MAXXUM 7D is the world's first digital SLR featuring a body-integral CCD-shift, Anti-Shake (camera-shake compensation) technology that combines enhanced picture quality, performance and improved handling characteristics.
Specifically designed to match the performance requirements of the camera's imager, the MAXXUM 7D's built-in Anti-Shake technology instantly and precisely shifts the CCD to compensate for camera motion. Photographers can shoot at shutter speeds up to three steps slower than what they could use without it. And because the mechanism is integrated directly into the camera body, it works with virtually any MAXXUM AF lens - a major advantage for photographers when compared to bulky and expensive lens-based optical stabilization systems.
The MAXXUM 7D also features a large, easy-to-view, high-definition 2.5-inch color LCD monitor housed on its back-plate. The large screen handles the tasks of menu navigation and image display, also providing shooting information and camera setting displays. In keeping with its acclaimed MAXXUM film SLR counterpart, the MAXXUM 7D inherits a similar, simple-to-use dial and lever operation system. Enhancing handling further, the new model also features a superbly-bright, easy-to-view, high-performance viewfinder designed to be comfortable and easy to use.
The MAXXUM 7D incorporates a central, cross hair type, 9-point and 8-line AF sensor array providing high-precision AF and high performance subject tracking of moving subjects within the frame. The AF system enables both Predictive Focus Control and Subject Tracking for high-speed focus adjustment of moving subjects, making it ideal for fleeting moments or sports photography.
Thanks to the large 128MB image buffer the MAXXUM 7D allows high speed continuous shooting of up to 9 consecutive frames at up to 3-frames per second in both RAW or RAW+JPEG modes. Additionally, it allows continuous shooting of up to twelve 3008x2000 JPEG images at the extra-fine image-quality setting and 15 JPEG images the same size at the fine image-quality setting. These high-speed shooting capabilities are ideal for capturing momentary expressions, sports or fleeting action shots while retaining high picture quality throughout.
The MAXXUM 7D is sturdy, compact and stylish featuring a magnesium alloy front body panel and base. Power is supplied by a high-capacity rechargeable Li-ion battery and an optional vertical grip can accomodate two of these batteries. Image data can be transferred rapidly to the host computer via a USB 2.0 interface. Image storage is accomplished with CompactFlash Type I or II cards including Microdrives and any capacity card can be used.

MAXXUM/Dynax 7D Features
Lightweight and durable magnesium alloy body
Minolta-A bayonet lens mount, 1.5x focal magnifier
6-megapixel CCD sensor for images up to 3008 x 2000 pixels
CCD-Shift Anti-shake system with LED indicator in viewfinder
95% coverage viewfinder with true pentaprism and interchangeable focusing screens
Recording choice of 3 levels of JPEG, RAW, or RAW plus Fine JPEG
9-point AF with Wide, Spot and Focus Area Selection
Adobe RGB and sRGB color space selection
Image adjustments: Contrast, Color saturation, Sharpness, Hue (5 levels)
Shooting modes: Full-auto program, Programmed AE with program shift, Aperture priority, Shutter priority and metered Manual
Interval recording (30s-60m, 2-240 frames)
TTL metering: 14-segment honeycomb-pattern, Center-weighted or spot metering
White Balance: Auto, six presets and Manual color temperature (2800-10,000°K in 100° increments).
3fps high-speed continuous shooting, 128MB buffer, up to 15 frames Large/JPEG (9 frames in RAW mode)
Shutter speeds: 30 to 1/4,000 seconds, 1/160 sec. flash sync
Eye-level pentaprism viewfinder, 95% coverage with diopter adjustment, illuminated AF points, depth-of-field preview and detailed information display.
AE bracketing with 3 or 5 frames
2.5 inch, color TFT LCD, 207,000 pixels, adjustable brightness
Playback histogram and up to 4.7x image zoom
ISO Range: 100, 200, 400, 800, and 1,600 (3200 with ISO speed extension)
Built-in TTL popup flash with red-eye reduction.
Hot shoe for Minolta Program Flash and PC flash sync connector
CompactFlash Type II card slot, Microdrive and FAT32 compatible
Video Out with selectable NTSC or PAL timing
Powered by NP-400 Li-ion battery pack, rapid charger included
Exif Print, PRINT Image Matching II, PictBridge compatible
Optional VC-7D Battery Grip doubles battery power and adds vertical grip, shutter release and controls

A broad range of existing MAXXUM-system accessories is also available for use with the MAXXUM 7D including D-series flash units, remote cords and an angle viewfinder. The D- series flash and D-series lenses, which include built-in focus distance calculations, when used in combination with the new MAXXUM 7D, provide improved exposure accuracy. Combined with high-precision ADI flash metering, the camera provides high-precision lighting control that answers the most demanding and diverse needs.

DIWA Gold Medal Award

9. March 2005 - Digital Imaging Websites Association (DIWA), an international organisation of websites focusing on digital imaging, today announced a DIWA Gold Award to Konica Minolta Maxxum 7D. The gold medal represents the highest level of performance and is a summary of numerous rigorous tests conducted by DIWA camera experts.
With the Maxxum 7D, Konica Minolta makes their debut into the fast growing market of digital system cameras. Founded on a long history as high quality camera and optical manufacturers, the high performance Konica Minolta Maxxum 7D comes as no surprise.
It continues the legacy of the highly successful and reputed analogue Maxxum SLR cameras, with distinct design resemblance to make the conversion from film to digital as smooth as possible for any experienced Maxxum enthusiast. Supporting the full range of existing AF lenses, the Maxxum 7D also eases the financial aspect.
Regardless of its background, the Maxxum 7D makes an impressive performance, all by itself. Its exterior is robust and solid as a professional camera, introducing a huge 2.5" LCD screen with an innovative, rotating camera settings display. Professional is also the 6.1 Megapixel resolution with RAW or RAW+JPEG file formats. Yet, the most revolutionary feature is the built-in CCD Anti-Shake image stabiliser, the first ever in any SLR camera. Add to this a highly efficient AF system, fast overall camera response and burst shooting, as well as the new CxProcess™ III image processor for outstanding image quality.
The conclusion from the DIWA experts is that Konica Minolta's late D-SLR debut was well worth waiting for. Fierce competition is no threat to the Maxxum 7D. It stands out from the crowd and is bound to win many new friends.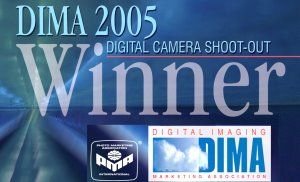 Winner of the Prosumer/Professional Digital SLR category


Physical Views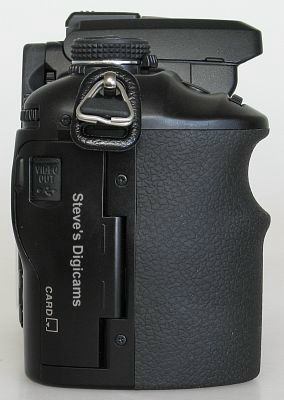 Compare MAXXUM 7D and Nikon D70
MAXXUM 7D Specifications
Number of effective pixels
Approx. 6.1 million
CCD
23.5mm x 15.7mm interline primary-color, interlace scan with a total of approx. 6.3 million pixels, 3:2 aspect ratio
Camera sensitivity
AUTO and 100, 200, 400, 800, 1600 and 3200 ISO equivalents
Lens Mount
Minolta A-type bayonet
1.5x focal length multiplier
Recording media
CompactFlash Type I and Type II, Microdrives
Storage capacity
(256MB CF card)

| | | | |
| --- | --- | --- | --- |
| | 3008x2000 | 2256x1496 | 1504x1000 |
| RAW | 26 frames | - | - |
| RAW+JPEG | 19 frames | 21 frames | 23 frames |
| Extra fine | 41 frames | 72 frames | 157 frames |
| Fine | 81 frames | 141 frames | 292 frames |
| Standard | 138 frames | 235 frames | 463 frames |

File format
JPEG, RAW, RAW+JPEG (DCF2.0 compliant, DPOF (ver. 1.1), Exif 2.2)
Number of recorded pixels
3008 x 2000, 2256 x 1496, 1504 x 1000
Image quality
Standard, Fine, Extra-fine, RAW, RAW+JPEG (Fine)
Autofocus system
Through-the-lens (TTL) phase-detection system, CCD line sensors (9 points, 8 lines with center cross-hair sensor)
Autofocus area
9-Point Wide Focus Area
Focus area is selectable between Wide focus area and Spot focus areas with Focus Area Selection
Focus modes
Single-shot AF, Continuous AF (with predictive focus control), Automatic AF
DMF is selectable in menu. Auto tracking focus point display
Focusing sensitivity
EV-1 - EV18 (ISO 100)
AF illuminator
Available (with pre-flash) 3.3-16.4 ft. (1.0-5.0m)
White-balance control
Automatic, Preset (Daylight, Shade, Cloudy, Tungsten, Fluorescent, Flash), Custom, Color temperature setting available
Exposure metering
TTL metering using 14-segment honeycomb-pattern SPC (14-segment Honeycomb-pattern/Center-weighted/Spot metering)
Metering range: EV 0 - 20 (EV 3 - 20 in spot metering)
* at ISO100 with f/1.4 lens
Shutter
Type: Electronically-controlled, vertical-traverse, focal-plane
Shutter Range: 30-1/4000 second, Bulb
Flash sync speed: 1/160 second (with Anti-shake OFF), 1/125 second (with Anti-shake ON)
Noise reduction: Available (at shutter speed longer than 1 second, ON/OFF selectable)
Anti-Shake
CCD-Shift Anti-shake system with LED indicator in viewfinder
Anti-shake effect: Equivalent to 2 - 3 steps in shutter speed
(Actual effect varies depending on shooting conditions and the lens used.)
Exposure mode
P/Full-auto program (Programmed AE with program shift), A (Aperture priority), S (Shutter priority), M (Manual)
Drive modes
Single, Continuous, 10 seconds/2 seconds self-timer, Single bracket, Continuous bracket
Continuous advance: Approximately 3 frames per second

Approx. number of frames that can be captured at one time:

| | | | |
| --- | --- | --- | --- |
| | 3008x2000 | 2256x1496 | 1504x1000 |
| RAW | 9 frames | - | - |
| RAW+JPEG | 9 frames | 9 frames | 9 frames |
| Extra fine | 12 frames | 14 frames | 20 frames |
| Fine | 15 frames | 19 frames | 30 frames |
| Standard | 19 frames | 26 frames | 43 frames |

Color mode
Natural: sRGB, Natural +: sRGB, Adobe RGB
Image adjustments
Contrast, Color saturation, Sharpness, Hue (5 levels)
Exposure compensation
± 3 Ev with 1/2 Ev step
± 2 Ev with 1/3 Ev step
Exposure bracketing
0.5/0.3 Ev increments; Number of brackets: 3/5 frames
Flash
Flash metering: ADI, Pre-flash TTL, Manual flash control
Guide number: 12 (in meters at ISO 100), 17 (in meters ISO 200)
Coverage: 24mm
Recycling time: Approximately 3 seconds
Control: Manual switchover. Lift-up for Fill Flash, push down for Flash Cancel.
Flash modes: Fill Flash, Flash Cancel, Red-eye Reduction (pre-flash), Wireless/Remote Off-camera Flash, Rear Flash Sync., High Speed Sync.
Flash compensation: +/- 2 EV in 1/2 stop increments
External flash
Program Flash 5600HS(D), 3600HS(D), 2500D, Macro Ring Flash 1200* with flash sync. terminal
* Macro Flash Controller is necessary.
Viewfinder
Type: Eye-level fixed pentaprism
Focusing screen: Spherical Acute Matte (G-type as standard)
Field of view: Approximately 95%
Magnification: 0.9x (with 50mm lens focused on infinity)
Diopter control: -3.0 to + 1.0 m-1
Eye-relief: 25mm from the eyepiece, 21mm from the eyepiece frame in -1 m-1
Eyepiece cup is removable. Interchangeable focusing screen is available (type M, L, ML) at service facilities.
LCD monitor
2.5-inch low-temperature polysilicon TFT color with anti-reflection coating
Total pixels: 207,000 (approx.)
Playback
Navigation system: (Enlarged display, Automatic rotate function)
Number of frame/s displayed: 1, Index (4, 9, 16 selectable)
Display mode: Image only, Image + text, Image + text + histogram
Enlarged playback (Up to approximately 5x), Luminance limit Display, File browser, Slideshow, Instant bracket playback
Interval recording
Interval time: 30 seconds/1-10, 15, 20, 30, 45, 60 minutes, 2 -240 frames. Start timer is equipped. (Setting: 0.5 to 24H, in 0.5 increments)
Self-timer
Approx. 10 seconds / 2 seconds
Printing output control
Exif Print, PRINT Image Matching II, PictBridge
Interface
USB: Full-Speed with a USB 2.0 compatible computer, Video output NTSC / PAL (selected on the camera)
Remote function
Remote data storage: available. (Remote-storage function software 'DiMAGE Transfer' for MAXXUM7D is available as a free download. It will be released in January 2005.
Supported Operating Systems
Windows 98*, Windows 98 Second Edition*, Windows Me, Windows 2000 Professional, Windows XP (Home / Professional), Mac OS 9.0 - 9.2.2, Mac OS X v.10.1.3 -10.1.5, v.10.2.1 - 10.2.8, v.10.3 - 10.3.5

*Users with Windows 98 and Windows 98 Second Edition operating systems must install dedicated driver software included in the DiMAGE Viewer CD-ROM.
Power
One NP-400 Li-ion rechargeable battery
Condition indication: 4-stage indicator when camera is turned on
External power: 6V DC with adapter AC-11
Life: Approx. 400 frames w/flash, 600 frames w/out flash
Dimensions (W x H x D)
5.91 x 4.17 x 3.05 inches (150 x 106 x 77.5mm)
Weight
26.81 ounces (760g) (without batteries and recording media)
Operating temperature
32-104 °F (0 - 40 °C)
Standard Accessories
DiMAGE Viewer CD-ROM, Li-ion Battery NP-400, Li-ion Battery Charger BC-400, Wide Strap WS-4, Shoe-Cap SC-1000, Eyepiece Cap, Eyepiece Cup EC-1400, Body Cap BDC-1000, Remote Cord Clip, LCD Monitor Protect Panel MPP-1000, USB Cable USB-2, Video Cable VC-500
Optional Accessories
Vertical Control Grip VC-7D, Camera Case CS-7D, AC Adapter AC-11, SD-CF Card Adapter SD-CF 1, Remote Cord RC-1000S, Remote Cord RC-1000L, DiMAGE Master Software
(Specifications as provided by the manufacturer)
Visitors of Steves can visit the stores below for real-time pricing and availability. You can also find hot, soon to expire online offers on a variety of cameras and accessories at our very own Camera Deals page.